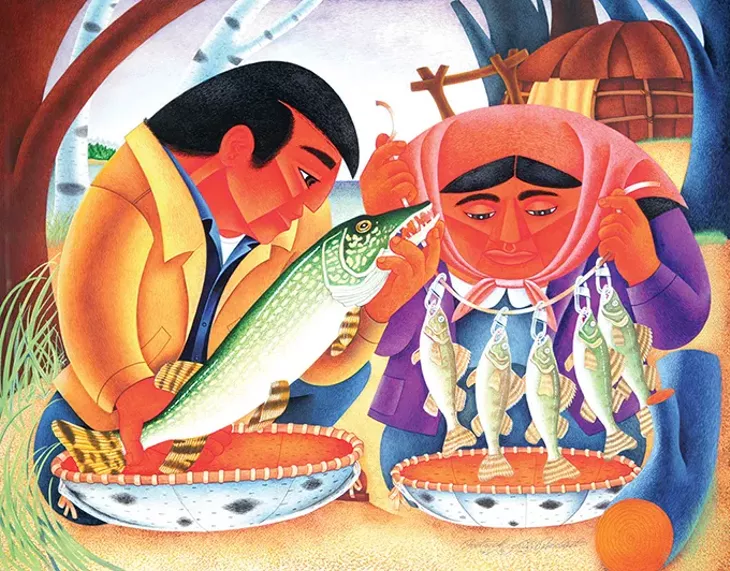 Sept. 1, National Cowboy & Western Heritage Museum opens one of its most meaningful and illustrious exhibitions to date. American Indian Artists: 20th Century Masters chronicles Native American history, culture and identity across a myriad of mediums. Spanning the dusk of one summer through the dawn of the next, the presentation will be one of the institution's most significant throughout the next year.
However, some of the pieces might strike a familiar chord with the museum's patrons. 20th Century Masters is, in part, leveraged by art that has grown synonymous with the gallery. Eric Singleton, the museum's curator of ethnology, considered the development of this endeavor shortly after the success of a comparable exhibit at Maryhill Museum of Art in Washington in 2015.
"My colleague at Maryhill, Dr. Steve Grafe, did a show called American Indian Painting," Singleton said. "The entire show was borrowed from our collection. When he and I spoke, we felt it was a needed exhibition that highlighted the evolution of Native American art, primarily through painting."
American Indian Painting, while undeniably important, only echoed a fraction of the scope Singleton sought to cover with American Indian Artists. Shortly after Maryhill's exhibition, the curator began considering a more comprehensive exhibition for the Oklahoma City museum.
"I thought maybe we could use Grafe's framework and incorporate more than just oil paintings," Singleton said. "Art is not just two-dimensional, and while some people get that, many are still in a 2-D mindset. When I give talks on Navaho weavings and both the skill and mastery it takes to be a weaver, basket maker or bead worker, it really opens up peoples' minds."
Artistic influence
Such a comprehensive approach can bring challenges to the curation. Even narrowing down considerations just to the 20th century can leave one lost in innumerable, yet just as remarkable tangents. However, Singleton nailed down the exhibition's trajectory via the influence of one Oklahoma educator.
Oscar Brousse Jacobson, in tandem with professor Edith Mahier, brought attention to the Kiowa Six through the art program of the University of Oklahoma (OU) in the 1920s. Rather than propel the native artists toward a specific focus, Jacobson simply opted to endorse their art and provide the resources necessary to produce their ideas. This group's influence would, in turn, account for much of the sheer diversity of American Indian Artists.
"The Kiowa Six were among the first students of OU to focus on Native American art and culture," Singleton said. "Many of the Six would go on to the Santa Fe Indian School, instilling their influence there. You get this incorporative aspect with this journey, this aspect of many nations coming together and forming a school dedicated to this work."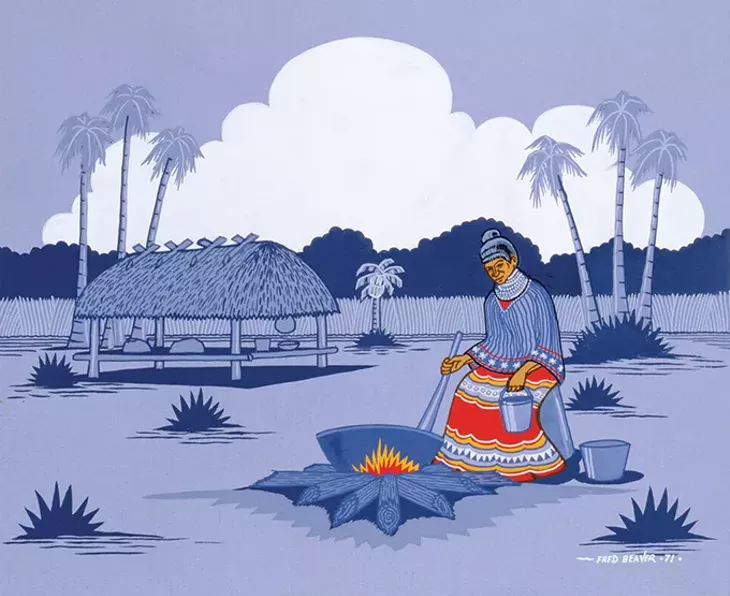 Through the Santa Fe Indian School, much of the artists featured throughout the exhibition were developed. The children of this school include T.C. Cannon, Kevin Red Star and Frank Big Bear. With them come strikingly different lenses with which to peer into Native American culture, history and tradition.
"People tend to draw what they know. When you look at European and Western American art, people are painting what they idolize," Singleton said. "Natives are doing the same thing, be it with ceremony, war dances, hunts, spirits and other religious scenes. When you move on to the likes of Fred Beaver and Jerome Tiger, though, you see similar scenes, but with a higher emphasis on the individual."
Trendy craftsmanship
Many of the most vivid and fascinating pieces of the exhibit come from that trend. With allusions to modernism and counterculture, many of the featured artists like aforementioned Big Bear and Red Star, provide the groundwork of many trends that grew popular decades later.
"This art ... gives us a better idea of what it means to be an American." — Eric Singleton

tweet this
"It's a really cool phenomenon to look at Native art and to perceive it as so contemporary, so modern and abstract, but to know that it's been like this for the better part of 70 or 80 years," Singleton said. "They use bright colors and abstract form that some artists today are only starting experiment with."
The imagination and mastery of the exhibition reaches beyond the canvas, as a heavy emphasis is drawn to objects like clothing and baskets. Conjured from generations of meticulous and illustrious design, presumed utilities are shown for what they ultimately are: pieces of native art.
"This is fine art you're looking at. If you think about what it took to weave something like the Dakota Northern Plains dresses we feature, it's amazing," Singleton said. "You think about what it took mentally, that the artist matched patterns on both sides of the dress with regard to symbols and color coordination and with nothing drawn out ahead of time. Most of the time they just memorized this stuff. How could you even draw out some of these designs? You just can't fathom it."
Though undeniably tethered to Native American culture, Native American Artists is likewise a reflection of American life. Moreover, witnessing this art is an experience that yields priceless enrichment.
"This art is necessary because it gives us a better idea of what it means to be an American, and that diversity is America's greatest treasure," Singleton said. "This is just American art, another great part of the fabric that makes us who we are. These artists are just among the oldest Americans; their influences go back 25,000 years. You cannot remove the Native people from this country as much as you cannot remove the Grand Canyon or the landscape itself."
Visit nationalcowboymuseum.org.