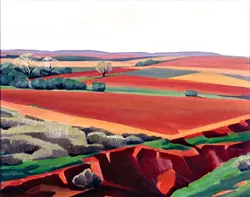 When it came time for Jessica Provencher to head up the latest exhibition at Oklahoma City Museum of Art (OKCMOA), she knew exactly which direction to go.
As part of an ode to Oklahoma's 110th anniversary of statehood, Provencher, the museum's curator, wanted to show how the state's history is more than just cowboys and Native Americans.
The final product, which is aptly named The Art of Oklahoma, displays everything from aquatints and abstracts to an aluminum sculpture of a car as a way to highlight the variety of art associated with Oklahoma.
"I wanted to make it very diverse. We can't tell the entire story of Oklahoma art, especially not in two rooms, but I wanted to make it clear there isn't one Oklahoma art," Provencher said. "It means a lot of different things."
The exhibition opened in November and runs through September 2018, featuring 23 works — 11 paintings, five prints, five photographs, one drawing and one sculpture — by 17 artists including Doel Reed, Oscar Brousse Jacobson, David Fitzgerald, J. Jay McVicker, Nan Sheets and Loraine Elizabeth Moore.
Diverse styles
The two adjoining rooms on the second floor of the museum each offer separate entrances, but Provencher recommends starting in the back, an area that, in her opinion, best depicts Oklahoma's history.
Guests are first hit with "Oklahoma Land Rush," an oil sketch made in preparation for a mural at the Department of the Interior in Washington, D.C. The painting, which was offered on loan by the U.S. General Administration Services, depicts the Oklahoma Land Run of 1889 with settlers racing by horse, train and bicycle.
This is the lone non-permanent work among the 23 pieces in the exhibit, although it sets the tone for a room that highlights Oklahoma's landscape.
"I like starting with the land because it's been such an integral part of Oklahoma's history and economy," Provencher said. "This is the beginning of Oklahoma City."
Joe Andoe's photo of an oil derrick shows how vital oil was in Oklahoma, especially in Tulsa, while a black-and-white aquatint from McVicker named "Cotton Gin" is a reminder of Oklahoma's once lucrative cash crop.
Additional highlights include a pair of photos by Fitzgerald that highlight the Wichita Mountains and a mill near Stillwell.
Beyond the physical landmarks, Oklahoma's famous red dirt is featured in works like Jacobson's "Light Soil" and Alexandre Hogue's "Soil and Subsoil."
Reed's aquatint dubbed "Evening Storm" is the quintessential art depicting Oklahoma weather, as it portrays a stormy landscape with flying debris and a possible tornado lurking in the background.
The collection continues above with a life-size sculpture depicting the shell of a car that hangs from the ceiling. Jonathan Hils, an associate professor at the University of Oklahoma, took inspiration from the chase scene in the 1968 film Bullitt.
In the other room, Oklahoma's history of landscape and economy diversifies with a series of portraits and abstracts.
Aside from the "Wall of Biographies" that stands out on a red surface, "Lottie," a 1910 oil painting by Ellen Shepherd, is an attention-grabber as the oldest piece of art in the exhibition. The portrait of Shepherd's sister was one of two American selections among 800 submissions at the Grand Salon in Paris.
On another wall, McVicker's "Black/Red" encapsulates the evolution of Oklahoma's art. The abstract using simple shapes and contrasting color is a stark departure from his earlier work using black-and-white aquatints.
"He got to the point where it was more abstract and geometric," Provencher said. "It's something you'll notice is these artists weren't isolated. They sometimes followed trends of their time and embraced movements that were going on."
Common themes
Preparation for the exhibition started months ago when the museum narrowed down its 4,000-piece catalogue to a list of 100 or so works.
Provencher admitted the team wasn't able to go through all of the art — they hope to have future The Art of Oklahoma series in years to come — but she used her prior experience doing research at Oklahoma State University's Museum of Art to corral ideas.
"I encountered many of these artists and became familiar with them and their lives and how they've played such a big part in the history of Oklahoma art," she said. "I jumped at the opportunity when it was on the table. I think I already had in mind some key figures and ideas I wanted to explore."
All of the artists were influential in some capacity. Some even provided further growth with their teachings. Reed taught McVicker and Moore at Oklahoma A&M (now Oklahoma State University). Jacobson, who taught at OU, was instrumental in the formation of the Kiowa Five, a group of five, and later six, artists. Steven Mopope is among the most notable of Jacobson's understudies, and his work is featured in the exhibition.
Moore was one of several artists from Oklahoma who visited New Mexico for their work. One of her aquatints, "Espanol Valley," is featured in The Art of Oklahoma for its depiction of mountainous landscape.
Moore, Reed, Jacobson and Mopope are all featured on the Wall of Biographies. The eight-person section includes Sheets, a painter, teacher and eventual museum director for OKC Museum of Art.
"We've got some great art in this state. I'm excited to get it out here," Provencher said. "Before, I can't think of many that were out in the other galleries that were by Oklahoma artists."
Print headline: Okie art; An OKCMOA exhibit explores the history of art in Oklahoma.