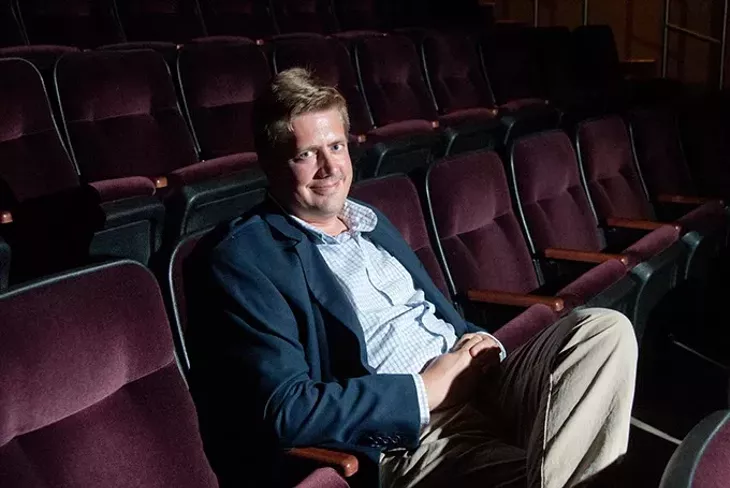 Growing up in Minnesota, Michael Anderson always enjoyed watching movies — mostly the anticipated Oscar winners throughout the '80s and '90s. With a sampling of Hollywood's best and latest releases in his hometown's theaters, Anderson had acquired a taste for film by the time he was 18. But it wasn't until he attended Hillsdale College in Michigan that he became a passionate connoisseur.
Small-town life and sheer boredom had Anderson going through the lists of the great L.A. blockbusters, foreign works, art films and repertory masterpieces. Anderson traveled nearly four hours just to see new limited releases, ordered obscure movies for the college's library and even begged one of his professors to let him skip three days of classes to see three movies in Minneapolis by Taiwanese director Hou Hsiao-Hsien: The Puppetmaster (1993), Goodbye South, Goodbye (1996) and Flowers of Shanghai (1998).
"They're very, very arty movies," Anderson said. "And at that point, he was considered one of the two best directors in the world, so I didn't want to let that opportunity go. Little did I know that DVD changed everything and I could easily see them a year or two after that. But still, it was great."
Although Anderson's undergraduate experience was in a sleepy college town, he said movies weren't ever an escape for him but simply something interesting to do that built on the art history knowledge he was establishing at school.
Almost 15 years later — after attending New York University for his master's degree and Yale University for his Ph.D., serving on the program and screening committees for Starz Denver Film Festival and critiquing films — 35-year-old Anderson brings his blended prowess for art history and film studies as Oklahoma City Museum of Art's new film curator. He is replacing the museum's former film curator of 19 years, Brian Hearn.
Anderson first heard about the job opening on Twitter and Facebook after a couple connections shared the news. When Anderson interviewed, he had never been to Oklahoma. But after starting the job Aug. 13, he learned OKC had an advantageous position in the film programming and curating market.
"It's almost kind of the perfect size because Oklahoma City is a large enough city [that] we can do art house programming, but there's really no competition here," Anderson said. "We're the only art house in Oklahoma City, so it really kind of gives us enormous latitude as to what we can program."
Like Hearn, Anderson agrees that new indie releases, such as Richard Linklater's summer hit Boyhood, are the "bread and butter" of the program, bringing the most successful runs and audience turnouts.
Hearn "very wisely" booked Boyhood for a week in mid-August, and it was one of the biggest successes the museum has ever had, said Anderson, who introduced the film to museum audiences for the first time.
"It just shows that there's a real interest and thirst for different and exciting art film in Oklahoma City," he said.
Anderson plans to build on the foundation Hearn has laid, but he also will incorporate his taste for the obscure that he developed in college to the calendar. With a background in academia, Anderson approaches film curating for the museum much like creating the syllabus for a class, an experience he had most recently teaching at Yale this summer.
"We're different than some of these AMC theaters around in that we're really trying to curate a program and kind of teach and enrich through what we're showing," he said. "A lot of what we're doing has to do with bringing films together within a context."
In September, the museum will show Mood Indigo, Michel Gondry's latest film; The Trip to Italy, the comedic sequel to The Trip; and Listen Up Phillip, starring Jason Schwartzman, two weeks after it opens in New York. On Saturday, the museum will screen Norte, the End of History, a four-hour Filipino film and adaptation of Crime and Punishment. Norte was a hit at the 2013 Cannes Film Festival in France.
"We're taking some chances and some risks with the films that we're showing, but it's interesting," Anderson said. "It's just the only place that you're going to be able to see something like that. That's what's really changing."
When calculating those risks, Anderson references his art history background, his diverse palate in movies and his fundamental beliefs about what film can show a community.
"It provides a broader understanding of the world that you live in; it's an art form that has its own rules," he said. "And by spending time with the medium, it teaches you how to think in new and different ways."
With foreign, art and repertory films, Anderson hopes to coordinate movies with art exhibitions as well as organize discussions that delve into the theme, director or era of the film currently running. For example, Anderson plans to screen three corresponding films that play off of My Generation: Young Chinese Artists, an exhibition which runs from October through January.
With the digital renovations that took place during Hearn's last few years and the accessibility of film itself, Anderson believes the best quality of material will be available to audiences. This technology will allow him to focus more on different ways of presenting films, showing them in series or mini-festivals that will channel his skills from his time in Denver.
"Different venues are starting to move towards a festival approach, where they show a number of films and people can get all access to the events," Anderson said. "We will be experimenting with that in the coming months as well."
As for now, the September calendar is booked with screenings, and October and November are not far behind. Also, in the coming months, Anderson has personal aspirations to see more of Oklahoma — besides the 10-minute walk downtown from his house to the museum.
"I'm getting my bearings," Anderson said. "Everybody I've talked to that's ever spent any time in Oklahoma has said it's a very diverse state. I want to explore the state more in the coming months when I have a moment to breathe."
In the meantime, he'll be doing a job he's really excited about: watching movies.
Print headline:
The movie man