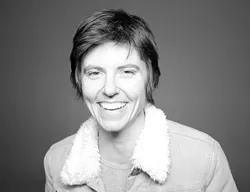 Few comedians are as respected and admired by their peers as Tig Notaro, who will perform her unique blend of jarringly honest and absurd humor Saturday at a comedy showcase presented by OKC Comedy and Fowler Volkswagen.
Notaro's 35-city Boyish Girl Interrupted Tour is her first since exploding onto the national stage with her Grammy-nominated album, Live, recorded in August 2012 at Largo in Los Angeles.
In the four months prior to that performance, Notaro was hospitalized with a life-threatening bacterial infection. After being released, her mother passed away. Then Notaro and her girlfriend broke up. After all that, she was diagnosed with breast cancer.
Rather than give up in the face of so many devastating calamities, Notaro turned personal tragedy into an incredibly powerful stage performance that changed the trajectory of her life and career.
In the show, she opened up about her harrowing experiences to an audience that included Louis C.K., who took to Twitter that night and declared it one of the best stand-up sets he had ever seen. He later released a recording of the performance through his website.
Notaro said the choice to be so candid wasn't that difficult, as she has always striven for authenticity.
"To discuss anything other than the adversity that had taken over my life would have been inauthentic to me at that moment in time," she said, "which, more than anything, was the driving force that prompted me to be so open and honest."
OKC Comedy partner Brad Porter said that Live was so special because Notaro was clearly feeling her way through, not knowing how it would go beforehand.
"The old formula is tragedy plus time equals comedy," he said. "To hear somebody confront tragedy in real time and weave comedy out of it in the moment is not only unique, but it's almost unimaginable that it would be duplicated in the future."
Since Live was released, Notaro inked a book deal, filmed a documentary series for Showtime, delivered a TED talk, runs the popular podcast Professor Blastoff and has numerous television and film appearances lined up.
Despite branching out, she still thinks of herself, first and foremost, as a stand-up comic.
"It will always be my top creative priority, as it is what I truly love," she said. "But I am enjoying having new creative experiences as my career is progressing, including acting jobs when they organically come up."
That love has existed since childhood, when she looked up to comics like Paula Poundstone, Joan Rivers and Richard Pryor.
"It was a fantasy of mine to pursue comedy as a career, but I never in a million years thought it would ever, ever be a possibility," Notaro said.
Unsurprisingly, she has no regrets about doing Live. Beyond the huge career boost, the performance had an unexpected positive effect.
"I feel really fortunate that being so open seems to have inspired and helped others out there in the world going through a deadly diagnosis or just a rotten day at the office," Notaro said.
When it comes to the challenge of following up such an acclaimed performance, Notaro decided to stick with the creative philosophy that served her so well before.
"I felt compelled to write and do material that excited me and that was true to my reality," she said.
The reality is that Notaro is healthy and content. Personally, her cancer is in remission and she has fallen in love, which she said has made her the happiest she has been in her life. Professionally, her career has never been better.
Local comics Jeramy Westbrook and Spencer Hicks will open for Notaro. Porter described Westbrook as a surly man with a fertile mind.
"He may look the part of your garden variety biker gang leader, but his jokes reveal a thoughtful observer of life in a big, weird world," he said.
Porter, meanwhile, said that Hicks is as funny as he is handsome.
"His quick but deliberate style of delivery has won over audiences everywhere. Spencer's wit and clever way are a perfect compliment to Notaro," he said.
Notaro will continue to embrace new career opportunities and challenge herself to keep creating comedy that is personal and honest. More than anything, though, she's looking forward to hanging around the house and spending as much time with her girlfriend as possible.
If she could offer her younger self a few words of wisdom, it would be to appreciate what you have.
"Use it or lose it — every area of your body and life," she said. "Also, floss."
Print Headline: From tragedy to comedy As one of the industry's fastest-rising talents, comedian Tig Notaro had to emerge from the dark before being thrust into the spotlight.