Those who know world-renowned banjoist Béla Fleck from his rollicking progressive bluegrass band the Flecktones might be surprised to hear that the 14-time Grammy Award winner will be performing in Oklahoma with a chamber string quartet.
Fleck, a native New Yorker sometimes called the world's premier banjo player, is set to appear with the Brooklyn Rider quartet Jan. 16 at Armstrong Auditorium, 14400 S. Bryant Road, in Edmond. Tickets are $23-$48.
But those who have closely followed Fleck's decades-long career know the musician has a long history of working and thriving outside the settings in which banjo is most commonly heard. His show with Brooklyn Rider might feel like less of a rock show than what he has done with the Flecktones, but the performance is no less energetic.
"It's the difference between hearing a modern jazz-oriented group and a modern string quartet," Fleck said in a recent Oklahoma Gazette interview. "Flecktones are louder and feature a lot more improvisation. Brooklyn Rider brings a completely different dynamic and skill set. I love both and hope that the audience will too."
Merging the banjo with a quartet of classic stringed instruments including two violins, a viola and a cello could be a tough marriage. But Fleck said any challenges in bringing the two worlds together have been mostly negligible.
"We have sorted out the dynamic issues and put together an intriguing set of music," he said. "We have a wonderful time performing together. I'm looking forward to it; I've missed the guys."
Forming bonds
Fleck first united with Brooklyn Rider — a New York-based group that currently includes violinists Johnny Gandelsman and Colin Jacobsen, violist Nicholas Cords and cellist Michael Nicolas — on his 2013 solo album
The Impostor
. The quartet is featured on a concerto titled "Night Flight Over Water," and instrumentation from the group can be found elsewhere on the project.
The banjoist said he first encountered Brooklyn Rider's music just by asking musicians he knew if they had any string quartets they could recommend.
"Over and over, Brooklyn Rider's name came up," he said, "so I listened to their recordings and found them to have a lot of creativity and a lot of integrity and a deep commitment to performing new music."
After he acquainted himself with Brooklyn Rider's music, he called the group and began recording with them. They also performed together on several road dates — the start of a long-lasting friendship.
"We went on tour and got along, well, famously," he said.
Impressions of classical string instruments like violin are typically of soft and elegant music, whereas banjo can be seen as a more abrasive sound. But Fleck said his banjo is never overpowering when the two collaborate.
"Actually, they are louder than I am, so we have to work hard for the banjo to come through at times," he said.
Fleck's work with Brooklyn Rider is not his first foray into the world of classical music. His parents were both European-born composers. In 2001, he won a Grammy for Best Classical Crossover Album for Perpetual Motion, a project with bassist and composer Edgar Meyer. He paired with Meyer again on 2009's The Melody of Rhythm, which also added tabla percussion from Indian virtuoso Zakir Hussain.
Fleck regularly works with a wide range of artists, including as a duo with famed jazz pianist Chick Corea, Nickel Creek mandolin player and Live from Here (formerly A Prairie Home Companion) host Chris Thile and Fleck's superbly talented banjoist wife Abigail Washburn.
"I love collaborating and would even venture that I'm pretty good at making banjo fit into music that it's not expected to fit into," Fleck said.
Collaborative projects don't just turn into the Béla Fleck show either. With Brooklyn Rider, Fleck said their work represents a true partnership.
"At first, I came to them with various sketches, hoping to find out what direction worked the best," he said. "I discovered that they could make any of my ideas work and maybe sound better than they actually were. That was good to know. After that, I wrote whatever the heck I wanted with the confidence that they would make it happen."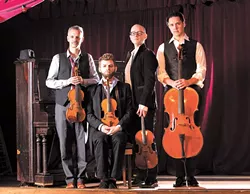 Love, naturally
Fleck recently came off a string of road dates with Washburn in promotion of their second collaborative album
Echo in the Valley
. The album strictly features only banjo instrumentation, a fact many listeners are surprised to learn given the record's sonic variety.
Washburn's warm and diverse vocals add further depth to the project. The couple's last joint venture, 2014's Béla Fleck & Abigail Washburn, won a 2016 Grammy for Best Folk Album.
Fleck seems to take his greatest thrills as an artist from seeing how inventive he can be with the banjo. His passion shines through on each of his many projects, which is one of the reasons he has been nominated in more Grammy categories than any other artist in the award's history.
The banjoist said the primary driver behind each of his projects is to simply make the kind of music to which he would like to listen.
"I try to make music that I can personally love and hope that people will eventually share my enthusiasm," he said. "Sometimes it takes a while for them to catch on, but I feel pretty good about the music that I've put out, in that I actually like it. That's about all I can do."
Reputed carolers
In a few past visits to Oklahoma City, Fleck has taken the time to visit Bricktown's American Banjo Museum.
"It's a mouthwatering collection for someone like me," he said.
In the times he has had a chance to stop by, Fleck said he has looked upon the museum's vast collection of gems with a true enthusiast's curiosity.
"I wish I could try five-string necks on a bunch of them to see what they would sound like as bluegrass banjos," he said. "Lots of the beautiful banjos there are four-string ones, made for New Orleans and Dixieland or Plectrum styles."
Fleck said he is eager to rejoin Brooklyn Rider on the road but, at the time of the interview, was enjoying his time off for the holidays. He has a tradition with Washburn and several of their friends where they go around and give surprise caroling performances on people's doorsteps.
"We — and several great musician friends of ours — pick out a neighborhood and walk through it with bass, banjo, trumpet, guitars, drums, et cetera and lots of singers," he said. "We knock on strange doors and celebrate year's end. It's way fun."
Always be kind to the carolers that come knocking during the holidays. One never knows when that rendition of "Jingle Bells" might be coming from one of the most diverse artists in Grammy history.
Print headline: Welcomed companion; Béla Fleck and string quartet Brooklyn Rider demonstrate how the banjo can shine in a classical realm.