Choate House's portfolio is a stunning collection of wedding and family photography, but Blood Relative Films' Tenkiller is a gritty and profanity-laden crime flick.
Both entities were born from the minds of husband-and-wife duo Jeremy Choate and Kara Choate.
The couple met in art school at Oklahoma University and Choate House was a way for them to explore a shared love of photography and support their own growing family with something creative and fulfilling. But it wasn't enough.
Kara kept prodding Jeremy to produce a script, and he wrote Tenkiller in about a month's time, he said. Since then, the faucet hasn't stopped running with a second feature already shot and a third slated to begin shooting next summer. A stack of unrealized scripts await them.
"For Jeremy, this came out of his head," Kara said. "And I have kind of a dark side too."
The COVID-19 pandemic provided an opportunity and principal photography on the 90-minute feature completed over the course of summer 2020.
What crawled out of the dark side of their minds is a sobering look at small-town violence and grief propelled by an original soundtrack from Oklahoma's own brutal buzzmakers Chat Pile.
"We appreciate the beauty of things that are both dark and light, so this has just been a real opportunity. When you're documenting other people's lives, you're not the creative director of what you're shooting. You're just capturing what 'is.' So really the movie world is the first time we've been able to create something from nothing. It's just complete freedom," Kara said.
The couple's first step into that complete freedom was to lock down the kind of gritty, unapologetic tonal character they envisioned for the story.
And that meant Chat Pile.
"Right after I had just started writing Tenkiller, I saw this little article about Chat Pile, and I got on their Bandcamp and listened to them and just thought 'Man, these guys are going to be huge.' I told Kara that it would be so cool to get somebody local like that to do the score for this movie, and she was like, 'Well, I'll just DM them on Instagram,'" Jeremy said.
To their surprise, the band was immediately interested and came out together to check out the script.
"We had them come over to the house and they all sat in our living room and read it. That was probably the coolest part of the whole thing for me, just having them work with us," Jeremy said.
For the band, it was an opportunity to work with people that not only shared their uniquely skewed, cynical perspective – equal parts darkly comic and near-nihilistic – but that also shared a similar creative process.
"We really appreciate the Choates' DIY attitude about making art and relate strongly to their 'pick up a camera and make it work' approach to getting things done," Chat Pile bassist Stin said. "The results are raw and at times weird, but therein lies the beauty of what they're able to do. There's a scrappiness to their work ethic that comes from making your vision come to life against all conceivable odds."
In addition to finding that kind of tight, mutual creative partnership with the band, the Choates also found an unexpected acting talent in singer Raygun Busch, who ended up clinching the role of Toy in the film.
"He plays one of the bad guys, and he just took off. We really opened up that character because he's just so much fun. Everyone loves him. Everyone is like 'Oh my God, my favorite character is actually Toy,'" Kara said.
Being so intimately and personally involved in a film is a rare experience for a band handling a score and soundtrack, but it offered the Chat Pile boys a chance to get deeper into the world of Tenkiller and to fine-tune the ominous musical mood throughout.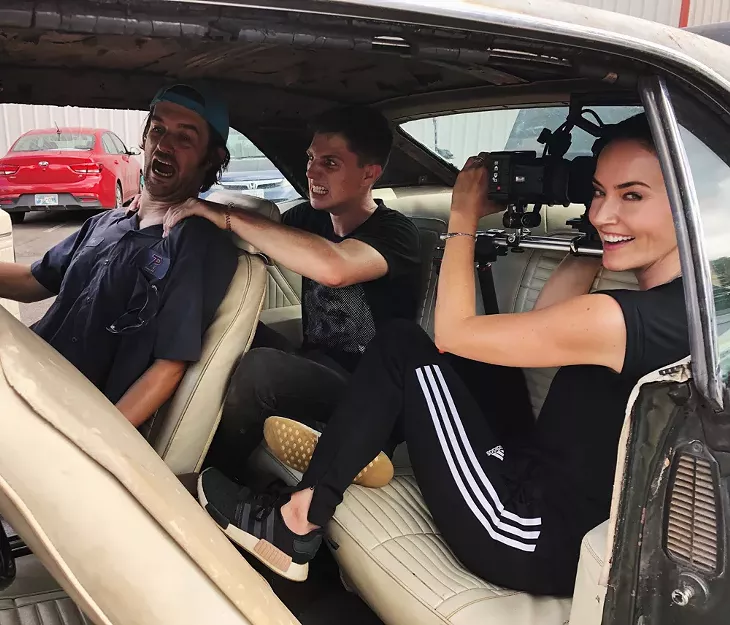 "We wrote the song 'Tenkiller' for the movie and used the melodic structure of that song as a through-line for a good portion of the score," Stin said. "But the movie relies heavily on improvised performances and we wanted to bring that same energy as a theme as well. We spent weeks just improvising with wildly untraditional instrument arrangements and recording the room. It was really fun getting out of our dumb heavy metal box a little and doing something people may not necessarily expect from us. In traditional Chat Pile fashion, the results are still pretty unsettling."
Not content to ever pigeonhole themselves into an easy "metal" box, the band even strayed way outside of their comfort zone for the soundtrack cut "Lake Time."
"It's a country song, and it's hilarious," Kara said.
"The most fun we had was writing that song. We wrote the lyrics together in one setting and we were laughing until we were crying at points, particularly when we had to start Googling the Kid Rock discography," Stin said.
Add up all of these unexpected turns and contradictions – the family photographers embracing the buried darkness of their home state, the breakout noise-metal stars zeroing in on a refined tonal palette and country shenanigans, even the unhinged, howling frontman exploring his thespian side – and the result is undeniable.
So undeniable, in fact, that the little micro-budget film struck streaming gold in its search for distribution, premiering on Amazon on Nov. 18 with the soundtrack hitting music streamers the same day.
But now that the Choates are stepping into the bigger, more intimidating world of national streaming, distributor deals, and widespread, Chat Pile-led attention, they have no intention of playing it safe or toning down their weirdo, left-field tendencies for the masses going forward.
"This next one that we're working on is really wild and strange, so we'll see what happens," Kara said.