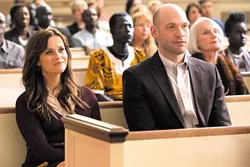 Maybe the most pleasant irony of a film following the plight of the Lost Boys of Sudan, a group of refugees misplaced by civil war at the end of the 20th century, is that the project was spearheaded in the upcoming film The Good Lie by a pair of homegrown Oklahoma twins.
The career of Trent and Thad Luckinbill, cofounders of Black Label Media and natives of Enid, was originally foreshadowed by their own upbringing. Raised in a "very musical family" cared for by an artistic mother, Thad and Trent formed an early appreciation for the performing arts. Film became particularly specific, as the American Movie Channel was a fixture in their house.
Trent, a lawyer of nine years after graduating from the University of Oklahoma, commented on the typically unseen compatibility of business and filmmaking.
"There's a lot of business involved in making, marketing and producing films," he said.
On the other hand, Thad — an actor by trade known for his performances in TV's The Young and the Restless, CSI and Nikita — mentioned the union from his point of view.
"Coming at it from being mostly an actor, I understand the work that the actor has to do to make a movie," he said. "From a producer's standpoint, it never ends. It's like raising a child."
Trent illuminated a major difference between Black Label and many other production companies: It works hand-in-hand with a film's cast and creative staff, cultivating a hatchling of a piece until it's ready to take flight across the cinematic market.
"We don't buy finished products," Trent said, "and that's the difference."
The Good Lie, showing now at select metro theaters, took a bit of grassroots effort to get off the ground. The Luckinbills first decided on a narrative that resonated with the two of them personally.
"It's a movie about trial," Thad said. "And growing up in Oklahoma, it really meant a lot to us, since we were brought up on a communal value. This was a movie we could sell, we should sell, and we wanted to be a part of it."
The pinnacle of the film's staying power lied within the script of Margaret Nagle (Warm Springs).
"The script was really trying to capture the triumph of the human spirit," Trent said. "Imagine living through something no child should ever have to experience. Nagle was really going for the characters to be true to who they were: South Sudanese Christian." Nagle's work, in the Luckinbills' eyes, tied together the whole endeavor.
Similarly, the film finds a happy balance between humor and tragedy, tethering two sides of the human experience, a particular human experience that is active within national headlines.
"It's an important movie because it's still going on," Thad said. "It is tremendously tragic, but it's something that, ultimately, everyone relates to."
Thad and Trent remember how the journey of the film struck a chord within the two of them and how that humanistic strain flowed through them and the people the film was inspired by.
"Meeting a lot of these folks, I think we share a common connection over how much we are still connected with our families," Thad said. "We could all find a bond in the love these guys felt towards their families."
Headline: Good people, Enid-raised film producers Thad and Trent Luckinbill teamed with Reese Witherspoon to detail an under-discussed world issue.