"We need conversations," Shauna Burke said. "It's an interesting moment in history. With every step forward, there's ten steps back."
Burke is a jewelry artist, curator, and organizer based in Brooklyn, where she works primarily with hardened and soft metals to interpret what she says is the simultaneous toughness and vulnerability of her native New York City.
In NYC, it's easier to have anything-but-easy conversations. The city runs hot with an almost defiant progressivism, not least when it comes to questions of abortion rights and choice.
It's harder to have those conversations in places like Oklahoma.
That's why Burke created the Plan B Project, a touring showcase for jewelry and wearable works meant to hold up a mirror to the abortion debate, and to wordlessly reflect the toll – both psychological and physical – of draconian bans and anti-choice laws like Oklahoma's.
"Jewelry in its traditional form is really wearable art," she said. "This show is made up of pieces that are wearable, yes, but that are also statements. You're going to look at them twice."
Though Burke admits to being passionately and irrepressibly political, she wanted this show to be a more quietly powerful collection of pieces representing the emotions and the silent, internal challenges of those affected by such regressive policies nationwide.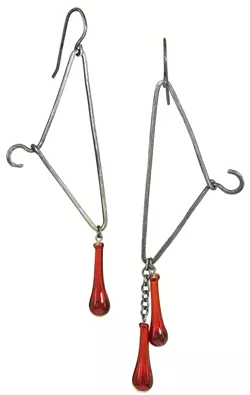 "Most of the statements are subtle, but you're definitely going to take a look and say, 'Hey, what is this about?' and it's going to bring on a conversation," Burke said. "And that was our goal. It's not necessarily to be in your face or to be too strong, but just to have this conversation about bodily autonomy."
That same desire to spark a conversation, no matter how controversial in such a firmly red state, was the motivation for OKC-based artist Denise Duong to welcome the Plan B Project to her Little D Gallery.
"This means the world to me," Duong said. "This show in particular is unique in its vision as it addresses the aspects of autonomy to one's own body through wearable art, which becomes part of one's body when worn. The cause and effects of the inability to control what can happen to a person without the option of safe access to abortion is historically profound and needs to be addressed more."
The pieces on display and for sale as part of the Plan B Project range from the subtle, sometimes cryptic symbolism of amphora bottles and flowers or seeds to the more blunt, striking imagery of wire hangers and anatomical designs. A necklace by artist Rachel Quinn features a limbless, feminine torso. Above the neck, just a silver cross. Below the waist, just three vivid, blood-red jewels.
"Some artists really just took it completely in their own direction," Burke said. "Several artists have created works that fall sort of in between religion and human fertility, dealing with things like beads, which could be looked at as prayer beads or even a woman's cycle of fertility."
Since originally conceiving of the show as a way to raise both awareness of, and money for, pro-choice organizations and activism, Burke said that the scope has widened organically to address the greater issue of bodily autonomy in all its forms.
"It really started with the abortion issue, because that was my original inspiration," she said. "But I think as it's grown, and as the artists sort of individually discuss it, it's become a bigger issue of, 'If this right is taken away, then what other rights can be taken away?' and, 'What kind of control do I have over my own body?' And that's clearly not only a women's issue."
The thing that all of the featured artists share, and perhaps the most important element that both Burke and Duong want to convey through the show, is the connective empathy required in both thinking emotionally about a piece of art and responding emotionally and thoughtfully to these issues.
"My thoughts on the people that oppose choice is that they will turn a blind eye because their hands already cover their ears and eyes to see beyond what they have firmly decided is right. It's hard to understand art without empathy and the willingness to see beyond your own perspective," Duong said.
The same sentiment was echoed by Burke. Even coming from a liberal enclave like NYC, she believes that, rather than just being surrounded by like-minded people, it's the willingness to be open to challenging conversations and subversive ideas that keeps a mind open to the true beauty of art.
"I think when you're so serious and so fiercely moral about a subject, you're not open to nuance and grace," she said. "You really do have to look past your own tunnel vision to understand art, to understand literature, to understand anything outside of your own little bubble."
Breaking through that bubble in Oklahoma is likely to be a challenge, but for all of the potential controversy and turmoil around seemingly anything that so much as mentions abortion, gender identity, or sexual affirmation in our state, Burke has no second thoughts about bringing the show to OKC.
"Maybe that would be a good thing," she said of the show's potential to create that kind of unwanted stir. "This is political and it's emotional, and I think that my own perspective could be naive to this particular audience. But that is also why I want to bring it to that audience, because continuing to have a political conversation only with people who agree with you doesn't get you anywhere."
The Plan B Project jewelry and art show at the Paseo's Little D Gallery will hold its opening reception on Feb. 2. The show runs through Feb. 12., and 25 percent of all sales will go to Planned Parenthood to help fight abortion restrictions and dangerous, regressive lawmaking across the country.
Visit planbartproject.com.