Amy Dee Stephens knew that when she finished writing her first book on the Oklahoma City Zoological Park's first hundred years, a follow-up was inevitable. Stephens' book, Oklahoma City Zoo, 1960-2013, hit stores Aug. 19 and provides the rest of an epic story of a zoo and the community around it.
"The history of the zoo is so integral to the history of our city. For instance, how do you sustain a zoo during the Great Depression?" she said.
Unwilling to let the animals of the zoo go hungry, the citizens of Oklahoma City banded together and fed the zoo animals leftovers from their own tables. This is just one of the incredible stories that Stephens uncovered in the course of writing her first book. It took her about 500 hours of research and writing over the course of about two years. And even though she works for the zoo, none of that was on work time; it was all done in her free time.
"By that time, I just had 100 years of history rattling around in my head and I needed for it to have someplace to go," she said.
The result was not only the book but also the ZooZeum, a small addition to the zoo's landscape that features rotating exhibits about the history of the OKC Zoo. Stephens is the zoo's naturalist instructor supervisor and oversees all educational components in the zoo. And since one of the major purposes of the zoo is to inform and educate the public about the natural world, she has a hand in just about everything.
She has worked there for 16 years and loves every minute of it. It has also given her a leg-up on the second part of her zoo history, as some of it has unfolded right before her eyes. While the first book closed a chapter on the zoo's history at a good stopping point,
"1960 was a jumping-off point for a different direction for the zoo," she said.
Dr. Warren Thomas, director of the zoo, began taking the zoo in a direction geared more toward conservation and education. He became zoo director in 1959.
"There are over 200 people mentioned in this book for whatever reason — they may be in a photograph, and that's the fun thing about this book, because people who are living are in it," she said.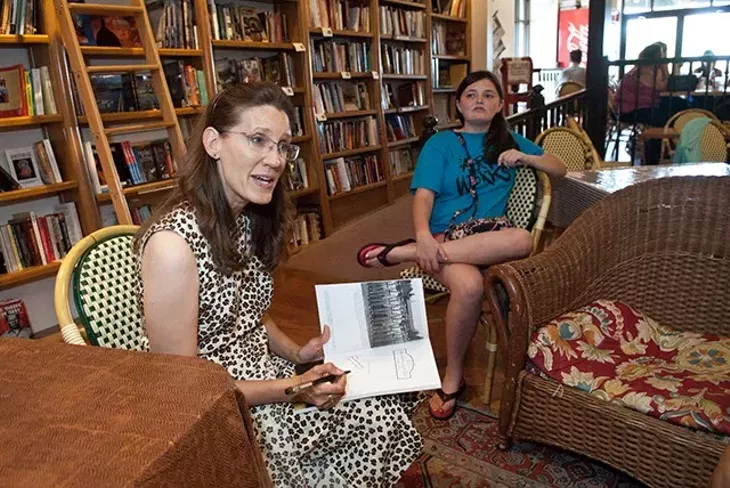 Stephens enjoyed being able to mention things that are fun and current and that people were there to experience along with her. What stood out to Stephens while writing the book is that the zoo belongs to the city and all citizens of OKC are a part of it.
"I had to cut a lot of my favorites, but my intent was to represent the community at large," she said.
The Oklahoma Historical Society played an integral part in both books, allowing Stephens to peruse countless photographs illustrating the history of the zoo. All of them were gems, and she's hoping to collect the best of them for an exhibit at the ZooZeum. "There's a photograph from 1930 with Luna the elephant and flapper girls," she said.
When she was going through the old photographs, she said she "had [her] white gloves on and [her] heart was racing." To be given the keys to that kind of history was thrilling. To turn around and, in her second book, get to tell the story of the zoo as she knows it was a satisfying conclusion.
Stephens has several book signing events scheduled through September, but none is perhaps more exciting than being a part of the annual Septemberfest Saturday at Oklahoma History Center, 800 Nazih Zuhdi Drive. The annual party on the lawn is a highlight of the year for young and old alike as they converge on the grounds of the Oklahoma Historical Society (OHS).
"We have people in from all over the city, and our goal this year is to shut down 23rd Street up to Interstate 35," said Steve Hawkins, director of marketing at OHS.
Hawkins expects a crowd of 10,000-15,000 starting at 10 a.m.
The festival features interaction — including hands-on activities and demonstrations — with living participants of every part of our state's history.
"There's face-painting, storytelling, and the chuck wagons typically do Dutch oven stew, cobblers, anything the cowboys ate," Hawkins said.
There are ongoing activities on the lawn and inside the History Center from 10 a.m. until 4 p.m.
Stephens will be there to sign and answer questions about her book as an expert on an important part of our city and state history. She has participated as a guest of Septemberfest, but this will be the first time she is part of the presentations.
"I've always had a passion for the zoo, and I've worked there for 16 years. Once we got all that together again, it seemed a shame for it to just disappear again," she said.
Her book is available at local retailers, including Full Circle Books, 1900 Northwest Expressway, and at arcadiapublishing.com. For more information about Septemberfest, visit okhistory.org or call 521-2491.
Print: Zoo-ology; Local author concludes her project on the history of the OKC Zoo with her second book, in stores now.