It's not often that a remake, reimagining, reboot, whatever you want to call it of a popular horror franchise lives up to its hype, but when Jordan Peele announced he was co-writing and co-producing a new version of "Candyman," there wasn't much question that this one would.
This movie definitely feels like it was crafted lovingly by fans of the franchise, who sought — and succeeded wildly — in both updating and turning its mythology on its head without getting lost in the weeds.
If you're looking for a shot-for-shot remake, you'll be disappointed. But there is lore as well as stylistic continuations from the first classic film. While there are buckets of blood in this version, as in the original, the vast majority of the violence does occur offscreen and unlike some franchises, "Candyman" still doesn't rely on jump scares amplified by sharp notes to get its points across either (here's looking at you, Blumhouse).
Helmed by Nia DaCosta on her sophomore outing (after 2018's superb crime flick "Little Woods"), the script takes on a life of its own. This installment focuses on the lives of artist Anthony McCoy (played by Yahya Abdul-Mateen II) and his girlfriend, Brianna (Teyonah Parris), an art gallery director. Their lives soon become entangled in the Candyman myth anchored in the now-derelict Cabrini-Green housing project in Chicago.
While the narrative arc mostly takes a descent-into-madness trajectory, the mythology of the series is given its own space, told through shadowplay marionettes at various times in the film (stay seated for the end credits, which features an extended scene of marionette storytelling). In addition to recounting the myth of Daniel Robitaille, familiar to fans, new branches of the lore are added, such as the tale of Sherman Fields and his ill-fated end at the hands of murderously aggressive police officers.
Updating these elements of the Candyman mythos for new audiences allows for a fresh perspective on the hateful, racist forces that birthed the Candyman boogeyman without erasing any of the horror that gave this movie the sting it had when the original was released in 1992 (Daniel Robitaille met his violent end at the hands of a violent, racist mob sicced on him by the father of his interracial lover, for those who have forgotten).
Virginia Madsen reprises her role from the original as Helen Lyle (at least on audiotape) and without giving too much away, Tony Todd returns for at least one scene as Robitaille/Candyman. Oh, yeah, the bees are back too.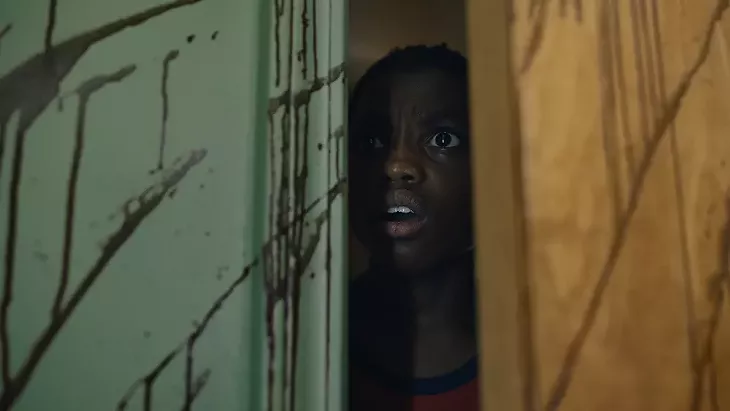 Peele broke fresh ground in horror storytelling with "Get Out" and just ended his current revival of Rod Serling's seminal anthology television series "The Twilight Zone." His loving hand/hook crafts the perfect go-between for his recent forays into weird tales while DaCosta brings it to life with the intensity Bernard Rose brought to Clive Barker's short story "The Forbidden" nearly 30 years ago.
Candyman opens Aug. 27.