As Oklahoma deals with an ongoing budget crisis, state agencies routinely develop ways to operate more efficiently while providing quality services to clients. One way of doing that is partnering with community agencies that can bridge the gap left by state funding cuts.
The National Alliance on Mental Illness' (NAMI) local Edmond-North Oklahoma City chapter is one such group.
"More than 700,000 Oklahomans suffer from mental health issues," said Eileen Morefield, local chapter president. "Our mission is to empower individuals, families and communities by providing hope and education about brain disorders."
The national alliance was founded in 1979, and Morefield said the Edmond-North OKC chapter came into existence about a decade ago. It has about 100 members throughout the metro, and the organization is growing.
Beginning 6 p.m. Thursday, NAMI hosts an intensive education course for families facing mental illness-related issues. The free Family-to-Family course runs through April 6 at Midwest Boulevard Christian Church, 320 N. Midwest Blvd., in Midwest City.
Members meet about two and a half hours once a week and the class is open to family and caregivers age 18 and older, Morefield said. Featured topics are various diseases, medications, coping and communication skills, problem solving and more.
Morefield said the program will be of special interest to families or friends whose loved ones have recently been diagnosed with a mental illness. Sessions are led by trained family members with years of experience with related issues.
"One of our class participants said before they took the course they felt alone and overwhelmed dealing with their daughter's mental illness," Morefield said. "By taking this course, they said they met others who are going through the same things and learned about many resources that they never knew existed."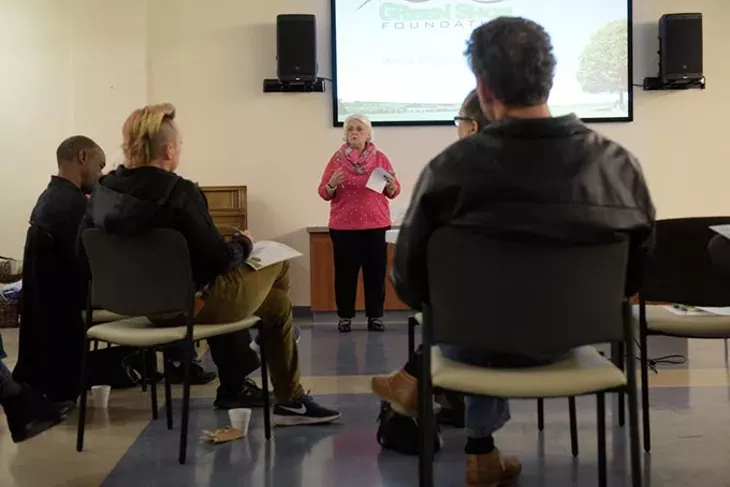 NAMI is certified by the Better Business Bureau for meeting accountability standards, she said, and the American Institute of Philanthropy (now CharityWatch) awarded NAMI a B+ for its cost-effective charitable spending and fundraising practices in 2016.
While NAMI is doing what it can to help educate the public about mental health issues, the Oklahoma Department of Mental Health and Substance Abuse Services (ODMHSAS) also potentially faces another year of budget cuts.
"Oklahoma has among the highest rates of mental illness and substance abuse issues in the country," said Jeff Dismukes, ODMHSAS director of communications. "Yet the majority of Oklahomans in need of treatment do not get the services they need to find recovery. There simply are too few resources to keep up with demand. This is a problem that has existed for decades, and the recent budget crisis has made that situation much more difficult."
Dismukes said brain diseases are treated differently than other illnesses, and he believes that must change.
"These illnesses can be successfully treated, especially when we get people needed help early in the disease process," he said. "Left untreated, mental illness and addiction leads to negative consequences for the individual, families, our communities and the state as a whole."
According to ODMHSAS, last year's deficit forced significant budget cuts, resulting in reduced services for thousands of Oklahomans. Even so, Dismukes said brain health is imperative to overall health, and it is one of the most important issues Oklahoma must address.
"Access to appropriate care saves lives," he said. "We need to fix disparities in the system."
For additional information on NAMI's Family-to-Family class, call 405-408-0886 or email edmond.nami@gmail.com.
Print headline:
Family support,
NAMI hosts classes to help those caring
for loved ones.