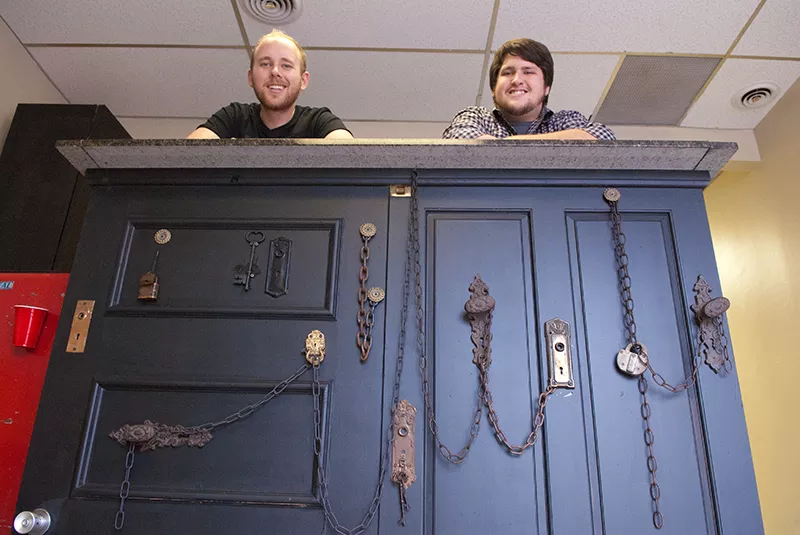 Imagine giving money to strangers to lock you up in a room. Now imagine that your only way out of the room is to solve a series of puzzles. You only have an hour to solve the puzzles, and you can bring your friends along to help. Sound like fun? It does to the guys behind The Escape OKC, a new entertainment concept in the city.
Andrew Gipson, the creator, first experienced a puzzle house in Belfast, Ireland, and promptly decided that Oklahoma City needed something similar. He recruited friend Jonathan Cox, who has worked with games and puzzles all his life, and put together The Escape OKC.
Up to six friends can book a room and pay for an hour's time. The rooms are graded on difficulty, and you solve puzzles to escape.
The rooms have a theme, and thereis a narrative that ties the whole concept together. The games are also Google-proof so, while you can take anything you want into the room, there's more to them than pulling up answers on your smart phone; they want you to have to use your wits to work through it.
"We have total faith in our puzzles," said Gipson. "Everything you need to solve the room is in the room."
Currently, you can choose from two rooms. The Forgotten Outpost is a 1960s Cold War theme. The creators built the room and puzzles that all work into the theme, and they included some spy tech from the era.
The other room, The Four Brothers, revolves around the founding principles of philosophy and thought. For Cox, who has degrees in humanities and philosophy,along with a love of gaming, it's a great fit. "[The room] is based aroundphilosophy and the older systems of magic," Cox said.
Cox is drawn to philosophy and humanities because he loves the subject, not because he was dead-set on working in the fields. In fact, he knew going into it that a career as a philosopher is the exception rather than the rule. When Gipson approached him about being the creative force behind the puzzles and games, it was a dream come true.
Gipson was more intrigued by the fact that there was nothing like this in Oklahoma and not many of them in the United States. He sees it as a chancefor people to get together and use their creativity to solve problems. Not only is it a great place for friends to sharpen their wits and be creative, it's a great place for team- building among colleagues.
"[Visitors] have a lot of fun. I like to think they maybe learn something about problem solving, but it's the camaraderie; you're going to learn something about your friends in there," Gipson said.
Gipson and Cox plan to add a third room with a crime scene procedural theme within the next month. It will be more difficult than the two rooms featured now.
Book a reservation by visiting the website, theescapeokc.com, and you can follow it on Twitter (@theescapeokc).
Print Headline: The great escape