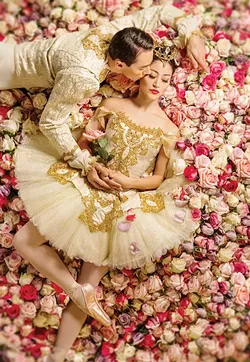 Famous Russian composer Pyotr Tchaikovsky wrote just three pieces for ballet, yet the titles in his trilogy stand out as possibly the most known and reproduced works in classical dance.
The Sleeping Beauty, The Nutcracker and Swan Lake are considered three timeless staples of the medium. Properly producing any one of the shows is considered a milestone for many young dance companies.
"For us to be taken seriously as a classical ballet company, we needed all three of these ballets in our repertoire," said Robert Mills, Oklahoma City Ballet artistic director.
The local dance company presents The Sleeping Beauty Feb. 17-19 at Civic Center Music Hall, 201 N. Walker Ave. Though the next season has not yet been announced, the company plans on performing all three Tchaikovsky ballets within one year for the first time since it became known as Oklahoma City Ballet in 2008. It performed The Nutcracker in December.
The ballets Tchaikovsky wrote are highly regarded and recognized across the world, but a few of his works were seen as box office duds upon their original release in the 1890s. Only The Sleeping Beauty achieved initial popularity. It took several edits and some timely reproductions of The Nutcracker and Swan Lake before they caught on.
"Although the ballets themselves were not successful," Mills said, "I think it's Tchaikovsky's music that has really carried the ballets forward."
It takes a large and talented group of dancers for a company to pull off the trilogy. Mills said OKC Ballet's roster is more than capable.
The Princess Aurora role is known as one of the most challenging pieces of choreography in ballet. Mills praised OKC Ballet principal dancer Miki Kawamura and soloist DaYoung Jung for their skill in sharing the role.
Mills developed some of his own original choreography for the production, but to stage the classic pieces of dance from the show, OKC Ballet brought in guest ballet master Matthew Powell. Powell travels the country working as a guest instructor for dance companies.
He said the grace seen on Sleeping Beauty's surface is often deceptive.
"It's not simple to execute but simple in its presentation," Powell said. "Of these ballets, The Sleeping Beauty is the most technically challenging, but the audience very rarely knows that because the choreography lends itself to looking effortless when, in fact, it's ridiculously difficult."
Even those unfamiliar with ballet might have heard the term "Rose Adagio," the name of a dance sequence from The Sleeping Beauty's first act known as a true test of a skilled dancer.
"It's one of the most iconic moments in classical ballet, and it is difficult," Powell said. "If you look at the amount of dancing she has to do, it's really off the charts."
Powell is based in New York but grew up in rural West Virginia. He was once a dancer with Kansas City Ballet, for whom Mills also once performed, though at a different time. This is his first time working with OKC Ballet.
"The dancers here are so committed," he said. "They always have smiles on their faces, and they want to work — they want to work until it's right, and they want to get it right."
Many people recognize The Sleeping Beauty because of the 1959 animated Disney film. Similarly, the ballet saw success during its initial debut because it was a fairytale people of the era were familiar with.
While name recognition draws many through Civic Center doors to see the show, Powell said audience members from all backgrounds will leave after seeing it with a new respect for its artistry.
"You leave rooting for the dancers as much as you do the story," he said.
Visit okcballet.org.
Print Headline: Classic choreography, OKC Ballet performs elegant and technically demanding The Sleeping Beauty.