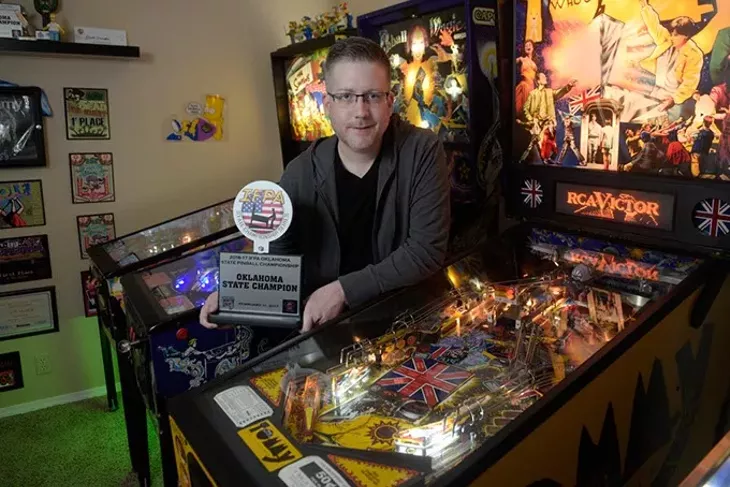 Brett Emerson is in training mode. On Feb. 11, Emerson bested 15 other players to become the International Flipper Pinball Association's Oklahoma state champion.
With less than a month to go before the IFPA national championship in Mesquite, Texas, Emerson keeps a tight regimen with no playing around.
"A month out, I don't take many appointments as far as filling up my afternoons and evenings, and I just play a lot of pinball," said Emerson, who will face off against players from every state during the March 16 competition at Fun! Billiards & Gameroom Superstore in Mesquite. "I'm talking anywhere from two to four hours if I can squeeze it in. I avoid playing casually. Every game I play at this point, I'm trying to extract as many points as I can."
Becoming part of the machine
Emerson, a 35-year-old Oklahoma City-based land man in the petroleum industry, was born after pinball hit its peak in the late-1970s, when the emergence of microprocessors created a massive boom in production and sales by the giants of that era, Williams and Bally.
But that boom was short-lived; while first-generation coin-op video games such as Pong coexisted with their pinball forebears, the rise of Space Invaders, Asteroids, Pac-Man and other late-'70s, early '80s games pushed the pinball tables to the back to the arcades.
But for Emerson, video games were the entry point for his obsession.
"In the very beginning, I didn't like pinball," he said. "I started collecting arcade games when I was 27 or 28 and bought my first pinball just out of random luck. I was buying a Mortal Kombat 2 game, and the guy said, 'Hey, I'm trying to clear this stuff out — would you take this pinball if I gave you a good price?' So we negotiated and I took it, and I just started playing it and playing it and playing it. Eventually, you get better — you notice that something is going on there."
Flipper fingers
Flash forward eight years, and Emerson is the Bally Table King of Oklahoma, having won three out of four state championships. His home base of operation is Cactus Jack's Family Fun Center, 1211 N. Council Road, a giant arcade with one of the largest collections of well-maintained, top-line machines in the country.
All his favorites are there in Cactus Jack's 44-machine inventory, which includes Pinside.com's No. 1 game for the week of Feb. 19, 2017: 1997's Medieval Madness.
Despite Medieval Madness' eminence, Emerson's first choice in competition is always The Simpsons Pinball Party, a 2003 Stern table. He went into the state championship as No. 1, which gave him game selection advantage. Each time, he pushes to reach Super Duper Mega Extreme Wizard Mode, and few can catch him once he achieves multiball.
"I don't lose many games on that one," he said. "I can take them to Simpsons every time and I'll start with a 1-0."
One does not become pinball champion by merely being fast and having the hand-eye coordination of a military drone pilot, though both traits certainly help. Emerson said he built his reaction time through heavy gaming in his youth, and his particular set of skills includes an acute understanding of pinball strategy — something most lay people assume does not exist.
"I would say the most important thing is hand-eye coordination — to be able to react to something happening on the table quickly. Fast reaction time, and another big thing about pinball is rules knowledge. A lot of people I talk to when they first come by the house and play pinball with somebody, they say, 'Wow. I didn't know there was stuff to do, an objective to go for. I just thought you flipped around and kept the ball alive.'
"In the beginning, that's what you are trying to do. You don't want to 'drain,'" he said, which is slang for the ball treating the player like a chump and shooting behind or between the bottom flippers. "But once you get a hold on things and you can start to control the ball, you say, 'Now, to get that lock shot lit; I need to hit the ramp twice.' Once you approach things with an objective in mind, the game changes a lot and it opens it up to be a lot more fun."
In 2017, after nearly four decades of video game domination of arcades and homes alike, what kind of person takes the full immersion into a life of modes, drop targets, bumpers, flippers, kickout holes, spinners and vertical up-kickers?
Emerson said it's really anyone. There are quiet types, overly passionate players, men, women — people from all walks of life.
Historically, pinball is as male-dominated as video gaming, but since Cactus Jack's recently started a women's league, more women are joining the competitions.
While his home arcade is Cactus Jack's, Emerson's home is kind of an arcade. In addition to the video games he has purchased over the years, Emerson owns 10 pinball tables — eight are at home, one is on loan and the remaining machine, a 1992 Fish Tales by Williams, is being restored.
Buzzers and bells
When he lived in Dallas, Emerson knew a restoration artist who knew the inner workings of the backbox and could re-decal the playfield with precise detail, but restorations of such specific works of art could cost hundreds of dollars.
Emerson started watching over the technician's shoulder until he got a feel for the process and soon was restoring and upgrading his own machines.
So far, he has restored 30 games, but his pride and joy is his 1994 Guns N' Roses table produced by Data East.
"My favorite band is Guns N' Roses, so when I got my Guns N' Roses game, I decided I was going to make this the nicest one anyone's ever seen," he said. "So I did a lot of work to it. There was a lot of metal polishing and modifications, new lighting detail. You name it, you can do it to a pinball machine if you have the funds. It is my baby, and I'm proud to say it's the loudest G N' R machine anyone's ever seen. I did some modifications, and it feels like you're at a concert."
Right now, Fish Tales is belly-up — suffering, ironically enough, from water damage to the cabinet.
This is a major operation requiring a total cabinet rebuild and a new playfield as well as fresh decals and parts.
Such a rebuild can be as intimidating as taking the back off a Swiss timepiece.
"You go, 'I'm not going to touch this — I'm going to break something.' But they're a lot more durable than you think," he said.
After all, pinball machines are built to withstand almost ritual abuse from gamers pounding away at the flippers and not knowing the meaning of too much tilt.
But with Bally and Williams out of the game since the 1990s, Stern and Jersey Jack Pinball are the only American companies currently building machines, so the old classics must be maintained. This is part of the reason Emerson is so bullish on the work being done to the tables at Cactus Jack's and why he works so hard to restore his own machines.
His Guns N' Roses game must be maintained if he's going to hear "Welcome to the Jungle" and the Use Your Illusion outtake "Ain't Goin' Down" at Rock in Rio levels, but also, he hopes to pass his love of the game to new generations.
"A lot of times people will come over and they don't necessarily know they like pinball. They haven't had the opportunity to play it in many years because they've sort of disappeared from the corner stores and the Pizza Hut and all that stuff," he said. "But I like to have my cousin's kids over — I want to say they're, like, 7 and 9 at this point. My house is the only place where they really get to play pinball.
"But it's cool to see them interact with something that's sort of gone by the wayside for them. These kids would sit around with Minecraft on their iPads all day if you let them, but if you give them something like pinball to do, it's cool to see these young faces getting a kick out of something that's been around for such a long time."
Print headline: Full tilt, State champion Brett Emerson sure plays a mean pinball.