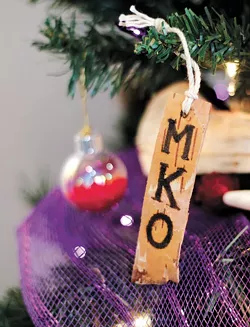 Making symbolic decorations from evergreen trees is an international tradition that dates back to centuries before the birth of Christianity, but for the past few years, one local nonprofit has been setting up Christmas trees to honor the history of Native Americans displaced from their homes by persecutors many years ago.
While three tribes are indigenous to the Oklahoma area, 36 others originally dispersed from the Florida Everglades to the Pacific Northwest and the New York City region and were forced to relocate by the United States government in the 1800s. Treefest at Oklahoma City's Red Earth Art Center presents trees decorated with handmade ornaments crafted by 19 of the state's tribes in an effort to educate the public about their different heritages and traditions.
"Everybody loves Christmas trees, but not everybody loves learning history," said Eric Oesch, director of communications at Red Earth. "Sometimes it can be a dry subject. But what we do is incorporate the art, which is the ornaments on the trees, to tell the story of the tribes so people are learning from the ornaments on the trees about what makes the tribe special, how it's different than the one that's next to it."
Seeing the trees on display next to each other can be a helpful visual teaching tool for illustrating the histories of different tribes and the variations in their traditional ways of life, Oesch said.
"There might be a tree, the Cheyenne & Arapaho tree, they're from the plains, and they were nomadic with teepees and hunted buffalo and that type of thing," Oesch said. "Their tree could be next to the Cherokee tree, and nothing could be more different. They never hunted buffalo, they never lived in teepees. They're from back east, the Smoky Mountains area. Some of the tribes, before they were relocated to Oklahoma, they were farmers and doctors and pharmacists, had newspapers, owned slaves, drove horses and buggies, had plantations. So it helps us to tell the story of the diversity of the tribes in Oklahoma because they're all so different. I think people get that Hollywood image and they think that all Indians raced on horseback and lived out on the prairie, which isn't the case."
Meaningful adornment
Treefest began three years ago with five trees decorated by five tribes, Oesch said, and this year, the free event has expanded to 23 trees, including 19 decorated by tribes including Absentee Shawnee, Caddo, Cherokee, Cheyenne & Arapaho, Chickasaw, Choctaw, Citizen Potawatomi, Comanche, Delaware, Kaw, Muscogee (Creek), Osage, Sac and Fox, Seminole, Kiowa, Otoe-Missouria and Pawnee. In addition to trees decorated by the participating tribes, Red Earth is also displaying a docent tree decorated with ornamental dreamcatchers, beaded corn, teepees, drums and other significant symbols. Another tree displays ornaments crafted by local Native artists that are available for sale. Red Earth also encouraged participating tribes to create additional copies of the ornaments displayed on their trees to sell, with the majority of the proceeds from sales going to the tribes.
"And that started because people would come in and say, 'Oh these trees are so pretty. Are these ornaments available for sale?'" Oesch said. "And, of course, they aren't because if that were the case, we'd end up with naked trees by the end of the exhibit."
In addition to ornament sales, Red Earth is also accepting donations. The art center was originally established in 1978 to promote and continue the artistic tradition of Native American tribes. With that in mind, Oesch said, the center is displaying the tribal trees alongside works of contemporary art created by a member of the respective tribe. He said they try to "focus on Native American art and artists that are living today" in an effort to show the continuing history of Native culture in the state, something many tourists do not immediately understand.
"People that come in here from other places every day, we hear, 'Where can we meet a real Indian?'" Oesch said. "Well, chances are, sir, this is Oklahoma; probably 30, 40 percent of the people you already met have some type of tribal heritage in their family tree. … What makes Oklahoma unique is our culture, and we're very proud to showcase that."
Though each of the trees itself is similar, their decorations are as diverse as the tribes they represent.
For example, the Potawatomi tree highlights the birch bark canoes the tribe used while in their native Great Lakes region as well as purple tones to signify the berries they would eat there. The Comanche tree features painted pony ornaments. The Seminole tree also features a canoe, recreating the official tribal seal depicting a man paddling the traditional watercraft, but the man in the boat is a G.I. Joe action figure. Oesch said the people and methods of decorating them were equally varied.
"All the trees are beautiful," Oesch said. "We had a week when the different tribal groups came in to decorate their trees, and so some of them had heir elders council, some of them would come in and be, you know, 10-12 senior ladies that came in and they'd been working since August making their handmade ornaments and coming in, and then we had another group that had kids coming in making all their ornaments … all these different people coming in, decorating their trees. It was really fun to see."
Print headline: Historic flora; Red Earth Treefest returns with trees decorated by 19 tribes.