"I'll probably go the same way," Ernest Hemingway wrote shortly after his father's suicide. Years later, on July 2, 1961, the acclaimed novelist died of a self-inflicted gunshot wound at his home in Ketchum, Idaho.
Mourning the death of his beloved hero, expatriate Victor Bullard reroutes his trip to Milan, traveling instead to Madrid to take part in the famous bullfights Hemingway often recounted in his stories. After he returns to his home in Paris, Victor takes it upon himself to end his own life.
And the story begins.
Written by playwright Michael Hollinger, An Empty Plate in the Café du Grand Boeuf is a tragic comedy unlike any other. From Broadway to Oklahoma City, the show arrives at Carpenter Square Theatre just in time for the holiday season and runs Friday-Dec. 15.
Though it's not a traditional holiday play, artistic director Rhonda Clark and her team felt it was a fitting time to add the installment to the theater's repertoire.
"People come from different backgrounds, different perspectives," she said, referencing her committee. "We all don't necessarily love the same thing, but we care about finding unique stories. And it's definitely a unique story."
A successful journalist in his own right, Victor leads a life lacking the joy and fulfillment he had one day hoped to attain. Feeling as if his dreams and aspirations of writing the next great American novel have been snuffed out, his accomplishments provide him no comfort.
The son of a wealthy newspaperman, Victor finds himself in a state of distress following the death of his father. Left with an inheritance of several million dollars plus investments, he decides to give up his career and move to Europe.
After his relocation, he uses a portion of his money to purchase a Parisian cafe, where he acts as the sole patron of his own establishment, the place at which the entire play is set.
Despite the French setting, audiences should be aware the show was cast with English-speaking individuals using an American accent, a feature Hollinger made clear to include when writing the script to avoid having his name attached to a dialogue sounding less like a professional production and more like a Pepé Le Pew rendition.
"It's French with a real American kind of sensibility in a way," Clark said.
Still, it maintains a uniquely Parisian quality carried over in part from the Lost Generation and the angst they brought about with them.
Of all the characters, Victor is perhaps the most angst-ridden. Living in a world of broken dreams, the fatherless writer sits down in the cafe after losing his girlfriend, Miss Berger, while on their trip to Madrid.
Sitting alone at the cafe, Victor informs the staff of his plan to take his own life. With the intention of starving himself, he requests no more food be brought to his table. The waiters fulfill his request, and Victor is served an empty plate.
"This man, he has everything he needs but nothing he wants," said Glen Hallstrom, the actor playing the role of Victor. "He's just this one big ball of frustration in longing."
Meanwhile, the chef continues his duties in the kitchen, preparing the food Victor has no intention of eating. Rather than carry each course to the table, the reluctant patron is served an illustrative account describing what awaits him on the off chance he experiences a change of heart.
It's during these moments the audience is given a snapshot of Victor's life and the lives of those around him. For example, he recalls the bullfight in Spain while the other characters reveal some of their own motivations and interests.
Absurdist comedy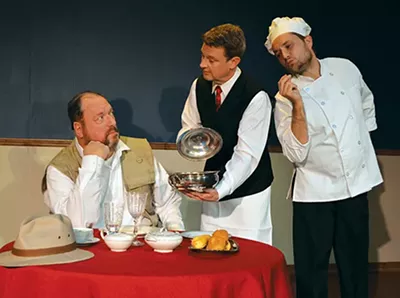 Though it might not sound like a laughing spree just yet, there are certain elements prevalent throughout the entirety of the show lending to its comedic twist.
According to Hollstrom, the show is a "precarious balance" that will "go right into big drama and then undercut it with a little comedy and then go right back" and "a roller coaster."
"It's sort of an absurdist comedy. It's very beautifully written, actually. … All the characters are real and in each their own way, they're kind of all sort of clinging to some type of desperate notion as to what they want out of life," said Holly McNatt, the actress playing Mimi.
As she puts it, Mimi is the "the solitary female presence in the cafe" and "the heart and soul of the show." Married to one of the cafe staff members and dressed in a suit topped with a pillbox hat, Mimi idolizes Jackie Kennedy, adding to the drama of the show when she becomes the love interest of the Grand Boeuf chef.
"What makes it so wonderful is to see these angst-ridden, very sophisticated Parisian people who basically see themselves in pain and, you know, the world is really horrible to them," said Linda McDonald, director of the play. "And of course, we can see that it's not, but that's the way they see it. And so it makes a lot of the little things that they do particularly funny."
Meanwhile, Victor works through his own flurry of emotions while finding himself surrounded by the preoccupations of the others in the cafe.
Hallstrom recalled his initial reaction after being assigned the role.
"So I look at the book, and I read through it, and I'm going 'God, this guy is screwed six ways to Sunday,'" he said. "You know, all these emotions going on around him … I think he enjoys it in one sense, but on the other side, it's even more provoking to him."
Hallstrom admits that despite being one the greatest challenges he has faced as an actor, he thinks the show will be one the audience will truly appreciate. With dedication, he'll "break [his] back to make sure they're entertained."
But entertainment isn't the only thing this show has to offer.
"[I hope viewers will be able] to see that we're all sort of insulated in ourselves but be able to see that as something that we can also smile and even laugh at and see how easy it would be to take a step to another side of ourselves and perhaps find we're not so unhappy after all," McDonald said.
Whether or not Victor learns this lesson is something we'll save for the show.
"The ending is rather bittersweet," Hallstrom said. "Some people say more bitter than sweet, but I think it's bittersweet."
Visit carpentersquare.com.