The stories of native Oklahomans who fought in the Vietnam War intertwine with the stories of Vietnamese refugees who have settled in Oklahoma City in a special exhibit on display at Oklahoma History Center through Nov. 6, 2019.
Welcome Home: Oklahomans and the War in Vietnam is the culmination of a year's worth of work by the history center's staff and a steering committee comprised of Vietnam refugees and service veterans.
Work began on the exhibit after history center director Bob Blackburn received the memoir Black Cat 2-1: The True Story of a Vietnam Helicopter Pilot and His Crew written by Bob Ford of Shawnee Milling Co., which put efforts in motion, said Larry O'Dell, director of special projects, and co-curator Nicole Harvey.
Ford arranged for a replica Huey helicopter to be shipped to the history center from Texas. Crews had to remove windows along the museum's south side so the helicopter could be assembled inside the center. It hangs over the exhibit's entrance, where guests are somberly greeted with the names of the nearly 1,000 Oklahomans who died during the 10 years of U.S.-involved conflict.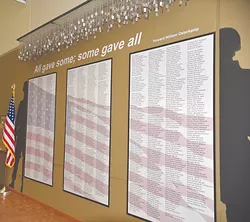 Telling stories
"We didn't want to focus on the geopolitics of the war," Harvey said. "It's about focusing on the personal stories. … Oklahoma is a land of immigrants, whether it was the Trail of Tears or people from Europe."
The exhibit opens by focusing on Oklahoma families before the war, including Ford, but also introducing Billy Walker, who hailed from the all-black town of Clearview; Wes Studi, a member of Cherokee Nation; and Cheyenne Nation member Harvey Pratt, among others.
On the other side of a façade transformed to look like downtown Saigon, guests are introduced to Vietnamese people who now make their home in Oklahoma. The history center staff hoped to get detailed family histories of those members but was reminded of the ramifications of war.
"Quite a few of the folks had more than one parent who was from what was then North Vietnam," Harvey said. "Depending on the family situation, they were cut off. There is not a whole lot of knowledge of their past for some of them because they were cut off from the lineage and something we didn't take into account."
The exhibit follows Oklahomans as they go into combat, including husband-and-wife duo Al and Merline Lovelace, who met on at Randolph Air Force Base in Texas and both requested assignment in Vietnam. Merline worked in Saigon while Al was sent to Da Nang for a year.
There is a large interactive Huey helicopter simulator surrounded by stories of American soldiers in combat, like Walker, who had the unenviable task of "tunnel rat," responsible for underground search-and-destroy missions.
Vietnam evacuation
The majority of U.S. combat troops left Vietnam at the beginning of 1975, leaving behind special forces and the Army of the Republic of Vietnam (ARVN) to stave off the advancing North Vietnamese. Instead of installing a contingency evacuation plan for the eventual fall of Saigon, U.S. leadership under the control of South Vietnamese ambassador Graham Martin ignored intelligence, as detailed in the recently released Ken Burns Vietnam documentary
The Vietnam War
and the 2006 New York Times best-selling book
The Secret Sentry: The Untold History of the National Security Agency
.
By the time North Vietnamese victory was inevitable, the U.S. barely had time to get its own personnel out of the country, let alone the millions of South Vietnamese it swore to protect.
"They didn't want to hear about it because any type of [evacuation] plan would concede that we had been defeated," Harvey said. "It was a political battle rather than thinking of the humanity of getting people out."
The escape for South Vietnamese started with people like Loc Le, who used family wealth and political connections to get out before the fall of Saigon, but even for them, it was perilous — they survived on a small fishing boat in international waters for days before being picked up by a large merchant ship.
Mai Ly Do's family had multiple failed pick-up opportunities by helicopters during the hectic late-April fall of Saigon. Do eventually made it aboard a merchant ship, but the crew revolted while at sea and returned to Vietnam, and her family jumped off the ship with a barge in sight. Do was lucky to be picked up by the barge, which packed refugees "like sardines."
As hundreds of thousands of South Vietnamese were thrown into reeducation camps, those looking to escape did not stop in 1979. Efforts continued for the next decade for people like Hugh Do, who tried to escape with his mother multiple times but always got caught. Eventually, she put him by himself on a boat of strangers in 1980. Do spent two years in a Singapore refugee camp because of a clerical error. Refugee stories in the exhibit are available through an interactive video display.
"Larry and I did the interviews, and half the time, we were crying. There were so many harrowing stories, and what was interesting is that they were unique and similar at the same time," Harvey said.
"The Vietnamese refugees' stories were the most affecting part of the project to me, just to see how patriotic they are now," O'Dell said.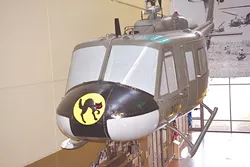 New beginnings
Welcome Home
ends by highlighting the impact made by veterans and Oklahoma City's thriving Vietnamese community, which is one of the top-20 largest in the country. Le became the founder of Jimmy's Egg restaurant, which now has over 50 locations. Mai Ly Do established a Vietnamese-language public radio station in Oklahoma City for U.S. news, and the network now has 14 stations. Hugh Do established a dental practice in Tulsa.
Walker still resides in Clearwater, where he works with the State of Oklahoma as a disabled veterans outreach specialist. Studi became a successful actor, landing roles in everything from The Last of the Mohicans to Avatar. Pratt had a distinguished career in law enforcement, including working for the Oklahoma State Bureau of Investigation. Al and Merline Lovelace have retired from the military, and Merline has become a successful writer, publishing more than 100 romance novels.
Oklahoma History Center is open 10 a.m.-5 p.m. Mondays-Saturdays. Admission is free-$7.
Visit okhistory.org.
Print headline: History revisited; The Oklahoma History Center exhibit Welcome Home explores the impact of the Vietnam War on Oklahomans.