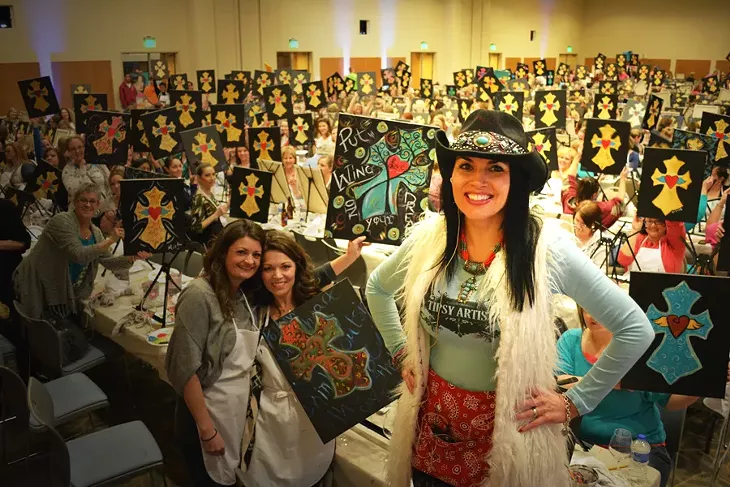 Tipsy's Mother's Day Family Tree
2-5 p.m. Sunday
Tipsy Artist Paint Palace
124 W. Oklahoma Ave., Guthrie
tipsyartist.com
757-8779
$29-$40
Tiffany Bora, aka The Tipsy Artist, has always had a flair for the dramatic. When she was in the fourth grade, she hosted small art classes with refreshments.
"I would recite my poetry to help teach simple techniques for drawing and painting," she said. "It's funny to think about now."
The transplant Okie's passion for teaching and putting on a show has turned into a lucrative career. Her Tipsy Artist wine and paint parties sell out, whether in her home studio in Guthrie or in other venues around the state. She is a one-woman dynamo.
Bora moved to Oklahoma from Texas in 2007. She had already started experimenting with her brand with craft and cocktail parties when scrapbooking was all the rage.
"I hosted my first wine and paint party at the Oklahoma Creativity Project launch in 2008 with a six-foot community canvas," she said. "It was the first of its kind in Oklahoma."
Her classes transitioned to her first love: painting. She has a degree in fine arts with an emphasis in painting from Texas Tech University in Lubbock and pursued her love of teaching while working in art gallery management, museum shows and the wholesale art market. She also held private lessons and taught small classes out of her studio.
"As I began to grow into larger venues, I learned that I love big crowds," Bora said. "I love the energy of a big party."
These days, it isn't uncommon for there to be 100 or even 500 people in one Tipsy Artist class, and they continue to grow. There are several other wine and paint parties here in Oklahoma City, but Bora wants to be clear about what you get when you sign up for a Tipsy Artist party.
"I am not only the owner, I am the artist," she said. "I am personally invested in my company on every level. I love making people feel encouraged and blessed."
Bora was the first in town, and she recently hosted what was possibly the largest ever wine and paint party in Woodward. The event sold more tickets than the guys from Duck Dynasty, who had visited the same venue a few weeks before. Bora is proud of that, and rightfully so.
She said the secret to her success is twofold: she has a clear vision, and she believes in being thankful every step of the way. And while she does encourage anyone to sign up for a class, she also warns that they are addictive.
"Even if you are scared, do it anyway," she said. "You will be surprised by your accomplishments."
With one of the world's most successful wine and paint party concepts and a love of what she does, she just might know what she's talking about.