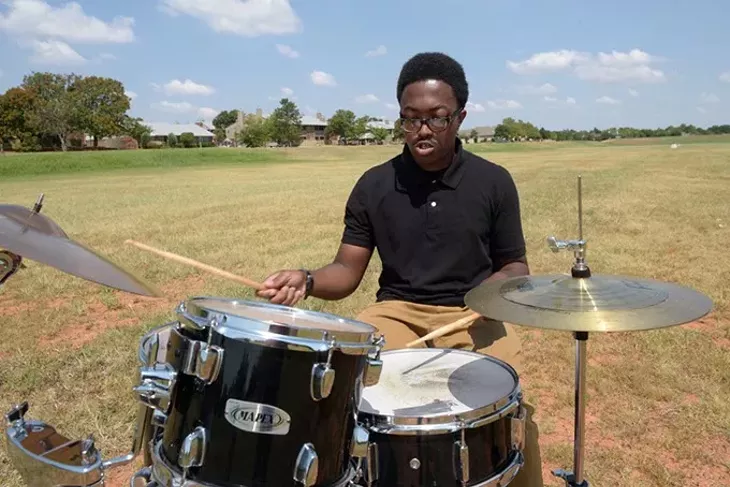 For residents surrounding the Quail Creek spillway near Springhollow Road off Hefner Road, this summer has meant afternoons are often broken up by an impromptu drum concert.
The sight of recent Harding Fine Arts Academy graduate Zacharias Harris lugging his four-piece drum set down the spillway embankment and into the massive open field has become welcomed by the community with amazement and curiosity.
"He has an audience and does not know," resident Toni Leonard wrote on the social media app Nextdoor.
James Woodward posted a photo of a faraway Harris drumming under the sweltering summer sun with the caption, "He's a legend in his own field."
Making the leap
Becoming an inspiration for the neighborhood wasn't on Harris' mind the first time he set up in the spillway in May. With graduation at Harding looming, he knew he wouldn't have a place to practice until beginning class at The Academy of Contemporary Music at the University of Central Oklahoma (ACM@UCO) this August. Living in a nearby apartment complex, Harris couldn't practice in the confined quarters at home.
He eyed the open field for some time before finally making a move one afternoon in mid-May.
"I hope no one thinks I'm weird," Harris said he thought at the time. "I'll stay until someone tells me that I'm bothering them."
He began practicing, repeating the skills he taught himself from watching drum line YouTube videos and tricks he picked up as a selected member of Harding's jazz ensemble.
He noticed a pick-up truck drive by and do a U-turn. A man hopped out of the truck and made his way down the hill.
"He told me that he used to do the same thing," Harris remembered. "He told me that it was fine, and I was really relieved."
Harris didn't know, but he created quite the following among surrounding residents. Posts on app Nextdoor began to gain a lot of comments, and resident Linda Lightner, who is Harding's director of admissions and community development, figured out that the "Quail Creek drummer" was one of her students.
"I was like 'Oh my gosh.' There are so many nice comments with offers to join his band or let him play in their garage," Lightner said.
Lightner, whose son Triston played bass with Harris in the jazz ensemble and is also a student at ACM@UCO, showed Harris the overwhelming support he received on Nextdoor.
"I was shook in a good way," Harris said. "I kept looking at the phone, thinking, 'Is that me? It can't be me.'"
Harris finds time between his summer job shifts to go out to the field two to three times a week and noticed an increase in the number of people stopping by to show their support.
"Two women came out, gave me a bottle of water and told me that they have a friend who was looking for a drummer and asked if I could give them my contact information," Harris said. "They told me I had a lot of fans in their apartment complex."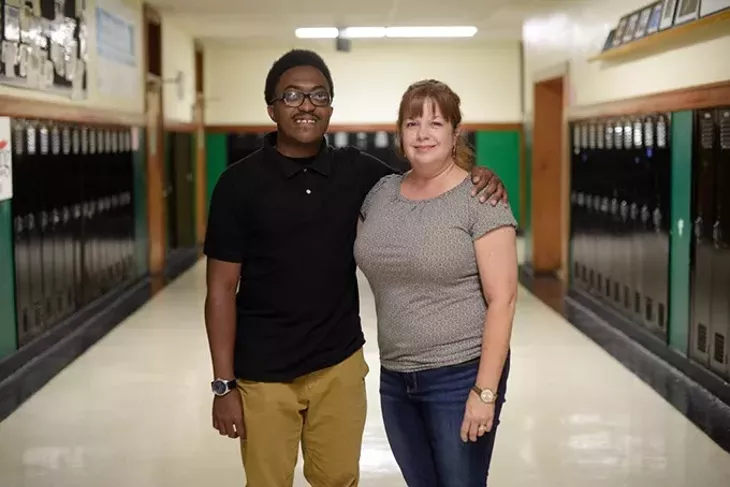 Career aspirations
Lightner said she compiled a list of offers looking for drummers made on Nextdoor, and after a round of local television news appearances, Harris said he's still surprised at the outpouring of goodwill.
For now, his only live gigs include performances at church and with the Harding jazz ensemble, which included a chance to play at a jazz festival in Wichita Falls, but he said he hopes that changes soon.
Harris started drumming in middle school but didn't develop a love for it until discovering drum line videos on YouTube and Instagram.
"I was self-taught," Harris said. "I'd see all of these drummers doing cool stuff [on social media], and then I'd try an imitate them."
He enrolled in percussion class at Harding as a freshman. He also plays guitar and piano.
"Harding gave me motivation to be more about what I want to do with my life," Harris said. "It gave me direction and allowed me to focus more on what I want to do."
He will study music performance for drums at ACM@UCO in Bricktown.
"He's very passionate about drumming," Lightner said. "I'm very thankful there is a school that is a natural transition for our students. The atmosphere at ACM feels like Harding. There is a place kids can go to get a degree in music performance, technical sounds and music business. We're so excited for his opportunity."
Harris said he's inspired to become a better drummer from his friend and mentor Tyron Goldsmith at Emmanuel Tabernacle Church.
"I love watching him play at church," Harris said. "He's got this special way of hitting the right cymbal. He hits it and it sounds mushy, like it's on clouds. He told me that you have to have 'the touch.' I'm trying to get 'the touch' too."
It was the desire to find "the touch" that led Harris to the spillway in the first place.
"Just the thought of going out there and thinking back on it, why would I even do that?" he said. "I can feel the sun scorching my skin, but I'm putting in the time. Every day, it's a funny thing to think about."
print headline: Keeping time, To the delight of his neighborhood, a local drummer practices in Quail Creek spillway