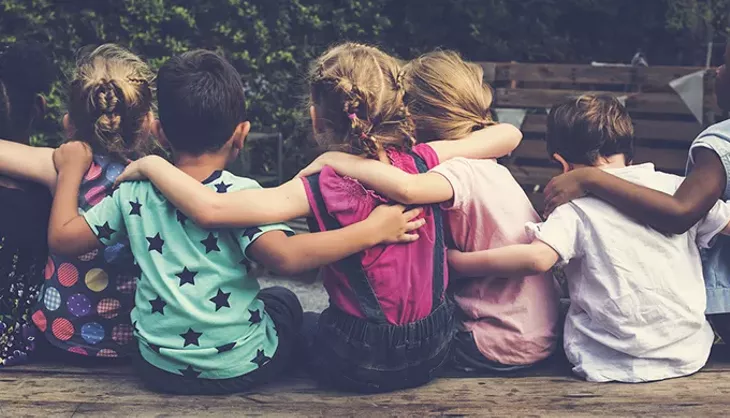 For children taken into protective custody, the experience can be jarring and disorienting. Difficulties with school and learning can also manifest. Two programs from Oklahoma Lawyers for Children (OLFC) rely on volunteers to provide various kinds of support to children in protective custody.
Founded in 1997 by Don R. Nicholson II and D. Kent Meyers, OLFC has been able to represent children in cases assigned by the Juvenile Public Defender's office since an administrative order in 1998.
"We exclusively represent abused and neglected children that are in Oklahoma DHS protective custody," said OLFC president and CEO Tsinena Bruno-Thompson. "What makes our organization unique is that unless you are a general public defender or a volunteer with our organization, you cannot represent a child in custody."
In addition to attorney volunteers like Bruno-Thompson, OLFC also relies on support from volunteers without legal backgrounds. The organization's two newest programs — Educational Advocacy & Mentoring Program and Child Intake Program — both depend on trained non-attorney volunteers. OLFC offers training for non-attorney volunteers on an as-needed basis.
Scott Kaufman is one such volunteer. A retired educator who worked in the Oklahoma City Public Schools system for over 30 years, Kaufman's educational experience now allows him to work with OLFC.
"The type of volunteer we are looking for has an educational background," Kaufman said. "They could be a retired teacher, they could be a teacher currently in service."
Through Educational Advocacy & Mentoring Program (EAMP), volunteers with educational experience can become an Educational Guardian Ad Litem (Ed GAL). Judge-appointed Ed GALs have a twofold purpose: to assess and represent a child's educational needs and develop a plan to meet them and to serve as a mentor for the child in protective custody. Ed GALs are separate and distinct from Court Appointed Special Advocates, Bruno-Thompson said.
"They represent the child's best interest in the court system. They work in collaboration with different parties," Kaufman said.
Ed GALs communicate with the child's attorney, the school and DHS to help properly meet educational needs.
Ed GALs determine the best course of action for a child's education, whether that is an Individual Educational Plan (IEP), special education or other accommodations, Kaufman said.
As mentors, Ed GALs also serve to help children in protective custody with long-term development. While they are not tutors, Ed GALs help children achieve success in school so they can complete their education.
"We're looking at getting them through school in order to become a successful adult," Kaufman said.
He said Ed GALs might work with a child for a period of six months to a year or more, depending on how long it takes to resolve educational issues.
Volunteers who wish to become an Ed GAL must pass a background check and attend the necessary training through OLFC.
Intake information
In addition to the Ed GAL advocacy program, OLFC also needs volunteers for its Child Intake Program (CIP).
"It's a revitalization of a program that we put in a twilight stage whenever the Pinnacle Plan shut down the children's shelter," Bruno-Thompson said, referring to a movement in 2012 to situate children in protective custody with families, rather than in shelters.
Intake volunteers assist both the attorney and court by gathering information holistically, Bruno-Thompson said. CIP volunteers ask children in protective custody about their hobbies and other individual traits.
The CIP volunteer then passes information along to the attorney representing the child in custody and schedules their first meeting, which Bruno-Thompson said must happen as quickly as possible.
CIP volunteers play a vital role in providing explanations about the process of being taken into protective custody. Bruno-Thompson said many children ask what happens next; while CIP volunteers do not give legal advice and cannot tell children when they will be going home, they can give them information about their attorney's role in the process.
"Much of it depends on the age of the child and what they are able to understand and what their questions are," Bruno-Thompson said.
CIP volunteers can also make determinations about a child's need for an Ed GAL and convey information to the attorney or court to make such a referral. The CIP volunteer helps cultivate a "first, do no harm" philosophy.
"It is something to humanize and to give comfort to these kids who really don't know what is going to happen next and make it a friendly situation," Bruno-Thompson said. "Some of this takes place in very sterile environments, and that's exactly what we try to avoid."
Training for CIP volunteers covers issues of confidentiality and recognizing how trauma victims might present, Bruno-Thompson said.
Neither the CIP nor EAMP is funded through tax dollars; they rely on volunteers.
"These are both brand-new programs. Normally, before launching off into something like this, we would have some type of funding, but there was such a tremendous need for it to happen right now that we went ahead and did what the court asked us to do, which is to be there with the programs in hand," Bruno-Thompson said. "We're a very grassroots organization. Our volunteer pool is a mixed pool, and we have to keep that pool moving all the time; it can't be a stagnant thing."
Visit olfc.org or call 405-759-6362 for more information about becoming an Ed GAL or CIP volunteer.