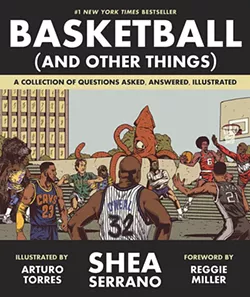 There is no shortage of writers in this world eager to tell anyone in earshot about how writing is, has always been and will forever be their undying passion. But this was far from the case for The Ringer staff writer Shea Serrano. His original muses were a pile of unpaid bills and screaming newborn twins.
Serrano is most known as the author of 2015's The Rap Year Book: The Most Important Rap Song From Every Year Since 1979, Discussed, Debated and Deconstructed and 2017's Basketball (and Other Things), a book that attempts to answer a number of whimsical sports questions, like 'If 1997 Karl Malone and a bear swapped places for a season, who would be more successful?' and 'Was Kobe Bryant a dork?'
Both books were collaborations with illustrator Arturo Torres and also best-sellers on The New York Times' list. The Rap Year Book is being adapted into an AMC documentary series produced by famous Philadelphia rap band The Roots.
The San Antonio-born science teacher turned prolific pop-culture wordsmith hosts a writer talk, Q&A and autograph session 2 p.m. March 17 at Ronald J. Norick Downtown Library, 300 Park Ave.
Before becoming a full-time staff writer at Grantland and The Ringer, Serrano started freelance writing for Houston-area publications as a way of supplementing his family's income. His hustle to bring in more and more writing money eventually turned into an outright new career.
In a recent phone interview, Oklahoma Gazette got Serrano's take on the Thunder's postseason outlook, getting his book turned into a major television series and stumbling into the profession that would change his life forever.
Oklahoma Gazette: One of the interesting parts about Basketball (and Other Things) is that it's a book about basketball that actually discusses the sport in the same way most fans talk about it. Is that the concept you were going for?
Shea Serrano: Yeah. When I'm talking with my cousins or buddies about basketball, we're never going over, 'Oh, this guy's PER (player efficiency rating) is this many points higher' or whatever. It doesn't work like that. That's not how people talk about basketball who aren't statisticians.
OKG: Do you have any thoughts on this year's iteration of the Oklahoma City Thunder? It's a pretty unique team. Who even knows if the team will look the same past this season?
Serrano: Yes, you all have a very interesting team there because it seems like they should be really, really good when you just look at the pieces that y'all have. And sometimes, when it's all clicking together, that's exactly what they are — they look unstoppable. Other times, you go, 'Oh, these guys are out of here (the playoffs) in the first round.' I can't think of too many other times where there was a team that was both of those things at the same time — both insanely terrifying and one where you kind of hope you get these guys in the first round.
OKG: How did The Roots get involved in producing an AMC series based on The Rap Year Book?
Serrano: The way that that happened is there's a production company called Jigsaw Productions out of New York, and they do a bunch of documentary stuff. Somebody there saw the book, and that person thought it would be a good idea to try and make it into a TV show. Then they get in contact with me and the agent and ask about the rights. Then they try to come up with a TV show and sell that TV show.
But it was the production company that got The Roots involved. They were like, 'We need somebody to put their name on this to give it some sort of weight.' The Roots is known as a smart rap group, and they're all entrenched in rap history. So it just made a lot of sense to get them in.
OKG: Which came first for you, your love for hip-hop or basketball?
Serrano: Definitely basketball. You don't even get to listen to hip-hop until you're later on in middle school, maybe. It wasn't a thing that was just on the radio all the time when I was growing up. It was the mid- or late-'90s when it really got played on the radio in San Antonio. So before then, you know, you start playing basketball in elementary school.
OKG: Where did basketball start for you? Was that something you were introduced to at a young age?
Serrano: That's probably something where you grew up in San Antonio and the Spurs are the only major sports franchise, so that just gets pumped into you. But also, you just start playing it, and you can always tell if you like a thing or don't like a thing pretty quickly. With basketball, that was just something I enjoyed. When I first started playing, it was just part of gym class or whatever. It felt good to finally get the ball in the hoop because it seemed like it was a million feet high in the air. Then your friends start playing and you start learning about actual three-on-three games or playing at the park against strangers. There's always a new level for you to get to.
OKG: What about writing? Did you also start early with that?
Serrano: No. Writing is a thing I did because we needed extra money. My wife and I were both teachers. She had gotten pregnant with twins, and the plan was that she was going to have the babies in the summer and we would have the summer to get our feet under us and then the school year would start again and we'd be ready.
But four months into the pregnancy, she had some complications and she couldn't work anymore. So, all of a sudden, we just had the income of one teacher coming in, which is certainly not enough to pay the bills of a family of four.
I was trying to find ways to bring in some extra money. I was trying to get a waiter job and grocery store job, but each time I went to an interview, they'd tell me that they weren't going to hire me because I had a full-time job. I realized I needed something that I could just do from home. I just Googled work at home jobs, and writer was one of them. So I was like, well, I guess I'll just do that then. I was just researching on the internet about how do you get people to give you money to write stories. I learned about freelancing, and I learned about pitching stories and I figured out how to track down editors. You screw up a whole bunch in the beginning, but you can feel yourself figuring it out.
OKG: At some point, you had to make some transition where you were like, 'OK, from this point on, I'm going to put all my time and energy into pursuing this,' right?
Serrano: Yeah. The way that happened is that I was keeping track of, 'Hey, this is all the money I'm going to make teaching.' I was making like $48,000 a year. And then I was like, 'OK, I just need to make $500 a month in freelance money.' And I got good at that, so then I moved it to $1,000. And then $2,000 or whatever. It got to a point where, eventually, I was making more money freelancing than I was teaching. So then I said, 'Well, what happens if I just focus all of my time on this?' Then Grantland showed up and offered me a writing contract, and that was a little bit of stability. … I did that for a year, and I liked it a lot. I liked not having to send out invoices and keep track of everything. We worked out a full-time contract, and that was only in 2015 when that happened. I left teaching that summer.
Print headline: Ball points; Writer Shea Serrano visits OKC to talk best-sellers The Rap Year Book and Basketball (and Other Things).