OKG: Tell Us a little bit about yourself?
Carlos Barboza: My name is Carlos Barboza. I'm a muralist, a painter, and a 2020 survivor.
OKG: You have been busy painting large murals across the city. What has been your favorite project this year?
Carlos Barboza: The Stonecloud Brewing mural. It is easily my favorite project of the year, and flat-out the best working experience I've ever had. From beginning to end, the whole Stonecloud crew was beyond amazing in their trust and support. Every single day on-site felt urgent and exciting. But once I finished, I realized that the mural was something bigger than the sum of its parts. Many people mentioned how pleasantly surprised they were to see such values being represented in Oklahoma, and made them feel like maybe they weren't so alone in their thinking during one of the most divisive times in America. I do believe it was a little bit of lightning-in-a-bottle for its time and place, and it is the proudest of my work that I've ever been.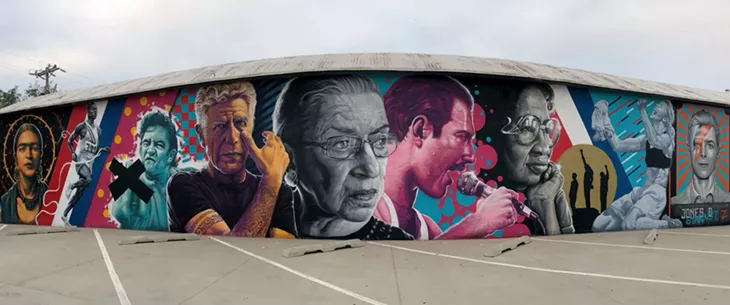 OKG: Do you have more murals planned for 2021?
Carlos Barboza: Absolutely! Keeping in mind that plans change, and sometimes a project or two can fall through, 2021 is looking to be my busiest year yet. Also, fingers crossed, I'll be taking my artwork beyond Oklahoma.
OKG: How has 2020 inspired you?


Carlos Barboza: It inspired me to have a voice. I have always been very quiet about my own personal life and personal opinions, but this year beat me into submission. 2020 was a carpet bomb of scandals, lies, tragedies, and bitter realizations about the nation that we live in. It has made it impossible to remain quiet, and going into 2021, I now have a lot to say.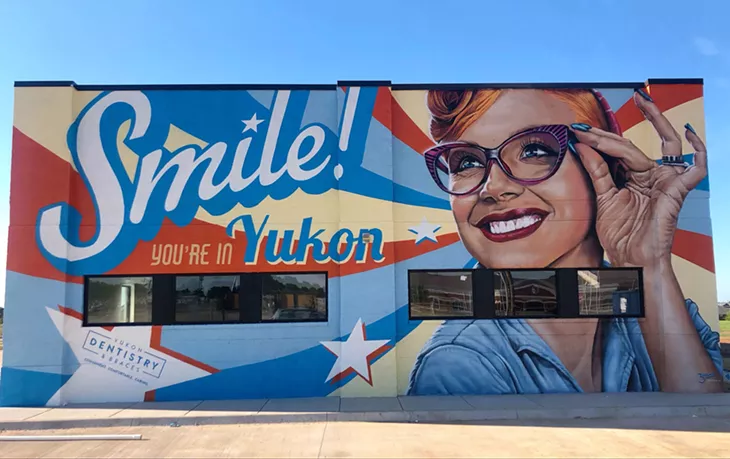 OKG: Who have you leaned on the most throughout the year?
Carlos Barboza: My wife, Leslie. There's no doubt. We got married at the very start of the year, before the circus began, and I can't imagine what this year would've looked like otherwise. She picks me up when I feel discouraged, and makes me mow the lawn and wash the dishes when my ego gets too big. She keeps me level, and reminds me that my artwork is not the best thing about me. She has stripped away that nagging pressure that used to freeze me in place, and my art career has been better because of it. Either way, my life is going fine because Leslie is in it.
OKG: First thing you want to do when Covid is gone?
Carlos Barboza: Get a gym membership. There's a lot of body damage to be repaired.
Top 10 Movies/TV shows/Music that got you through...
10. The Crown (My "Did that really happen" daily trip through Wikipedia)
9. The Daily NYT Podcast (made me smarter)
8. Soul (those folks at Pixar are something else, lemme' tell ya)
7. Mank (anything David Fincher is going directly into my veins)
6. Hamilton (a staggering masterpiece)
5. Last Week Tonight with John Oliver (only way to understand 2020 is through comedy)
4. HBO's Watchmen(captured the zeitgeist of 2020 imo)
3. Trent Reznor & Atticus Ross(my 2020 soundtrack)
2. Sound of Metal (Best film of the year, made me cry)
1. Call of Duty: Warzone(if you know, you know)
Top 5 Artists that inspired you
1. Dusty Gilpin @OkieDust
2. Tony Thunder @tonythunder.art
3. Tox Murillo @tox_m
4. JEKS @jeks_nc
5. Tristan Eaton @tristaneaton