Oklahoma City is a bar town.
The past few years have seen an explosion in the number of local pubs, beer joints, dives and especially trendy craft bars. The establishments shape the city's culture and identity.
One of the most distinctive and interesting of these hangouts is undoubtedly 51st Street Speakeasy, the large, segmented, multibar pub built inside of a historic, turn-of-the-century house inconspicuously nestled off Western Avenue.
The Speakeasy opened its doors in 2008, the product of owner and founder Kevin Sine's vision and planning. Unfortunately, with the recent bar and restaurant boom drawing attention away from established venues, Speakeasy spent the past couple years floundering as it searched for a larger customer base and tried to further define its character. Finally, after some speculation, ownership announced the venue would close by the end of 2015.
Soon after, rumors circulated that it wouldn't close after all. Three employees offered to save Speakeasy.
Business plan
Bartender Henri Bailey and twin brothers Greg and Mike Bustamante (Greg was bar manager and Mike tended bar) purchased Speakeasy. They keep it open with the same crew but have made major renovations to the venue and its identity.
After closing temporarily for 11 days in early January, 51st Street Speakeasy reopened with a focus on reestablishing itself as one of the prime spots in OKC for culture, conversation and great drinks.
"For us, and I think for anyone, it's about making a place that is everyone's favorite local bar where they're comfortable and they know people and they can get a reasonably priced drink," Mike Bustamante said. "We grew up mostly in Guthrie, and I first started tending bar at the Blue Belle Saloon, and you got that sense when you walked in. You knew all the people on different levels, but there's just a comfort factor of, 'That's where I belong.' And I think it says a lot about the local industry and this city that so many young people have opened places. There's just a lot of really good, genuine people."
Greg Bustamante added that these young entrepreneurs are hard workers.
"And they're hands-on. They're not all just guys with money to spend that want to make a bunch of money in the bar industry," he said. "It's hard to make money in the bar world, especially in Oklahoma."
They said the initial closure announcement was as shocking to them as to the public.
"It seemed positive, positive, positive that we're going to stay open," Bailey said, "Then it was just, 'No, we're not doing it.'"
Mike Bustamante expounded on the factors that resulted in Speakeasy nearly closing and continue to affect venues around the city.
"It was a perfect storm of the place kind of being stagnant for a while, but also obviously a hundred new bars opening in the area," he said.
According to Greg Bustamante, established bars and restaurants along Western Avenue especially felt the fresh-faced competition.
"If you think just three years ago, there was no Midtown scene, there was no 16th Street scene," he said. "So all of Western for the past year has felt that. … People around here, especially, when a new place opens, they just flock to it. Everyone wants to check it out, and understandably so, but then it starts to even out. People find where they're more comfortable."
A community
Many Speakeasy fans and regulars had grown very comfortable in the space, as had the loyal staff, who stared down the specter of unemployment. So the trio discussed it and decided to see what could be done and if they could pull it off.
The Bustamantes said they built a lot of respect for owners Bob and Patsy Sine, as well as for their son Kevin, the venue's former owner, over the years.
"So the three of us sat down with Bob, and he laid out some guidelines and told us what he expected and what he'd want for a partnership. And it was within our reach," Greg Bustamante said. "The meeting was five minutes. Bob said, 'I want someone to keep it going, and if you guys can reinvent it and make it your own, then I want to make it so you can.'"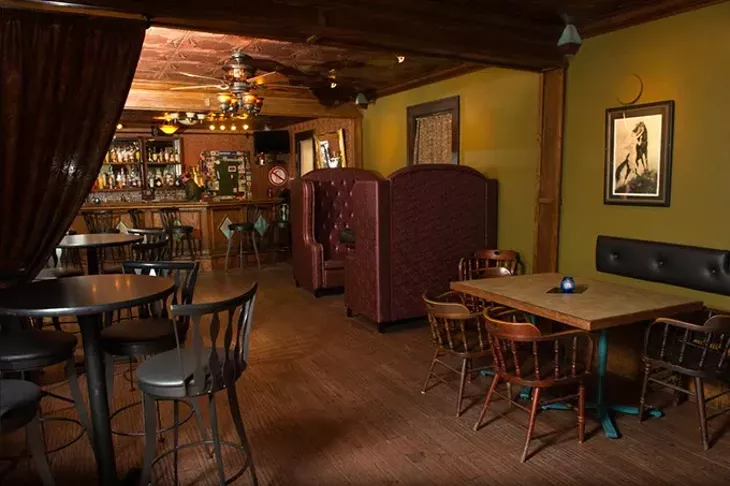 As for reinvention, the entire first floor is now nonsmoking, and they scrubbed off nearly a decade's worth of grime from the gorgeous, art deco copper ceiling and added new, high-end furniture and lighting to highlight the beauty of the space.
They're also rolling out a new craft cocktail list, redesigning the full patio area and working to open up a full kitchen.
Popular events remain, like Tuesday night trivia, Thursday karaoke and live music on weekends.
The biggest impact they hope to make, though, is interpersonal. They want to be part of the community, something they all say has always been their goal.
"I was always enamored as a kid with the idea that you could go to a market and the people that owned the market ran it," Bailey said. "They might live upstairs and their kids might be working there."
Greg Bustamante agreed.
"It was the same for us growing up in Guthrie," he said. "But you know you can't just talk about it. You really have to get out and support those locals."
Print headline: 'Easy' Street, Three employees stepped up to save 51st Street Speakeasy when it faced closure.