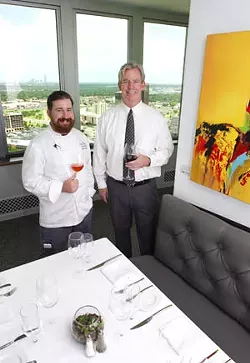 The days of waiting are finally over. The George Prime Steakhouse at the top of art deco-style landmark Founders Tower is finally open, and it is every bit worth the wait.
The concept name comes from George's name and executive chef Joshua Valentine's grandfather's name — it's a tribute to both of their backgrounds. First it was a dream, then it was a plan and then it became a full-on quagmire of renovation at 5900 Mosteller Drive.
"We went from what we thought was going to be a remodel to a total, to-the-studs rebuild — electric, heat and air, almost everything," owner Kevin George said.
The optimistic opening date met several delays because the structure, which was built in 1962-1963, had experienced no thorough overhaul since its construction.
"There were a few codes that had changed, but it was mostly [that] this building is 50 years old and it hadn't been occupied in seven years," George said.
For George and Valentine, the hard work and anticipation is paying off.
George gave Valentine full creative control in the kitchen, and with good reason. Many might remember Valentine from his season 10 appearance on Bravo's reality TV show Top Chef in 2012. Valentine also helped remodel The George, getting hands-on and dirty to help the joint project come together.
"It's 100-plus-hour days, and right now, I'm running on fumes, but that's where I'm happy," Valentine said.
Come for the steak, discover more
For the menu, George provided an outline of what he had in mind, and Valentine took it from there.
Valentine brings years of experience to the kitchen, and he is highly involved as a supervisor and a chef. Ennis Mullaliu has been brought in as manager, along with pastry chef Shelby Sieg and others, to help complete the team.
"Kevin lets me do whatever I want because he recognizes that's the reason people come in. It's nice to have a boss that recognizes that," Valentine said.
Valentine was adamant about the steaks not being the only star. Yes, the restaurant is a prime steak restaurant, but Valentine also serves two types of wagyu, the Japanese beef used to make Kobe steak. There are also lamb, chicken and pork dishes.
Then there are Josh's takes on the side dishes.
Valentine wanted the sides to be unique but also approachable. And, indeed, people are ordering more than just steaks with enthusiasm.
"He just elevates the food. Everybody that has eaten up here just raves and raves," George said.
Not a carnival ride
During renovations, George had to make the tough decision to do away with a long-time favorite feature: the rotating floor, which gave diners a moving 360-degree view of the city from the top of the building.
George said the moving floor limited not only the amount of seats available but also the number of diners who could enjoy the view.
"People have a lot of memories associated with this space over the years," George said.
However, the view is still wide-open and the top floor can be walked with ease. Windows were also installed in the kitchen so patrons can watch Valentine work his culinary magic.
White tablecloth dining, which the George most certainly is, has evolved since Founders Tower was built more than 50 years ago, and George believes his restaurant is a reflection of those changes. Although the revolving floor is gone, guests in all areas of the establishment can now enjoy the sweeping view of the city.
Though there have been a few complaints, patrons are still interested in what The George is offering.
"They make the reservation anyway. [Then] they come and eat and they're blown away by the food. That happens quite a bit," Valentine said.
George recommends making reservations, but the restaurant does take some walk-ins. Right now, it is still in its opening phase.
"It still felt like all of a sudden, wham, you're a restaurant," he said.
For reservations and more information, call 242-4761 or visit facebook.com/thegeorgeokc.
Print headline: Top of the city, With Josh Valentine running the kitchen at The George, the anticipated opening of the restaurant atop Founders Tower has been worth the wait.