Pretzels, pizza slices, and other on-the-go snacks have long been favored within the bustling food court hearts of American shopping malls. Quick meals, however, tend to lack soul. They might make an impression for a moment, but the moment dissipates too soon, encouraging shoppers to move on with their day. Malls are designed to function this way, of course, but a new league of Oklahoma City restaurateurs are challenging that notion of late. By simply inviting a more intentional dining experience, they imply a question: What if food courts were a destination unto themselves?
Spunkie's Soul Food — located inside Penn Square Mall — and Flavor Train — located at OKC Outlets — have a lot in common. Both originated from food truck concepts, both are Black-owned businesses, and both offer some of the most hearty made-to-order dishes around with nary a heat lamp in sight. In a place where folks rarely stop to smell the flowers, these two make a strong case to stop and taste the flavors.
Salivation station
Inspired to leave corporate work behind to chase her culinary dreams, Robbin Adams leapt into the food truck game in 2017. She founded Flavor Train, one of Oklahoma City's best-kept burger secrets, and last August, it pulled into OKC Outlets for a long-term stay. While the truck is still active, big appetites can find her adventurous spin on gourmet burgers, hot dogs, sandwiches, fries, and more in the outlet mall's food court seven days a week.
"I can do a lot more now than being on my truck," Adams said. "Even though I'm in the mall, it's still a brick-and-mortar to me."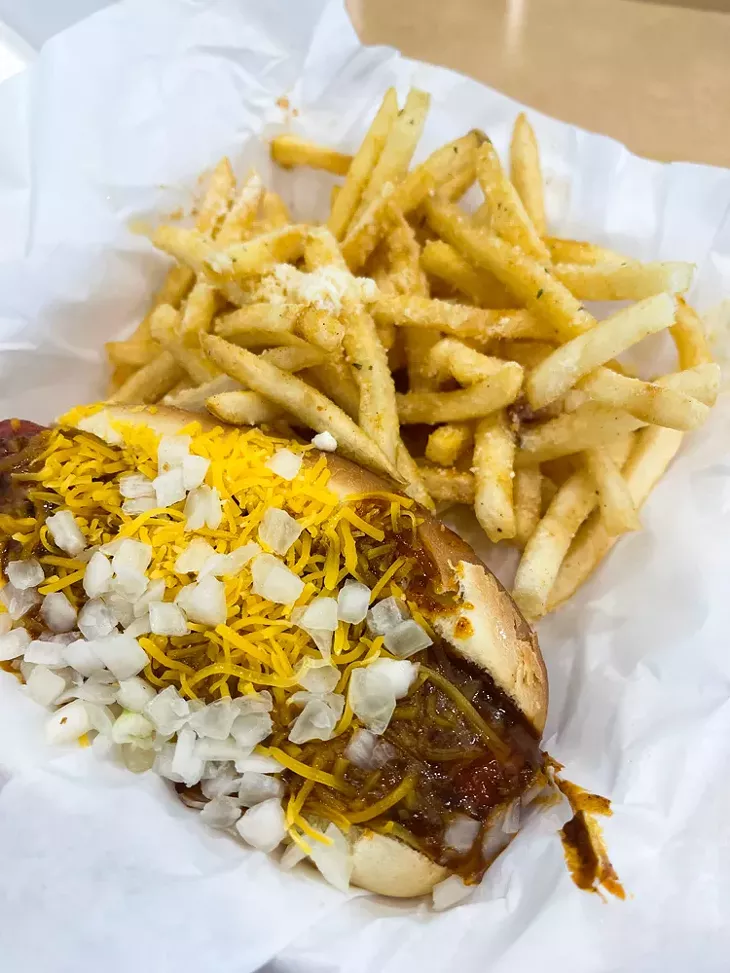 One need only glance at the sizable menu to see what she means. The sandwich selection is double that of the food truck, allowing for even more niche burger offerings. Favorites like the bacon jam-topped Sweet & Sassy Burger and the Flame Thrower, which pairs ghost pepper cheese with locally-sourced hot sausage, are all here. Brilliant newer experiments like the restaurant's award-winning German Burger and the Big Caesar are given the chance to shine, however. The latter, for instance, not only brings romaine lettuce, parmesan, and caesar dressing to give the traditional bleu cheese burger a run for its money, but it also makes the bold choice to include croutons under the bun. In a decidedly weird way, it works.
"Some people come in, and they want the same thing all the time. I try to convince them to try new things," Adams said.
Other highlights include the cherry pepper-adorned Fajita Dog and the Diablo Dawg, which includes crushed Flamin' Hot Cheetos. If it isn't obvious by now, Flavor Train loves a good dash of heat. Adams said that it is all part of what makes her food different.
"I love to play with spices," Adams said. "I did not want to open and sell the same food as everyone else. I wanted my food to have a twist to it."
That twist extends to the side dishes as well, with the option to upgrade one's fries for a mere dollar a no-brainer. Not to be confused with the heaping loaded fry main dishes, these are seasoning upgrades that include garlic parmesan and, perhaps most strikingly, Caribbean jerk options. Even the simplest of sides are high points, with the perfectly prepared onion rings and house-seasoned fried okra options outperforming just about any barbecue joint in town.
This is casual sit-down food at its best...and biggest. Portions are more than ample, especially for the price point, and it is a reflection of Adams's values intersecting with customer demand. She wants to ensure her customers are getting a good deal, even those with smaller bellies. The most popular dish with kids is the chicken tender basket, and it packs three fresh, robust tenders in every meal.
"When I first opened the restaurant, I did have a kid's menu," but, Adams said, "the kids were eating from the big menu."
If children are some of the harshest critics around, this is quite the endorsement.
While not overtly a soul food concept, the soul that emanates from Flavor Train's kitchen is unmistakable, and when combined with an inspired menu, this makes Chef Adams an unmatched culinary voice sorely missing in Oklahoma City burger discourse.
Spunkie fresh
When approaching Spunkie's Soul Food inside Penn Square Mall's second-floor food court, one message becomes apparent. Multiple signs plainly state, "We're selling soul food, not fast food."
Only a true mom-and-pop business could get away with this spunky approach to customer service, and in a building full of sterilized corporate messaging, it is an oasis of personality. Founders Tony and DeNoya Crawford are not shy people.
"We come from big families that always have really high energy, so Spunkie's was perfect for our company name," DeNoya Crawford said. "We are full of energy and love to have fun with our Spunkie's customers. We grew up loving and eating soul food."
Like Flavor Train, Spunkie's started in 2017 as a food truck business before moving into a mall environment last year. Since September, the restaurant has offered bounties of fried chicken, pork chops, greens, and yams to shoppers, but the menu extends beyond the usual soul food suspects. Some of the items the Crawfords would like to see more customers try include the corn pudding, grape cake, and BBQ meatballs. Regardless of the order, though, one can rest assured that everything is made to order.
"You will have to wait on your food, but it will be good and hot. We don't just have the food sitting around under warmers," Crawford said.
This makes an especially important difference when it comes to fish and fowl. Spunkie's fried chicken comes piping hot with a juicy, satisfying first bite that no fast food joint can imitate, much less replicate. The catfish is flaky, striking the right balance between its white meat tenderness and cornmeal crisp. Neither need condiments, but for spicier tongues in want of a hot sauce kick, the Spunkie's house-standard recipe is likely to appease.
Side dishes include soulful takes on the basics, like the mashed potatoes made with hearty lumps and a homemade gravy that is somewhere in the middle of white and brown. Less common options include the rice broccoli cheese casserole, which includes a veggie component cooked to such tenderness that it blends into the cheese easily.
The portions are robust too. A fried pork chop meal, for instance, comes with two large chops when one would be plenty. Despite the menu's love for cake, it gets difficult to save room for dessert with such a full main dish.
"We try to give people their money's worth," Crawford said.
The restaurant recently started offering smaller plate options for those not looking to fill all the way up, and this could be a smart move given that the mall's AMC multiplex is just around the corner from the food court. Save for places like Flix Brewhouse, where meals are delivered in-theater, Spunkie's is perhaps the most convenient dinner-and-a-movie option around, and having smaller portions leaves just enough room for popcorn on date night.
Not everyone is keen on this arrangement, unfortunately. With the new exposure to a more diverse market that Penn Square Mall provides, some openly racist people have stumbled onto a new target for harassment. Crawford said that Spunkie's workers regularly get violent, slur-heavy phone calls demanding them to leave the mall. It gets rough.
Obviously, such people have never tried the food. At Spunkie's, love itself is literally cited as an ingredient in family recipes, and the uncompromising care that its owners take in preparing a quality meal speaks volumes in a place where quick bites are the norm.
People and food are not dissimilar. Not taking the proper time to prepare or enjoy a meal is like not making the effort to appreciate the complexities of individual persons. Nuances are missed. Experiences are shallowed. The true potential of diversity is lost.
After decades of food court corner-cutting, however, Black-owned businesses in OKC are challenging the status quo for the better. By favoring taste to its fullest, Spunkie's Soul Food and Flavor Train are not only bringing delicious, intentional dining to their respective courts, but they are also furthering a simple, universal message. Slow down, and appreciate the flavor.