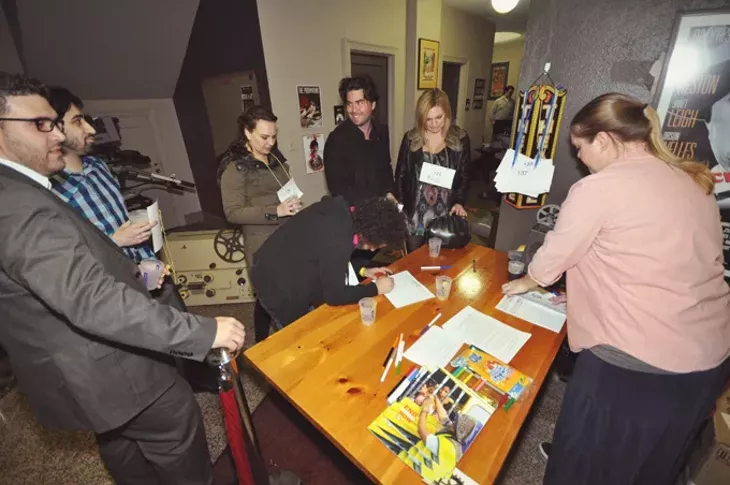 B-E-E-R
Alcohol does not make spelling easier, but it does make it fun to watch. While intoxication is generally frowned upon at elementary schools, Oklahoma City Midtown Rotary Club's annual Spelling Bee(r) is the perfect place to sip and spell.
The seventh annual Spelling Bee(r) is 6-11 p.m. Friday at Will Rogers Theatre, 4322 N. Western Ave., and raises money for local education, arts and international community programs.
Last year's event raised more than $10,000, said Midtown Rotary public relations chairwoman Judy Vance.
"It's really important for organizations to step up with so many budgets being cut," she said. "The public education sector is struggling, so whether we're purchasing art supplies or supplying new instruments to music departments, it goes a long way."
Rotary leverages its funds with matching grants in order to stretch dollars further, she said.
Those attending Spelling Bee(r) can bid on silent auction items for local goods and gift baskets. German food and beer from Coop Ale Works, Anthem Brewing Company, Vanessa House Beer Co. and Black Mesa Brewing Company will also be available. All ticketholders can also enter the bee for free. Anyone who misspells a word can buy their way back into the competition, which comes with a $500 prize for the winner.
Comedian Spencer Hicks hosts the spelling bee segment of the 21-and-older event. Tickets are $45 in advance at gazettetickets.com and $50 at the door.
Oklahoma Gazette is one of 14 sponsors of this year's Spelling Bee(r).
New leaf
Paul Zimmerman bought a majority share in Leaf & Bean Feb. 10 and became the tea and coffee company's managing partner.
Zimmerman has been a part of Oklahoma City's coffee culture for 10 years, including work at Clarity Coffee. He said he's looking forward to making some exciting changes and revamping the coffee program.
The space is gorgeous and the equipment is high-quality, so Zimmerman is concentrating on bringing in new coffees and developing the restaurant's tea selection.
"On a transition plan, we'll be launching the Leaf & Bean lab downtown and distinguishing it from the drive-thrus," he said. "The pillars of my philosophy remain that I just want to make people the best coffee they've ever had and be super kind to them."
He hopes to continue making quality coffee and tea accessible to everyday consumers and "blow people's minds."
Caffeine jolt
Caffeine Crawl returns to Oklahoma City March 11 for its fifth year.
Kansas City graphic designer Jason Burton founded the event in 2011 as a way to connect local coffee shops and consumers. The idea quickly caught on, spreading to other cities and highlighting each region's unique coffee culture.
Crawlers purchase tickets online at caffeinecrawl.com for different routes and then jog, bike or drive between shops for tastings and short, informative lectures on aspects of coffee and tea production.
"I'm so glad we listened to locals and, after visiting in 2012, noticed that Oklahoma City really did have a solid and developing coffee scene," Burton said.
This year's OKC crawl spots include Clarity Coffee, Coffee Slingers Roasters, Cuppies & Joe, Elemental Coffee Roasters, Junction Coffee and Urban Teahouse. Edmond shops feature Cafe Evoke and Compass Coffeehouse, and Norman shops are Gray Owl Coffee, Mariposa Coffee Roastery and Second Wind Coffee House. Tickets are $33-$35, and two of the five available routes are already sold out.