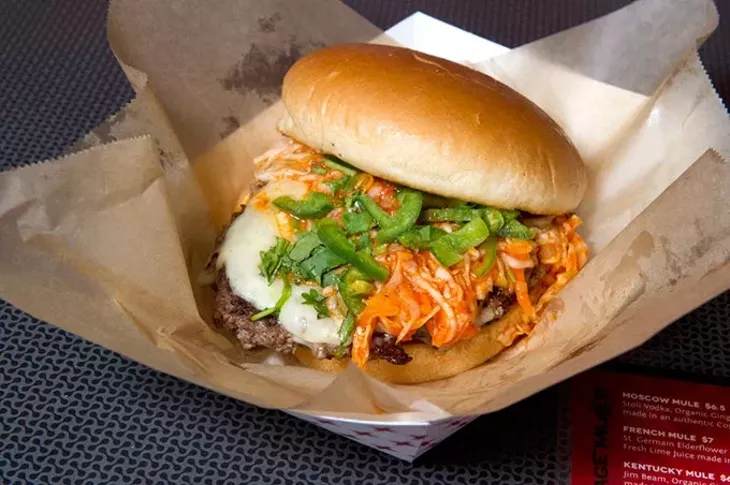 Let us talk about patties.
The Hamburg-style steak, more commonly known as a hamburger, can be prepared in several ways. Much has been made of the thick and juicy beef patty of which I am a fan. And while this configuration is delicious, it is far from the only way to enjoy one of these delicacies.
A flatter, thinner patty can be found at The Garage location at 6900 NW 122nd St., as well as its other metro locations. The burger has a crispy, lacy edge. And what the patty lacks in thickness it makes up for in surface area. There's flavor there, you know, in those places where the heat of the grill sears the fat and lean alike.
The other benefit of surface area, it turns out, is room for toppings.
Of the 18 burgers on the menu, I opted for the Nutty Rooster ($5.99). Peanut butter, pepper jack cheese, spicy coleslaw and jalapeño are all piled together on a burger that almost reminds me of pad thai — in a good way.
Sweet and spicy and crunchy and tender, the Rooster is a feast for the senses as well as the stomach.
For a classic taste with a twist, I highly recommend The Egg-O-Nater ($5.99), which is an all-American burger with an egg on top. They'll cook the egg hard unless you tell them otherwise. But if you want the yolk runny, as I do, they'll do it. Apparently, they will also scramble the eggs upon request. To each his own.
Want it hot? The Spicy Sriracha Bleu Burger ($5.99) is exactly what it sounds like. Plus grilled onions and jalapeños. Take your Prilosec and enjoy.
For a tasty, homemade taco night flavor, the Tacos Supreme ($6.99) are two tacos packed with beef, lettuce, tomato, cheese, sour cream and avocado.
But if you want to try something wonderfully different, the Banh Mi Tacos ($6.99) top golden breaded cod with garlic aioli, jalapeño, cilantro and Sriracha slaw. It does not taste like a sandwich from Super Cao Nguyen. But it does taste very good.
The Garage now offers smoked turkey as a burger substitute, which ... I don't know. I'd much rather save that turkey for a salad, like the Hawaii 5-0 ($7.99), which is notable for the pineapple salsa and chopped bacon. Those on a diet might ask the tortilla strips and cheese be left off.
Another healthy choice is the deceptively simple avocado melt ($4.99). Texas toast, buttery and crisp, envelops Swiss cheese, avocado, tomato and lettuce. If you just like the way those things taste but also want it to be a burger, that's $2 more. Probably the best $2 you'll spend.
The regular fries ($1.99) are crisp and seasoned right, but the garlic and Parmesan fries ($2.99) are addictive.
Maybe you can get a burger anywhere, but the way The Garage is growing and spreading, pretty soon you'll be able to get a Garage burger anywhere. And that's not a bad thing at all.
Print headline: Park it, Sit down and stay awhile — The Garage offers tasty takes on hamburgers with everything from peanut butter to Sriracha.