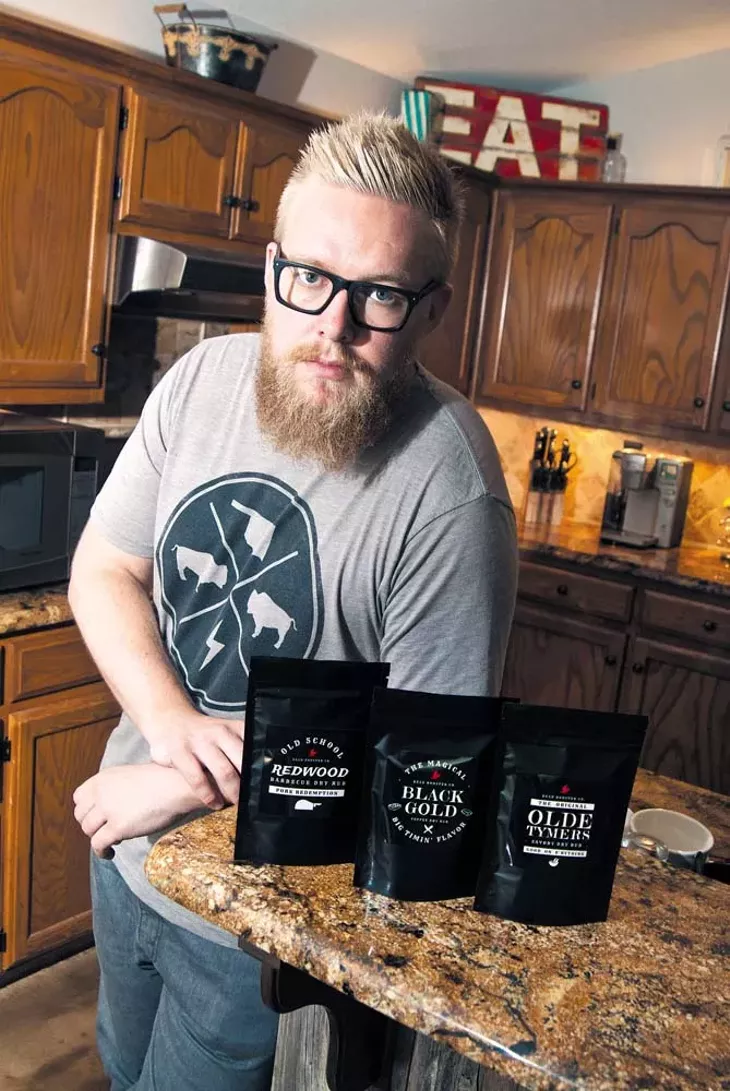 Jordan Winn of Dead Rooster Co. and Scotty Irani of local company In The Kitchen with Scotty want to inspire foodies to get more from barbecue.
During the Fourth of July weekend, many of us will attend or host a cookout.
There are two local options to make grilling time more satisfying for everyone.
Dead Rooster Co.
The man behind Dead Rooster Co. is Jordan Winn, who conceived of his products during a Fourth of July weekend. He and several friends have an annual holiday cookout out in the "middle of nowhere."
"It's tradition. We get together for good company, good drinks and tons of food," he said.
Driving home, a friend said he should consider making his concoctions for sale or at least for gifts. Many hours and tastings later, Dead Rooster Co. is a bona-fide company with the profits to prove it.
"I didn't get into this company to make a million dollars, " Winn said.
He has a comfortable design job that fulfills him. It was more about seeing if he could and recreating the atmosphere and relationships that those weekend barbecues fostered.
Also, his rubs are delicious.
To get his business jump-started, he had a flash sale. Everything was available for only seven days. He sold out of his product and had to make more batches to fill existing orders.
There are three rubs for the choosing: Black Gold is a spicy and bold rub with a base of chocolate and coffee; Old Tymers is a good, general seasoning that's "delicious on everything but dessert items, really"; and Redwood is a sweet, spicy barbecue blend. He gets feedback with ideas for his rubs that he would have never thought of, and that is a lot of the fun for him.
"To create new flavors that people have not experienced before and create an atmosphere that people wanted to be around, and it all surrounded a good, well-planned delicious meal. It was really cool for me to see that," he said.
Dead Rooster Co. is available at Plenty Mercantile, 807 N. Broadway Ave.; Weldon Jack, 3621 N. Western Ave.; and online at deadrooster.co.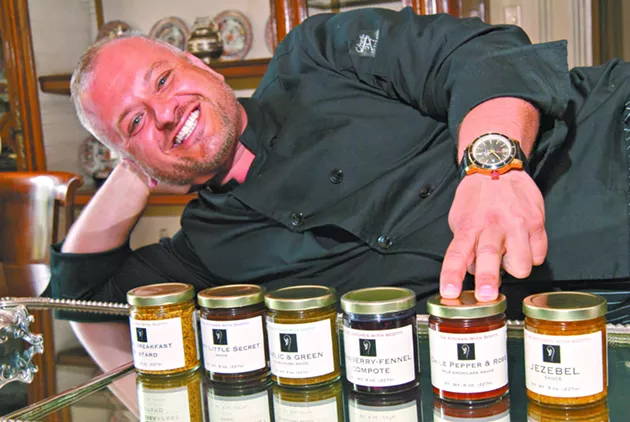 ITKWS
Scotty Irani has been a part of the Oklahoma restaurant scene for years. He owned and operated Scotty's restaurant in Nichols Hills Plaza for years before closing its doors and becoming a personal chef.
"You know us chefs; we just don't like to have too little to do," he said. His most recent venture, about a year in the making, is In the Kitchen With Scotty, or "ITKWS." It's a line of sauces, spice blends and rubs from his kitchen. It started with a clamoring for Jezebel Sauce, one of his trademarks from the restaurant. He started packaging and selling it, and word spread like wildfire.
"Everybody, friends in the field, when one of us does something, everybody rolls out," Irani said.
His business has more than doubled in the past year through word of mouth.
"This year, I'm prepared," he said.
He has cut back on the number of households he serves as a personal chef to devote more time to this "side" venture. ITKWS started as two sauces: Cranberry Fennel Compote and the now-famous — or would it be infamous considering the namesake? — Jezebel Sauce. He's always working on new additions.
In all its tempting glory, Jezebel Sauce is the gateway sauce. It's exotic but not intimidating. It's a little sweet and a little spicy. It opens up a world of flavor possibilities. Irani is less interested in telling people how to cook with his items; he wants the flavors to open up new options.
He gets feedback from customers all the time about how they used his products in ways that he would have never expected.
One client used the Persian Rub on beef.
"I would have never thought of that," he said. "Another customer put the Jezebel Sauce on homemade vanilla bean ice cream; now that I really wouldn't have thought of."
Pick up his line at DNA Galleries, 1709 NW 16th St.; New Leaf Florist, 2500 N. May Ave.; and online at inthekitchenwithscotty.com.
Print headline: Experiments in spice; Two local creators bring adventure to the palatte with lines of rubs, sauces and spices.