The operators of the new Chalk sports bar, which hosts its grand opening in Chisholm Creek Feb. 3 following initial service that began last week, want to alleviate the biggest concern of trying to watch a specific sports event right as the customer enters the door.
The 7,500 square-foot two-story restaurant and bar with 100 video screens has two entrances at its 1324 W. Memorial Road location that feed into a circular concierge desk where guests will be able to request a seat near the game of their choice or get a personal television switched to a desired channel.
The group behind Chalk includes operating partner Chad Ford and general manager Ben Mason among a group of nearly lifelong friends who grew up designing elaborate college football Saturday setups through the years and felt there was a void in the Oklahoma City market for a hospitable environment to watch a game with a menu that focuses on local ingredients that includes bar favorites and elevated entrees.
"As customers, there are times when you go out to a place for what you'd think is an obvious sporting event that should be on a television, and it wasn't," Mason said. "When you try to nicely ask them to change, you get a body language of annoyance because they're dealing with the process of being busy. Here, someone asking to change the channel to a certain game is just a compliment. They're choosing to come to our place to watch a sporting event with us, and nothing could be greater. We've talked with our staff that there has to be a sense of urgency to get it switched over. … It's as important as asking for a beer as asking for a sporting event."
Guests walk down an entryway lined with real-time betting lines and up-to-date live scores on the way to the concierge desk, which has the ability to control individual 55-inch televisions (84 in total) near every table through a Microsoft tablet. There are multiple video walls ranging from 10 by 5.6 feet to 14 by 8 feet for featured games. The total square feet of screen surface is 1,600, which in total is more than the 1,085 square-foot 31- by 35-foot video board in Chesapeake Energy Arena.
Chalk is the culmination of years of watching sports on the weekends for the group of owners, who all graduated from Deer Creek High School in Edmond. Ford graduated from University of Oklahoma in 2007 and he started his professional career at SandRidge Energy. He parlayed his success opening a liquor store to start his own land brokerage company, Stable Energy Resources.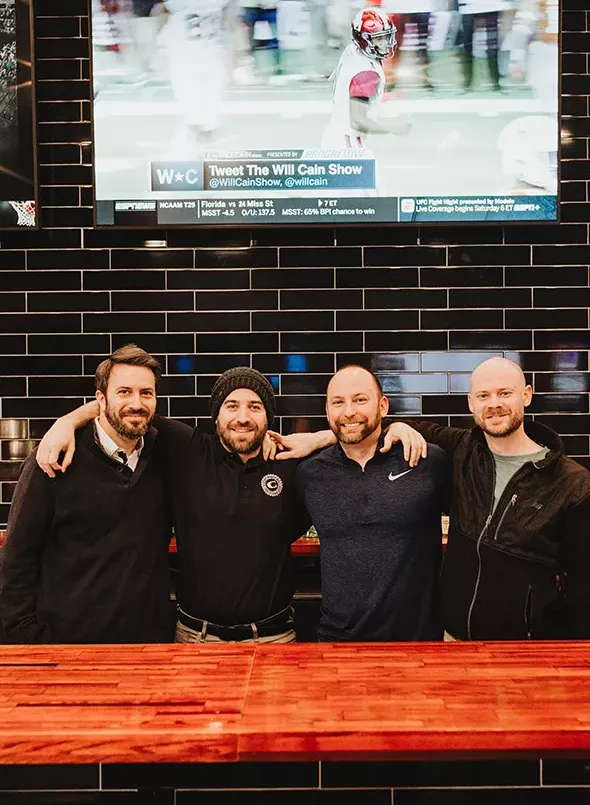 Ford and partners raised $250 million in private equity to start the oil and gas exploration company PayRock Energy, which they sold to Marathon Oil Company for $888 million in 2016. Ford and partners started PayRock Energy II, where he now serves as board member and executive vice president.
Chalk is the first foray into the restaurant industry for his CJ Land Investment and Dining Technology.
"This is a passion project for us," Ford said. "Me, Ben and the other partners in this venture have all been friends since Little League, basically. We'd always done the same situation, where when it was a big game, where do I need to be? Our entire conversation always came back to Ben's house. He always had four or five TVs set up in there. We grew up in college and went to different schools, but we always made time on Saturdays and everyone would bring a TV or two, we'd hook up the splicers and we'd watch eight different games on eight different screens."
Mason said Chalk is the evolution of his original college house, but much nicer, as they've tried to replicate the high-end luxury service aspect of Las Vegas with a more intimate environment.
Over the years, his personal game-watching setup has gotten more and more elaborate. He built stadium seating with multiple couches to be able to host as many people as possible. When he got his own house a few years ago, he and his stepfather installed five flat-screens in an ultimate "man cave" situation.
"We're trying to reinvent the way people view sports bars," said Mason, who has a background in restaurant management and with Stable Energy. "We love going to Vegas, and no one gets hospitality like Las Vegas. We wanted to bring that experience here."
Ownership brought in first-time executive chef Adam Schiller, who is a graduate of the culinary arts program at Oklahoma State University Institute of Technology. After serving in Iraq as a member of the Air National Guard, Schiller got his start in fine dining at Tulsa's Stonehorse Café. He was sous chef at Oak Tree Country Club before opening Wes Welker's Sports Bar and a Pub W in the same location.
All of the sauces on the menu are made in-house, and Schiller places an emphasis on Oklahoma ingredients on the meat-and-cheese plate, which also includes a 10-day house-brined and smoked pastrami. The bar features nine Oklahoma breweries on tap.
"This is my first opportunity to 100 percent make the menu, and it's a lot of fun," Schiller said. "I would like to share my passion for food. I love to cook and do different things, but to be able to educate our consumers about the quality of the product is my goal. Anyone can grab stuff and throw it into the fryer."
Appetizers include sweet tea-brined chicken wings finished in the fryer with a classic Buffalo sauce, but there is also white wine poached mussels finished in a garlic and shallot cream sauce ($15).
There are 15 slider-type sandwiches called "Chalkers" ranging $5-$7 apiece with hamburger, chicken, meatball, vegetarian and seafood options. Entrees include pork osso bucco topped with apricot gremolata served with rainbow carrots, fried grit cake and pan sauce ($22) and a mushroom risotto ($15).
Desserts include bread pudding, churros and sopapilla nachos ($10), which are Schiller's ode to a classic apple pie topped with cheddar. House-made sopapillas are cut into chips, fried and topped with apple chutney and aged white cheddar.
"We want to have traditional bar food. We have cheese fries, nachos and wings, but we also wanted classy and luxury elements. It's a hybrid," Mason said. "This is a great sports city, and we wanted a place that is up to that passion."
"To come back to a city that invested in us is big for us," Ford said. "It's fun to watch the city grow as it is. You see what the Thunder has done to grow the city where it is awesome."
Visit chalkokc.com.