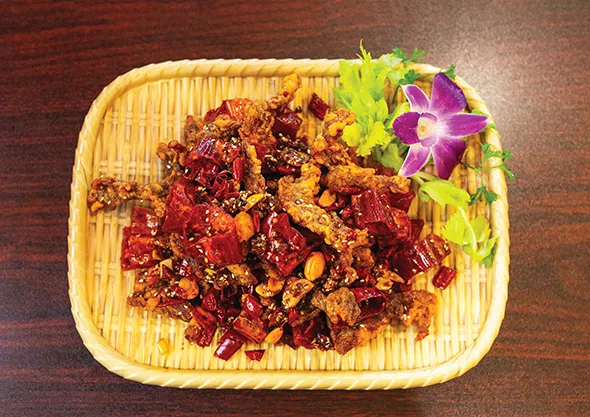 The experience of dining on Sichuan-style cuisine (often stylized as Szechuan) is defined by the Mandarin phrase mala, which translates to "numb-spiciness."
The combination of spicy chilies with the Sichuan peppercorn, the latter of which creates a numbing sensation scientifically proven to produce an electric sensation in the mouth, is vastly different than the Cantonese style of food that serves as the basis for many Americanized Chinese dishes.
Oklahoma City lost one of its traditional Sichuan restaurants when Tsubaki Szechuan, 1117 NW 25th St., surprisingly closed in March, despite being very popular.
A new Sichuan-style restaurant entered the fold in May as Chuanyu Fusion opened at 7011 W. Hefner Road in an old Sam's Southern Eatery location.
Chuanyu Fusion is a partnership among three people, including Ken Wang, who said they wanted to bring authentic Chinese food to Oklahoma City.
"I've worked at many different restaurants like sushi and Sichuan-style for almost 10 years," Wang said. "We looked at many places [in Oklahoma City], but we couldn't find the right one. We finally got this location. It's kind of hard to see from [Hefner Road], but business has been getting better."
Tucked in a shopping center behind a doughnut shop and a couple of banks, Chuanyu Fusion still has the blue, red and white paint from Sam's Eatery, but a "now open" banner flaps in the wind, welcoming guests.
Sichuan peppercorns are an integral part of dishes that appear on many Chinese menus in the U.S.

tweet this
Nets still hang on the walls from its days as Sam's, but the rest of the interior has gone though a redesign as modern tile and woodwork line the front counter.
Some of its most popular dishes include the dry spicy "tasty" beef ($13.99); the beef is dry-fried with a coating and finished with chili peppers and peanuts. Wang said freshly made pork buns and crispy eggplant are the most popular appetizers.
"The outside [of the eggplant] is crispy, and the inside is tender," Wang said. "It is kind of like French fries but spicy."
The menu is large and filled with plenty of traditional Sichuan-style offerings that dominate the offerings alongside a few Americanized classics like orange chicken and sesame beef.
Maoxuewang (23.99) is a dish from southwest China that includes ham, tripe, pork's blood curd and intestine in a chili oil that is filled with Sichuan peppercorn. It is one of many traditional items on the menu filled with the peppercorn that produces an interesting reaction when eaten.
Despite its resemblance to black peppercorn, the Sichuan peppercorn has a lemony aroma and produces a numbing and buzzing sensation when eaten thanks to the active ingredient sanshool, which causes enough vibration to be measured at 50 Hertz, according to a 2013 study from University College London.
"They produce a strong, tingling, buzzing, numbing sensation that is something like the effect of carbonated drinks or of a mild electric current (touching the terminals of a 9-volt battery to the tongue). Sanshools appear to act on several different kinds of nerve endings at once, induce sensitivity to touch and cold in nerves that are ordinarily nonsensitive, and so perhaps cause a kind of general neurological confusion," food chemist Harold McGee wrote in On Food and Cooking: The Science and Lore of the Kitchen.
Sichuan peppercorns are an integral part of dishes that appear on many Chinese menus in the U.S. like mapo tofu and kung pao chicken, but for decades, the peppercorn was banned by the U.S. Food and Drug Administration (FDA), meaning those dishes became popular without the signature sensation.
From 1968 to 2005, the FDA imposed a ban on Sichuan peppercorns due to science of the time that said it might carry a citrus canker that could infect citrus trees. Restaurants in large cities like New York City and Los Angeles were able to smuggle in the peppercorn, but the lift of the ban has likely played a role in the reason Sichuan-style restaurants have begun to open in the rest of the country.
The ban was lifted under the stipulation that the peppercorn be heated to 140 degrees Fahrenheit to destroy any potential canker bacteria. No other imported peppercorn must go though such a process, and according to a Slate story, chefs complain that the heating method robs the peppercorn of some of its effects, but a blind taste test proves otherwise.
The irony is that a FDA report in 2016 revealed that although some Sichuan pepper trees are canker-infected, it is not the kind that can affect citrus.
At Chuanyu Fusion, the peppercorn makes appearances in dishes like guizhou diced chicken ($12.99) with green onions in a sauce that is finished with Chinese wine. Green peppercorns produce a fresher taste with a vegetal aroma compared to citrus of the red variety. The green peppercorns are paired with fish ($18.99) braised in chili oil.
Visit facebook.com/chuanyufusion.