The Paisley Cafe might be in a library, but Norman Library West is far from a dull collection of books.
The clientele of the cafe, located at 300 Norman Center Court in Norman, is ponied up to the sleek, white bar on a sunny Tuesday, engaged in breezy conversation with owner Ranna Bigdely. A man at the end of the bar delivers zingers punctuated with laughter.
"I say I am like an old Lamborghini," he says, leaving space for a comedic pause. "I'm still worth a million!"
The jovial patron is Ranna's father, Daniel Bigdely. He is a big reason she is passionate about food preparation.
"My dad's mother is famous for preparing these outrageous feasts — feasts for the eyes, the nose, the senses in general," she said. "So Dad spent a lot of time in the kitchen, learning from his mom."
Bigdely's parents emigrated from Iran in 1979 and worked several jobs while raising Bigdely and her sister.
"Dad had two jobs at the time, and Mom had one," Bigdely said. "Out of necessity more than anything, my dad asked if I wanted to start dinner to help Mom out."
Her father, a teacher by trade, carefully instructed 9-year-old Bigdely how to safely use a knife and provided detailed recipes. Preparing meals for her family appealed to her creative side.
"I'm a little bit of an artist — OK; I'm a lot of an artist — but it's like painting to me," she said. "You put two colors together and get a different color. Food is the same. You put two things together that don't seem to go together and you get something exquisite out of it. My young mind was flipping out."
The accomplishment empowered Bigdely, and she developed an attachment to the cooking process.
"I think there's a little bit of emotion involved when you make a meal for someone," Bigdely said. "It's an expression of love. It's like a hug. I put forth effort to nourish you and give you sustenance."
Before she came to run the Paisley Cafe through a contract with Pioneer Library System, Bigdely was known for her supper club pop-up dinners, in which she created Persian cuisine with a modern spin likely reminiscent of feasts her grandmother made.
But when offered an opportunity to have her own space, especially in quirky, technology-forward Norman Library West, she and her husband Alex Hall pounced on it.
Local and universal
"There's a baby grand piano in the corner. There are musical performances on the weekend, and there will be Argentinian tango performances this week," she said. "What a weird and cool library, right?"
Her menu features typical lunch fare like sandwiches, soups and salads, but the ingredients Bigdely uses are far from pedestrian. She prides herself on using fresh, locally sourced, organic ingredients.
"I'm like your farmers' market," Bigdely said. "Any farmer that wants to drop by and sell their peaches or whatever, I encourage them to visit me. It's so much easier than sourcing ingredients the conventional way."
Bigdely finds many of her ingredients at Little River Farm Aquaponics. Its self-sustaining ecosystem uses fish to provide nourishment to hydroponically grown plants. The plants then clean the water and provide sustenance for the fish.
This cyclical process creates less waste and an outstanding product, Bigdely explained.
She uses greens and heirloom tomatoes in salads and to dress sandwiches. She also sells them to customers. To her, much like the aquaponics farm, her goal is to create a symbiotic relationship within her own community.
"I was able to source my eggs from Southern Winds Farm in Lexington," she said. "I get 20 dozen at a time now so I can sell some retail to some customers who can't make it out to the farm."
Her menu features local, cage-free chicken in her soups and specials, fair-trade coffee from Oklahoma City's Leap Coffee Roasters and organic bread from Norman's Waving Wheat Bakery. She also buys nitrate-free sandwich meat locally, creates sauces and dressings from scratch and prepares lunch short-order style.
"We hand-chop our salads as you order; there are no greens prepped or cucumbers pre-sliced," she said. "This is not 'franken-food.' … It's harder on us but totally worth it."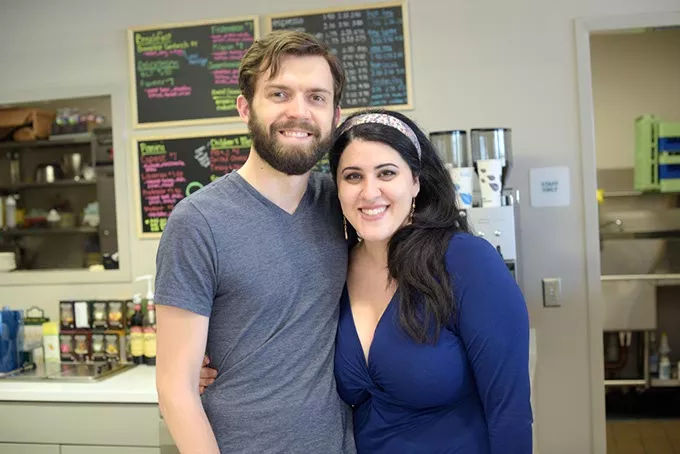 Savory selections
The menu offers a modest sandwich selection, including The Farmer, made with thinly sliced roast beef and cheddar cheese and dressed with delicate butter lettuce and a slice of rosy-red tomato, all nestled between lightly toasted organic wheat bread. (Homemade panini is also an option.)
A half-sandwich or salad with a cup of soup is $8. On this day, Bigdely serves her Persian soup as a tribute to the Persian New Year, the first day of spring.
Succulent chicken cuts inhabit a viscous broth that is both mild and full-flavored.
Fresh dill flecks enhance the sweetness of the carrots and celery, and barley gives the soup a slippery mouthfeel and nice chew.
The menu also features quiches. The most popular, The Baumburg, sold out that day. Bigdely had that quiche during her travels abroad to Germany and reverse-engineered her recipe.
Studded with zucchini, carrots, caramelized onions and Parmesan cheese, the savory dish sells out daily.
On Fridays, she offers a blue-plate special. For St. Patrick's Day, she prepared New Zealand lamb stew with homemade Irish soda bread.
Another day, it was meatloaf made with grass-fed beef and mashed potatoes. (Pro tip: She typically sells out of Friday specials, too, so arrive early.)
Even though it's a cafe inside a library, she said, "you don't have to be quiet."
"There are knitting groups who meet up here, a rowdy group of retired librarians who have the best time," Bigdely said. "It's not like going to a chain cafe or restaurant. If you want a personal feel, we are quickly becoming known as the cafe where everyone knows your name."
Paisley Cafe is open 9 a.m.-2 p.m. Mondays, 9 a.m.-3 p.m. Tuesdays-Fridays, 10 a.m.-2 p.m. Saturdays and 1-6 p.m. Sundays. Visit facebook.com/paisleycafeok.
Print headline: Studious spread, Tucked inside a local library, Norman's Paisley Cafe creates lively, family-inspired fare.