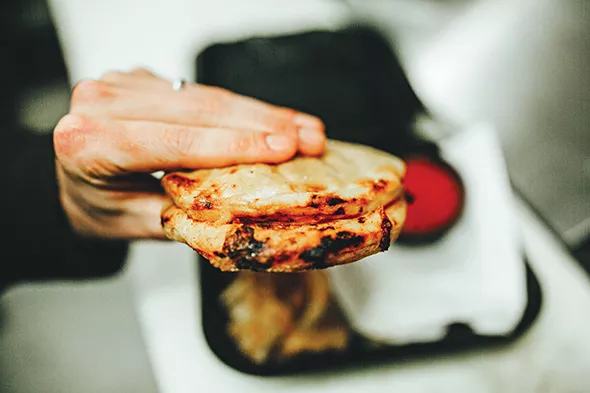 Nic's Grill has many super fans, from Guy Fieri to Colin Farrell, who can attest to its status as not just one of the best burgers in Oklahoma City, but also in the country. They pale in comparison to Cameron Benson, who has parlayed his love of Nic's into becoming part of its next generation.
Justin "Nic" Nicholas always wanted to have a food truck, even before he opened Nic's Grill, 1201 N. Pennsylvania Ave., over 20 years ago in the restaurant space in front of his house. His dream has come to fruition thanks to a loyal fan who ate his first Nic's burger around the same time it leaped into stardom after appearing on Fieri's Diners, Drive-Ins and Dives in 2009. Farrell — a self-described burger connoisseur — effused Nic's Grill's praises on The Tonight Show Starring Jimmy Fallon and Jimmy Kimmel Live!, naming it the best burger in the country.
Nicholas, along with Nic's Grill and Nic's Place, 1116 N. Robinson Ave., co-owner Jovon Bunkley, rolled out Nic's Food Truck with an assortment of puff pastry hand pies, hand-cut waffle chips, lemonade and enormous cinnamon rolls also made with puff pastry at the beginning of December, with Benson, 20, at the helm.
"I wanted to do something different," Nicholas said. "I've done burgers for so long. I grew up with meat pies around the Mennonite culture in the Chickasha area. We put a little different twist by using puff pastry rather than the traditional bierock, which has yeast dough. It's like a croissant tied into the meat pie. It is so flaky."
The truck is selling the traditional bierock with ground beef, onions and carrots in addition to an Italian hand pie with pepperoni, salami, mozzarella and pepperoncini and a bacon cheeseburger hand pie. Sides of ranch and marinara are available for dipping.
Nicholas knows he is starting the food truck as he described as "bass ackward"; usually people use a food truck as an incubator for a brick-and-mortar restaurant.
Instead, he is building off the success of his first ventures to create a high-end food truck equipped with an awning, rolled-out artificial turf, topiaries, tables and chairs in the coming months.
The truck is a few years old, by way of Nicholas' friend in Kansas. He purchased the truck and outfitted it with a bright blue wrap—the same color used at Nic's Grill and Nic's Place.
"People tell me that they don't believe Nic's Place is mine because it's so nice, so I decided to leave no doubt and put my big face on the truck," Nicholas joked.
It's Benson behind the wheel of the large truck on most days. Nicholas said he will get out there occasionally, but it's an opportunity that has been building since Benson took the bite of his first Nic's burger as a 10-year-old.
"There's a picture of me taking my first bite," Benson said. "Ever since then, I would take my friends. I'd take anyone I could to eat there. It was a big part of my life."
It didn't take long for him to make an impression on Nicholas and Bunkley.
"He was this little kid that would sit over there, and you could tell he was ready for the burger," Bunkley said. "One time, he filmed the process and went home and talked about it [on YouTube]. We hadn't seen the video in a long time, and then I realized, 'Oh my God! That was him.' We've loved him for a long time."
Nicholas remembers one particularly busy day on a cold afternoon at Nic's Grill when Benson was 16, eating at the restaurant with friends, and he ran out of soda.
"I knew him from eating with his dad, so I said, 'Young man, will you do me a favor? Go down to the store and get a bag and a box,'" Nicholas said. "This little snot ran down the block as fast as he could and ran back with it. I gave him a burger. I told him, 'With that type of attitude, if we ever open up another restaurant, you're already hired.'"
A few years later, as Nicholas and Bunkley were renovating the space that is now Nic's Place, Benson would stop by to put in a good word.
"I was so excited to work here that when they were in the process of building, I would show up out of the blue," Benson said. "I was probably kind of creepy."
"I thought something was wrong with him," Nicholas said. "Why is that kid always over here?"
Eventually, Nicholas put two and two together and realized Benson was the one who brought him the sodas, and he became one of the first hires at Nic's Place. He worked as a waiter, where he was named the best waiter on staff, learned the grill and was promoted to manager. Nicholas said he was the obvious choice to run the food truck.
Benson has also joined with Nicholas and Bunkley on a nascent venture, a beef jerky business called Crazee Jerky. The trio recently went through packaging classes and got approval from the state to begin selling flavors of jerky at retail locations. Nicholas, Benson and Bunkley will each have their own signature flavors.
"I think it's going to be great for years to come," Nicholas said of the trio.
To get locations for Nic's food truck, follow at facebook.com/nicsfoodtruck or text "nics" to 955-77.