"Breaking hearts and highways."
In four words, a friend of Carter Sampson's father gave a tongue-in-cheek review of her fourth studio album, Wilder Side, that actually does a better job of summarizing the project than some could churn out on an entire page.
Let's try anyway. Wilder Side is very much the story of a woman in motion. Released Jan. 12 and featuring contributions from John Moreland and producer Travis Linville, the album is Sampson's most carefully crafted and organized release yet.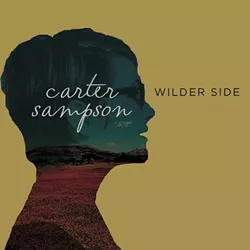 Sampson, speaking with Oklahoma Gazette the day before her album release, described herself as a restless person. Touring and recording remain the constants in her life as she travels the roads. Sampson said she loves driving, advancing — even into uncertainty.
"I've always known that I wanted to play music, and I've spent time trying to figure out something else to do even for a backup, and I can't figure out anything aside from that," she said.
Wilder Side opens with the title track, a wonderfully produced tribute to what Sampson calls her alter ego, someone she can blame when she goes out and does something stupid with her friends.
Her alter ego seems to have a lot in common with what appears to be her true persona. On "Wilder Side," the songstress claims a free, "gypsy" spirit.
"I love to travel," she said. "I think traveling is right up there with my love of music, so they go hand-in-hand."
The second track, "Highway Rider," featuring strong accent vocals from last year's breakout singer-songwriter Moreland, sticks with the wanderer theme. Following a breakup and a sudden moment of clarity, Sampson realized a lifelong dream and bought an RV after she turned 33. "Highway Rider" seems to echo her sudden grab at freedom on the road.
"Home is where the heart is. Ain't that a shame," one line goes. "Because I can't seem to keep my heart in the same place."
The song "Medicine River" is a tribute to Medicine Park in the Wichita Mountains. The place, she said, is so magical to her that the song just wouldn't leave her.
"I got mad at that song because I couldn't go to sleep," she said. "I kept having to get up and write it down and just couldn't stop, which is a good problem to have, I guess."
Vibrant "See the Devil Run" is a true story about Sampson's visit to Al Green's Full Gospel Tabernacle in Memphis. Sampson said she grew up Methodist and always dreamed of attending church at a place that put more passion into the music.
"It was everything I ever wanted out of a church service," she said about her time there. "It was what I felt like church music should be."
Free bird
Sampson's family played a big role in molding the person she is today. Her grandmother has a master's degree in music from the University of Oklahoma.
Her dad plays guitar and her mom has always sung in the church choir. Her parents got her hooked on folk and country acts like Emmylou Harris early on.
Even Sampson's love of the road can be attributed to her family. Her grandmother traveled the world with a friend while both were in their 70s. Sampson's parents let her spend her 16th birthday in Rome. She would later return to Europe with a friend while still in high school.
"I'm really grateful that my parents were like, 'Yes, go do that,' at an early age," she said. "I really do love to [travel]. But the touring part of traveling is exhausting. I feel like a lot of times, I don't really get to stay and experience a place like I would like to because it's in and out."
Recently, Sampson has toured with Erik the Viking and Joe Mack, though she said she enjoys touring solo as well.
Wilder Side marks the second time she has used a Kickstarter campaign to raise funds for her project ahead of its release. In a time when people are reluctant to buy music they have not heard yet, the $10,000 Sampson raised through her recent campaign is a testament to the faith her supporters have in her abilities.
The singer-songwriter said she was sorry if the recording process took longer than some of her backers anticipated, but she took great care to make sure the finished product was perfect.
"I'm so happy that it went the way that it did, and I'm equally happy now that it's done because it's a lot of pressure too, knowing there's 200 people backing this or wanting this or waiting for this and I owe these things to them," she said.
In light of the success artists like John Moreland have seen with brutally honest songwriting, Sampson said she wants people to find her music on this album more relatable. She's as honest and vulnerable as ever, and she hopes fans can pick out their own memories from that.
"What I think is so cool about songs is I may have written it with one thing in mind and you may hear something totally different from it," she said, "and I love that."
Print headline: Restless roads. Singer-songwriter Carter Sampson was able to settle down long enough to release her first full-length project since 2011.