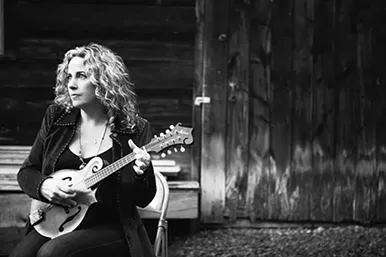 One thing musician Amy Helm learned from playing with her father, The Band's Levon Helm, was how to fail.
"There were a lot of lessons," Amy Helm said. "One of the main ones I took away was to not be afraid to fall flat on your ass and have to get back up the next day for the next gig. It was very inspiring."
Amy Helm, scheduled to perform Dec. 2 at Tower Theatre, 425 NW 23rd St., played in her father's Midnight Ramble Band until his death from throat cancer in 2012. She said watching him continue to perform while struggling with illness and its complications taught her to be brave, an important lesson for the music business.
"Not that this is an example of falling on your ass, but it's an example of faltering," Amy Helm said. "My father was overcoming his throat cancer and in different stages of healing and remission and reoccurring issues with his voice directly connected to his cancer, so that was within everything that band did. It was underneath it, above it and inside it. Some days he could sing and some days he couldn't, no matter what he did. He was a man like millions in the world who had gotten a little bit more time, who had gotten in a very scary situation and facing illness and facing the fear of death decided to move forward with what he could do. It was really inspiring as a musician to see somebody doing that and really, truly not giving a shit what anyone thinks and really just answering their own calling. That's what I took away from that. … Being a musician can be scary sometimes. It's not like you've got a regular paycheck. It's a difficult ride, and you have to get a strong backbone for it."
This Too Shall Light, Amy Helm's second solo album, was released in September. She recorded and re-recorded her debut album over a period of several years, but she recorded its follow-up over four days, following producer Joe Henry's suggestion to record songs she and her backing band were mostly unfamiliar with to give the album a more immediate and improvised sound.
"I would be discovering the song in the room with the players," Amy Helm said. "I was nervous about that because when you're doing live gigs and you've sang the song a hundred times, that's when, for me, I really start to get confident with it. I think it was a good challenge to try to sing it like you're putting everything you've got into it and tell a story to somebody you haven't told yet, and trying to find that in the moment was challenging and exciting."
Learning to play the songs in concert with a different set of musicians has given her a chance to do it all over again.
"It's been really interesting to do them live," Amy Helm said. "It always becomes so different, but we've been really having fun rearranging, pulling stuff apart and adding cool little things, and that's always the most fun of an album. We're playing with tempos and trying to find that sweet, super slow groovy tempo from the album. I have such a great band, I cannot brag enough on the group of players I'm working with now, and the players on the record were so incredible, so it's been exciting to find this material with two very different but very magical groups of musicians."
The album comprises songs by Rod Stewart ("Mandolin Wind"), Allen Toussaint ("Freedom for the Stallion") and Hiss Golden Messenger's M.C. Taylor and Josh Kaufman (the title track) and at least one song with which Amy Helm was intimately familiar, closer "Gloryland," which appeared on many of her father's live set lists in the final years of his life, a tradition she has continued in her own performances.
"I had been singing that one live," Amy Helm said, "and I felt like that was one tune that I know touches people and I've enjoyed singing for my audiences. I think the arrangement we got doing it as an a capella three-part harmony was really beautiful, and that one just felt right to fold into the record. And if the story of the record was intended to be this free, spontaneous, community-driven song search, I knew that song would hold itself well in that light. … We did it two times and took the first take and put it right on the record. That one was easy. That one I knew what I was doing."
The influence of Amy Helm's father on her music career is evident, but the inspiration she has taken from her mother, singer-songwriter Libby Titus, is also important even if it's not as immediately obvious.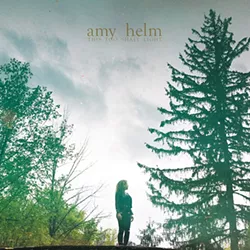 "It was the stuff that she played for me and the songs she insisted I learn that turned me around to this completely wide, broad, open other color spectrum of music," Amy Helm said. "I was really drawn to soul and gospel music when I was young. I fell in love with Aretha Franklin as we all did. Once I got there, by age 13, I was really only listening to the Stax soul records and Ray Charles … and she played me Laura Nyro. She played me Joni Mitchell. She played me these delicate singer-songwriters who had this completely other exquisite branch that I needed to study and learn. It's really important to learn the singers and the musicians that you don't identify with the sound."
As a musician and co-producer on her father's 2007 album Dirt Farmer, Amy Helm said she felt confident in the studio because she was so well acquainted with the material, which describes Levon Helm's childhood as the son of Arkansas cotton growers.
"That music was very familiar to me, and I really trusted myself to co-shepherd that project because I knew my dad's story had to be told," Amy Helm said. "And I was familiar enough with it but could step outside and be a good mirror for him in some of the stuff, but that was a very specific set of songs and situation."
Working on Dirt Farmer was another learning experience.
"I think that it reminded me that I can be objective about other people's performances but never about my own," Amy Helm said. "If I could take the same objective, clear, pragmatic advice that I seem to be able to give when listening to someone else's vocal, I'd be a wizard, but I don't think I can. That's really what I learned was a whole bunch of humility."
The show begins at 8 p.m. with folk trio The Wood Brothers scheduled to headline. Visit towertheatreokc.com.