Dawes drummer Griffin Goldsmith knew almost right away that the band's new record would be a leap for some fans.
We're All Gonna Die, the Los Angeles-based folk-rock act's fifth studio album, was released in September and features a decidedly sharper, poppier rock edge than 2015's All Your Favorite Bands.
"We kind of expected that to be the case when we decided to work with [former bandmate Blake Mills]," Goldsmith said in a recent phone interview with Oklahoma Gazette.
Goldsmith is the younger brother of Dawes frontman and guitarist Taylor Goldsmith.
Mills was a founding guitarist and songwriter for the band in its pre-2009 post-punk incarnation Simon Dawes (the band's name was a combination of Mills' and Taylor Goldsmith's middle names).
Since restructuring as Dawes with both Goldsmith brothers, Wylie Gelber on bass and Lee Pardini on keys, the band has been compared to Los Angeles folk-rock acts like Crosby, Stills and Nash. When it released "When the Tequila Runs Out" as the first single from We're All Gonna Die, some fans took it as a party anthem appeal to the radio — an unexpected and, in some cases, unwelcome move from a group that once toured with Bob Dylan.
Griffin Goldsmith said he noticed fan perception shift after the release of the full album, which frames the song as a complete and complex look at the party lifestyle.
"I think a lot of prior Dawes fans were like, 'Whoa! This is so different,'" he explained. "But when the whole record came out, that song, in context, makes sense. You realize that it's not all that different, at least songwise, from the other records we've put out."
Oklahoma City fans will see for themselves how We're All Gonna Die translates to a live performance Jan. 29 when Dawes gigs at ACM@UCO Performance Lab, 329 E. Sheridan Ave.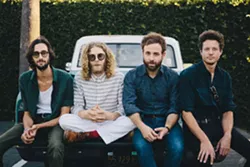 Family business
The Goldsmith brothers were never pressured into musical careers, but the option never seemed like anything short of a natural choice either.
Their father is Lenny Goldsmith, a former career musician who found success in the 1960s-'80s as a Five Americans keyboardist (originally founded as The Mutineers in 1962 in Durant) and a vocalist and keyboardist in the bands Sweathog and Tower of Power.
His father might not play a direct creative role in Dawes, but Griffin Goldsmith said he and his brother learned a lot about being professional musicians through observing him. His support for their craft has been unending.
"Even to this day, he got me a drum machine for Christmas," Griffin Goldsmith said.
Not every song or set is an uplifting experience for a musician, no matter how seriously he takes his craft. Sometimes the nature of the music demands quiet introspection. Even so, he said he channels his father's electric presence when he performs.
"One of the messages I think he imparted with his playing was that you're here to give people a show," he said, "so don't shy away from that."
Goldsmith said his father masters the dying art of keeping a crowd engaged and moving for several hours on end.
"Just the devotion about it is one thing I've seen not only from my father but a lot of the musicians that are now in their 60s and 70s and have been doing it for 50-plus years," he said. "To me, that's a shining example of how to continue to do this and focus yourself and still be in love with it."
Sharing history
In 2013, Dawes spent six weeks performing 21 shows as it toured the country with Dylan, who is simultaneously a living legend in American songwriting and a key musical influence on the Goldsmith brothers and Dawes in general.
It never crossed Griffin Goldsmith's mind that they were gigging with a man who would earn the 2016 Nobel Prize in Literature. In fact, Dylan became the first songwriter to be honored with the award.
By giving the distinction to Dylan, Griffin Goldsmith said, the Nobel committee made a statement on what can be considered worthy of academic study and the highest level of artistic scrutiny. Past Nobel literature winners include Toni Morrison (who wrote Beloved), John Steinbeck (The Grapes of Wrath), Ernest Hemingway (The Old Man and the Sea), Saul Bellow (Herzog) and William Golding (Lord of the Flies).
Not all lyricists are poets, Griffin Goldsmith admitted, but Dylan's writings are substantive enough to stand alone without music. The quality and scale of Dylan's work over more than half a century makes him worthy of the honor.
"It's a little different in his case than it is in our case or with other bands," he said. "One album — I wouldn't consider that literature. But when you have over 60 and books, it's a different thing. It definitely transcends songwriting."
Intimate evening
When Dawes arrives in Oklahoma City, it will perform without an opening act. Its An Evening With Dawes tour features more than two hours of music with an intermission during the show.
Dawes took a break from touring at the end of 2016, and Griffin Goldsmith said it is always challenging to transition from the holidays to a road marathon filled with long-playing gigs. But like any good drummer, he said it should not take long for him to find his rhythm.
"I've always treated it as part of my job to make sure that, come tour, I'm physically prepared to do that every night," he said.
This is also the band's first proper tour since We're All Gonna Die came out last year.
"I can't wait," he said. "I'm antsy to get out there and start doing it every night."
Print headline: Dead set, Dawes strengthens its roots as it blooms musically ahead of its Jan. 29 Oklahoma City show.