Taylor McKenzie started a record label to feed a habit he acquired overseas.
"I lived and worked in Berlin for a couple years, and techno is just so not an underground thing there, so I got really addicted to the music," McKenzie said.
When he returned to Oklahoma City, McKenzie founded Fixed Rhythms with fellow electronic music fan Stewart Whitmarsh because he had trouble getting the good stuff at home.
"It kind of started out as, like, a techno party series, and then it morphed into a record label because, basically, there's nobody selling this type of music here," McKenzie said. "It's crazy. There's so much good electronic music coming out — not EDM, but techno house, jungle, whatever — new dance music, and nobody's paying attention to it because you literally cannot touch it. It's not at any record stores here, not just in Oklahoma City, but in Tulsa and down in Texas, it's hard to find. You have to be in, like, one store in Chicago, a couple stores in New York and a couple stores in LA. … Techno was born in Detroit, so it's actually a domestic thing, but U.S. techno is crazy-hard for people to wrap their heads around. There's, like, a cultural difference. One thing is the 2 a.m. cut-off. It's nighttime music, and people here are just so used to going out and immediately getting blitz drunk and just going home and passing out. It's kind of a different culture where you're going out and you might not even drink but you're staying out until like eight in the morning. … I guess that's much more of a thing in places like Berlin."
"It's blowing your mind that music like that can even exist and move you in that way you've never been moved before."
— Taylor McKenzie

tweet this
Berlin's nightlife culture and club scene, where sunrise often comes before last call, might give its electronic dance music an edge, but Fixed Rhythms' compilation Unexpected Destinations Vol. 1, released Thursday digitally and on cassette tape, sets out to prove that good dance music is being created by "artists living outside of the traditional electronic music hubs."
"There are people making this kind of music in Oklahoma, but they're just totally doing their own thing," McKenzie said. "And to me, that's kind of more beautiful because there are no rules here. There are no standards of DJing. There are no standards of what your house tracks or your techno tracks or your ambient tracks should sound like. You're just going for it because you're kind of trying to reach out to the void. I love that shit."
Experimentation not constrained by genre labels or regulated by beats per minute (BPM) allows music and musicians to evolve and grow, McKenzie said.
"You have to allow for people to blend things and blow things up a little bit in order to come across new territory," McKenzie said. "There are so many people who would say, 'Techno is between this BPM and this BPM, and the bass drum has to go on these spots,' and it's just like, whoa. Who is going to work with those boundaries consistently for an entire musical career?"
Instead of setting these kinds of boundaries, McKenzie said Fixed Rhythms abides by a single mantra: "Electronic music, curated by intuition and love." So far, the artists released by the label have come through "organic connections" made on the dance floor or, in one case, the classroom.
Minimalist music
Benjamin Rosfeld, whose "Out of Time" is included on Unexpected Destinations, was a student in the high school German class McKenzie teaches. Rosfeld said a book he was reading about minimalist composers inspired a conversation about Brian Eno, Philip Glass and Steve Reich that led McKenzie and Rosfeld, a classically trained pianist who became interested in electronic music when he began building synthesizers as a hobby, to realize they had not only similar musical tastes, but similar "musical philosophies."
"We're really about collaboration," Rosfeld said. "I believe that, as artists, to really create true, good art, we can't do it by ourselves, and music to me is about not only just the creation of art but creating a community surrounding that. When we're able to work with other people, I think that's really some of the true beauty in our creations. … Working with Taylor's been fantastic. He's such an onboard, really easygoing, enthusiastic person, but I also really, really respect what the label is doing in unifying these artists. They're creating a new community of people with this one tape."
McKenzie said his conversations with Rosfeld helped him rediscover his own enthusiasm for minimalist music.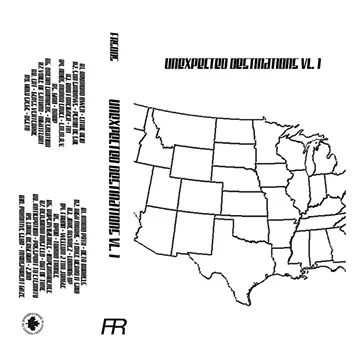 "He's a composer, and he's just so on fire," McKenzie said. "It's so amazing to watch someone so excited about that kind of music. … You just get, like, obsessed with drone music, and that's all you listen to. It's blowing your mind that music like that can even exist and move you in that way you've never been moved before, and I hadn't really felt that excited about that kind of music in a while. Not to sound jaded or anything, but I just hadn't dug it that hard for a minute."
Rosfeld, now a student at University of Central Oklahoma, said Unexpected Destinations will be his first cassette tape. "Out of Time," written during his senior year of high school, has a personal meaning for him.
"There's this constant pulse, but not everything that accompanies the pulse is perfectly in time with that," Rosfeld said. "It's almost like you've got three different layers that are all doing their own thing. I think it's really expressing how I felt, particularly in my senior year of high school when I wrote the piece. Everything was sort of going on around me, and I almost didn't feel like I was a part of it or I was out of sync with everything, really overwhelmed. So I think that's what I was trying to convey, but I'm always open to other people's interpretations."
Raymond Owen, whose "Citric Acid" opens Unexpected Destinations, said Fixed Rhythms is moving to its own beat.
"It's pretty different from what's going on in Oklahoma, so hopefully it actually attracts more people that are into these things that probably don't have a community to share that with," Owen said. "I feel like Fixed Rhythms is such a special thing for Oklahoma. They're actually bringing out people that are doing amazing things that no one's ever actually heard or they would maybe never even hear if they didn't get connected through Taylor or someone."
McKenzie hopes Unexpected Destinations helps people in OKC and places like it realize they can join the party.
"A lot of times, people just get left out of the picture if they're not from some hype city," McKenzie said. "I do think it's kind of metropolitan music. You need people, but I don't think that it's impossible for a smaller city with, like, 800,000 people to have like a super healthy dance community. It just takes exposure. … You have to have your hands on it. You have to be exposed to new sounds."
Unexpected Destinations also features tracks by OKC artists Hypervigillance and Holy Siege. Digital albums and cassette tapes are $7.

Visit fixedrhythms.com.