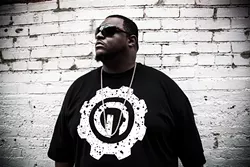 Rap has an image problem.
Gathered around a table at District House, 1755 NW 16th St., rappers Jim Conway and Drew "Druce Wayne" Wood and DJ Joshua "Triple8" Tullis know that the public's idea of rap music isn't always positive.
"That's what we're trying to change," Tullis said.
The trio's project, Choose the Bright Side, is 6 p.m. July 8 at District House. The free show features 16 local rappers raising money for Cavett Kids Foundation, a nonprofit that sends terminally and chronically ill children to summer camp.
Wood is a driving force in the fundraiser because of his personal experience with the charity. His sister has a chronic heart disease, and the work Cavett does greatly impacts her life.
"She just had open-heart surgery two weeks ago," he said. "The camp gives her people to connect to."
Foundation operations coordinator Nicole Wright said the help offered by Oklahoma City's rap community is "pretty cool."
"This year, we have about 200 kids registered," she said. "Basically, it's five days of total and pure fun. Our mission is that illness doesn't define a child."
Building connections
Conway said a group of performers plans to visit the camp for a day before the fundraiser to build a better connection with the people they're helping.
"I need to get close to it and spend time with the kids to see the struggle and to see the happiness," he said.
Wood said the show takes its name from the foundation's impact on children — helping them maintain a positive outlook on life.
Making a difference in the community is the most powerful way for rappers to change the way the city views them and vice versa, Conway said.
Choose the Bright Side headliners are Original Flow & the Fervent Route, Chief Peace, Joey Sativa and Fresh. The event also features S. Reidy, Taylor Latre, Druce Wayne, Worm, Peyton Benge, Levi Hinson, Werdoze, Motian, J. Sparxx, Bishop and T.McCoy.
Conway said his group, Guerrilla Breed Collective, is dedicated to using music to positively affect the community. And with Tullis' SomedayNow Music production company involved, he said Choose the Bright Side is going to be a high-energy show from creative and production sides.
In addition to Cavett Kids Foundation, local apparel makers Group Fly, Select Classics Apparel, Lost Coin and OKCVLT will have tables at the show.
Choose the Bright Side happens during LIVE! on the Plaza monthly art walk, so Wood said he expects a successful event, both in attendance and fundraising.
"Most people are willing to be on a show bill, especially when there's a cause involved," he said. "For this, there was no problem getting people involved."
Print headline: Brilliant idea, Choose the Bright Side brings together 16 hip-hop artists to help send terminally and chronically ill children to camp.