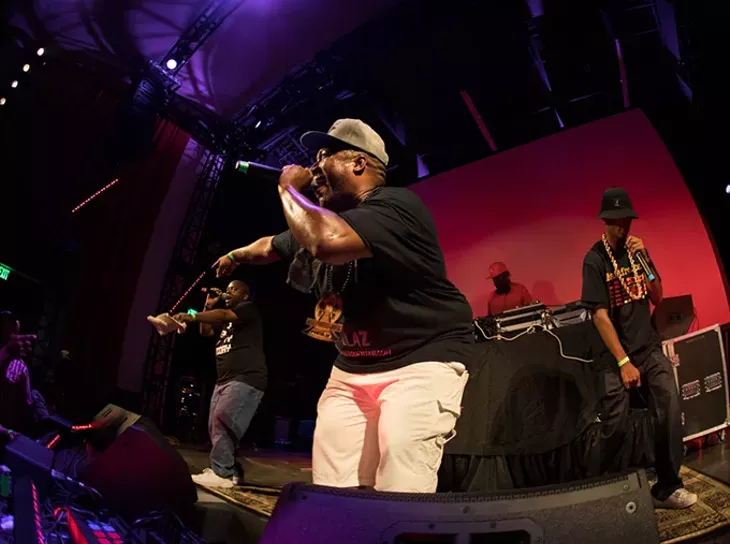 Hip-hop emcees wrote rap songs about all kinds of things in the 1980s, but one subject they rarely broached was their parents' medicine cabinets.
Today, however, the most pervasive (or at least the most infamous) subsect of the youngest generation's rap movement seems obsessed with bragging about opioid and prescription drug abuse. Andre Stubbs, also known as rapper and producer And-1 in the local hip-hop collective Mainframe Trax Family, playfully speculates on how the trend could possibly build upon itself.
"What's going to happen in 2020?" And-1 said. "Are the drugs themselves going to start rapping?"
And-1 and the rest of his Mainframe associates, which include rapper/producers Keon "A.D. Trax" Ellison and Lemuel "Element Life" Kelly, grew up in what many call hip-hop's golden era. They are also often joined by Keith "Epitome" Anthony.
When they say they are loyal to hip-hop culture, they don't mean the rap world of glorified excess depicted in decades of mainstream music videos. Instead, they are firm believers in the core disciplines hip-hop culture was founded on in the later 1970s: rapping (emceeing), DJing, graffiti art, breakdancing and knowledge.
As outside money flooded into the rap world, commercial music floated further and further away from those tenants. But while the music industry pays little regard for the culture's roots, plenty of underground groups and movements around the country keep it thriving. Oklahoma City is no exception.
Mainframe Trax has been an official hip-hop collective in the city since 2006. Its current trio of members was brought together through shared connections and mutual acquaintances. From these common threads, they have created a bond that, over the years, outlasted many other rappers and DJs who have passed through the city.
Many within the city's younger generation of emcees now call the Mainframe Trax collective "OGs," or elders. Element Life said it is an honor to be thought of in that way, but nothing was farther from the group's minds when they started making music together 12 years ago.
"I don't think we ever expected that title," he said.
While the group might be known as rap veterans, they are far from venerable. A.D. Trax partially attributed the group's longevity to a healthy sense of competition between group members. That competitive sense extends beyond the Mainframe family.
"I ain't old," A.D. said. "I challenge anyone to get up on a stage with us. You're going to have to do something."
'We're here'
A.D. had already been writing raps for a while, but he bought his first piece of recording software in 2004. Later that year, he got together with a friend, and the two of them constantly recorded new songs together.
"It was a lot of days and a lot of nights cranking out whatever," he said. "We were just trying to do as much as we could."
A.D. was working for Cox Communications at the time and met Element Life through the emcee's girlfriend at the time, who also worked at the company. When A.D. mentioned his music to her, she told him about Element Life, who had several MySpace uploads and performances under his belt but no proper CDs.
The two eventually met and formed an instant bond. Both shared a vision of forming a collective like New York's Wu-Tang Clan in Oklahoma.
They started performing together almost right away and took on the Mainframe Trax name in 2006. They played all kinds of bars and clubs and toured across the state. In the early days, they often even paid to perform.
"We definitely got taken advantage of," A.D. said, "but as you learn, you're like, 'Hey, we put in our dues; we're not paying anymore.'"
Before And-1 was in the group, he was rapping and producing on his own. He grew up as a friend of several of Element Life's cousins, and the two of them were connected through Facebook. One day, Element Life put out a status update saying he needed someone to put singing vocals on a song he was working on. And-1 responded and gave him a chorus. It wasn't until after meeting that Element Life discovered he rapped, too.
Everything that happened to Mainframe Trax — including big bookings and recording opportunities — seems to have come about through some kind of mutual connection.
"A lot of stuff has happened to us, which has just been a blessing," Element Life said. "And it's just through someone knowing one of us and reaching out."
While they are a model for a long-lived presence in the rap community, the Mainframe collective has never made the pursuit of money its main priority. Money was just the means that enabled them to do what they were really passionate about: sharing their love for hip-hop culture with other people in the city and around the world.
"We just wanted to show everyone that we're here," And-1 said, "that we exist and we're a collective that's going to be a staple of the scene for a long time."
'The power'
Each member of the Mainframe Trax family plans on releasing a solo album sometime within the next year: A.D. Trax has The THINK Initiative, Element Life is planning Epic Epidemic, And-1 is finishing Violence, and Epitome will release The Truth Lies Here.
Element Life has said his love for hip-hop began with his first tape, EPMD's 1988 debut Strictly Business. He got his start rapping by freestyling with friends over early Wu-Tang and other instrumentals. He said he has come a long way since then, particularly as a songwriter.
"I was just rhyming to be rhyming without making sense," he said. "But if you care anything about criticism and being your own worst critic, you're not going to put just anything out there."
Similarly, A.D.'s passion started with playing and replaying cassette tapes from LL Cool J, Run-DMC, Beastie Boys and Ice-T. Though the Mainframe family is now known for its dynamic performances, A.D. said music has helped him overcome a crippling case of stage fright.
"I played sports in front of hundreds of people all my adolescent life," he said. "But put me out in a classroom in front of a podium and I would sweat bullets."
Still, And-1, who grew up in a musical family and has been playing piano by ear since he was 12 or 13, said stage fright has never been an issue for him.
"If I was on stage, I knew I had the power," he said. "When you're in front of all those people, you don't think about what could go wrong. Just get your message across and say it with conviction and people will believe you."
'Family remains'
Rap music has recently emerged as the most popular form of American pop music, and the influence of hip-hop culture and style can be seen in a number of areas unrelated to music.
Oklahoma City has warmly embraced hip-hop culture for several years now, but A.D. still remembers performing in the early 2000s when the local powers that be would have rather seen rap music disappear.
"At the time, it was kind of tough for hip-hop in Bricktown," he said. "They didn't really want it in the clubs like that, and DJs couldn't really spin a lot of it. There was just this aura around it, like they were scared something was going to happen."
Mainframe Trax eventually got the chance to perform at the former downtown venue Bricktown Live and became regular performers. They were not the first rap act to perform in the downtown entertainment district, but they were aware of their platform.
"We definitely wanted to show them why they should have the culture down there," A.D. said.
These days, there are way more rappers and producers in the local scene than there were when Mainframe Trax began. A lot of that has had to do with the increased availability of recording and production software. The internet not only connects local artists to other locals, but to artists and fans around the planet.
And-1 estimates the field of performers has tripled since the '90s, which is a good thing.
"The more rappers and emcees out there, the more exposure the state is getting in the rest of the world," he said.
Nothing about the Mainframe Trax journey has been expected. A.D. said they are as surprised as anyone else about where the group and local hip-hop in general have gone.
Through whatever surprises remain, he knows the trio will face them as an eternally united front.
"Technology is going to go where it's going to go, relationships are going to suffer, but family remains," he said. "Once you're Mainframe, you're forever."