Jared Deck heard a lot of generalized advice growing up in the rural town of Thomas, located about 17 miles north of Weatherford.
Rolling Stone recently named Deck in its list of "10 New Country Artists You Need to Know." The breakout singer-songwriter's self-titled debut, released May 6, is mostly about his journey to accepting who he is and where he's from. That trip had a lot of ups and downs, and people never seemed shy about telling Deck what they thought his next best move should be.
"Song You Can Use," the last song on the 11-track project, is the tune Deck said he most identifies with on an album packed with autobiographical detail. It's a message to all those advice-givers who believed they knew better.
Some people need you to be in a certain place or be a certain way for their own selfish reasons, Deck said during a recent Oklahoma Gazette interview. "Song You Can Use" lets them know he refuses to be that person anymore.
Deck now knows where he grew up shaped him more than he realized. However, coming to grips with that was not easy.
"Every 21-year-old has something bad to say about their hometown, but then the older you get, the more you grow, the more you realize the beauty in who you are comes from who you were raised by and where you came from," he said. "You may have positive memories, you may have negative memories, but you are still who you are and you've got to find beauty in that."
Changing tune
A casual observer might be surprised that Deck, the former guitarist, lead vocalist and main songwriter for Weatherford-based rock band Green Corn Revival, would drop that outfit to chase a solo career in a new genre. Maybe those people didn't watch closely enough.
For one, defining exactly who Deck is has long been a hard struggle to pin down. In addition to fronting his band, he has manned the town grocery, worked in oilfields, started a business and even ran for state office. He was within percentage points of being elected into the Oklahoma Legislature in 2008.
Also, the singer-songwriter persona is not something Deck decided to adopt on a whim. It's the kind of music he most listens to. If anything, it was an attachment to the work of in-state contemporaries Carter Sampson and Beau Jennings that helped convince him to make the shift.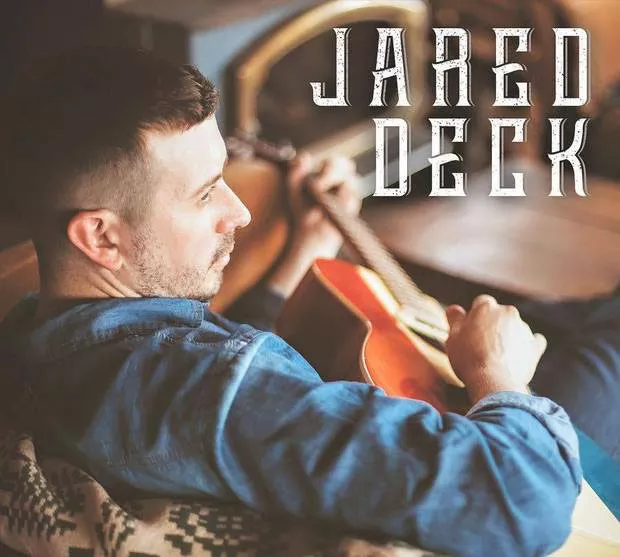 "The transition was natural," Deck said. "I wouldn't say I feel more comfortable now than I did [in Green Corn Revival]. However, I am especially different in how I approach a live performance. The songs that I'm writing now are simplified."
Gone are the days Deck would stress over each of the moving parts associated with live band performances. As a solo storyteller, Deck is in complete musical control. He trusts musicians he gigs with enough to be free and relaxed.
Finding kinship
Deck has only known Tulsa producer Wes Sharon for about a year, but he considers him a good friend.
Sharon's work as producer on Deck's debut was a key component to the magic found on the album. Sharon co-produced and mixed John Fullbright's From the Ground Up, which was nominated for Best Americana Album at the 2013 Grammy Awards.
His fingerprints also are found on Parker Millsap and Turnpike Troubadours projects.
"The records that he's putting out are hands down some of the best Americana music in the business, period," Deck said.
Deck and Sharon met as they worked on the song "17 Miles," which became the album's first single. At that time, Sharon had heard the songwriter take a number of different approaches to his vocal delivery. That's when the producer told him to visualize the song and exactly what it says. The advice stuck with Deck.
"There's a musical kinship there," Deck said. "Wes understands songs, but he also understands the people who write them. He doesn't just give you an idea because it's his idea. He gives you an idea because he's listening to you and he's learning who you are."
Being comfortable
Another part of finding himself was shifting to a more open songwriting style.
Deck thinks he hid behind Green Corn Revival's music. He wrote good hooks, he had a few solid lyrics, but he was so busy being the de facto bandleader that he did not feel he ended songs in a way they deserved.
His debut project makes his life an open book, but Deck kept his band lyrics on a leash, not wanting to dig too deep into the person he was or felt like.
"17 Miles" opens the project with a tale of how a rural town can become impossible to escape, tying down dreams for tomorrow. "The American Dream" is a bipartisan anthem for the workingman. "Unusually Blessed" is a rugged look at an oilfield worker's life.
Though once restless in his hometown, Deck now makes it his mission to tell compelling stories that might otherwise never make it out of the western Oklahoma community.
"There's a lot of stories out here, and there's a lot of art that gets lost because no one knows about it," Deck said. "I just kind of felt like my goal was to tell those stories and get them out there."
Through opening up his lyrics, Deck has come to peace with his home and past. Through opening up to his upbringing, he has come to peace with himself as an artist.
"When I look at a piece of paper, I see a mirror and I just write what I see," he said. "That kind of sounds melodramatic, but that's the way I think of it."
Jared Deck's self-titled debut can be purchased on iTunes.
Printed headline: Home free, Songwriter Jared Deck eventually found his true self while on a journey to discover his place in the world.