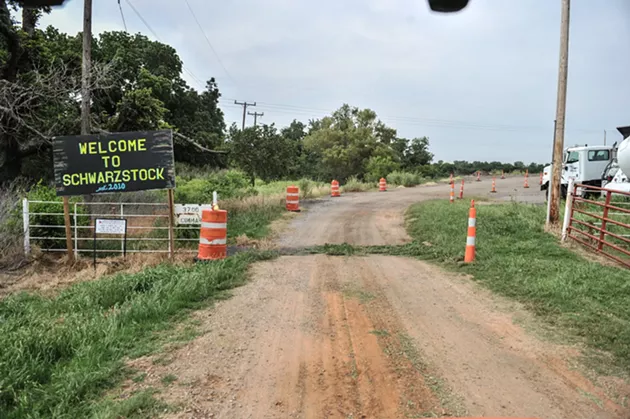 Schwarzstock
Friday–Saturday
The 40
3700 N. Cimarron Rd., Yukon
stubwire.com
$20-$30
Doug Schwarz had a beautiful moment a couple years ago, lying underneath the starlight after an impromptu birthday party and concert on the quiet, wide-open spaces offered by one of his family's farms. It didn't take long before he wanted to share that feeling with everyone else.
Schwarzstock has evolved from a friends-of-friends affair to a full-fledged countryside music festival. Now in its fourth incarnation, the fest showcases some of the biggest names in Oklahoma music over two days on a plot of land just outside of El Reno.
"We wanted to take it from this fun little field party and really make it something a little more serious," Schwarz said. "The first time, it was just a small party. The second time, it was word of mouth. Last time, we took it a bit more seriously, and now it's a real festival. It's gone from being involved with the bands to bringing the entire city in."
Schwarz is best known for his work behind the camera, snapping press shots for many of the bands on the Schwarzstock bill and devoutly documenting the Oklahoma music scene with his concert photography over the past few years.
But this gives him the opportunity to not only chronicle the local culture scene he so admires but add something to it, something different.
There are a fair amount of music festivals that have popped up across the state, but Schwarz likes to think of his as providing an experience you can't find anywhere else. Schwarzstock encourages concertgoers to pitch a tent and set up camp on the grounds overnight, mimicking the environment of Bonnaroo or Wakarusa but with a Sooner State focus.
And out there in the middle of the country with little noise other than the chatter of friends, the bands on the stage, the night sky unhindered by the lights of the city, it's a special thing.
"It's like hanging out with your friends on this bigger, community scale," Schwarz said. "There's something kind of pure about it. At the core of it, there's 400 to 500 people hanging out who all really know each other, and we want to bring more people in on that feeling."
Added to a bigger bill, bigger production and bigger grounds, Schwarzstock is now expanding its programming, adding more standup comedy sets, vendors, food trucks and volleyball courts, even potentially bringing fishing and astronomy group-led stargazing into the fold as well. Even on the eve of the festival, Schwarz's mind is already churning and he's pondering how to make the next festival better while potentially populating the time between festivals with other Schwarzstock undertakings, shows or otherwise.
"I look back at it all, and it's really something," Schwarz said. "Hundreds of people have made this happen, and that's incredibly humbling to have so many volunteers to help put your dream together."
Schedule
Friday:
IndianGiver 6 p.m.
The Wurly Birds 7 p.m.
Moongiant 8 p.m.
Feathered Rabbit 9 p.m.
The Gentle Art of Floating 10 p.m.
Tallows 11 p.m.
Deerpeople 12 a.m.
Larry Chin with Mannachine and Colin Nance 1 a.m.
Saturday:
Bowlsey 10:45 a.m.
Chelsey Cope Band 11:45 a.m.
Chase Kerby 11:45 a.m.
Tyler Hopkins 12:30 p.m.
The Chloes 12:45 p.m.
O Fidelis 1:15 p.m.
Honeylark 1:45 p.m.
Kyle Reid 2 p.m.
Defining Times 2:45 p.m.
John Calvin 2:45 p.m.
Samantha Crain 3:30 p.m.
Junebug Spade 3:45 p.m.
Tequila Songbirds 4:45 p.m.
Sherree Chamberlain 5:45 p.m.
Prettyboy 6:45 p.m.
Ali Harter and the Man Band 7:45 p.m.
Jabee 8:45 p.m.
Skating Polly 9:45 p.m.
Broncho 10:45 p.m.
Horse Thief 11:45 p.m.
Sibling Rivalry 12:45 p.m.