For Robert Ruiz, mariachi is life. After picking up the trumpet in middle school, he joined his first mariachi at the age of 12 and began singing in the group. He then joined another, Mariachi Azteca, but launched his own as a high school senior. It was then that he really took the lead, arranging music, playing guitar and handling vocals.
In 2002, as a junior studying engineering in the computer sciences department at the University of Oklahoma, Ruiz met Greg Hallman and, with founding members Jorge Hernandez and Jose Solis, put together the first pieces of what has become Mariachi Orgullo de América.
"There's this cliché of maracas," said Robert Ruiz, director of Oklahoma-based Mariachi Orgullo de América. "No. Those aren't used in mariachi. They're only for those people making Mexican-themed parties."
There's a misconception in Oklahoma that mariachi is a simple outfit. Though the heritage of mariachi is string-based, it is much more than a few guys strumming guitars in a restaurant.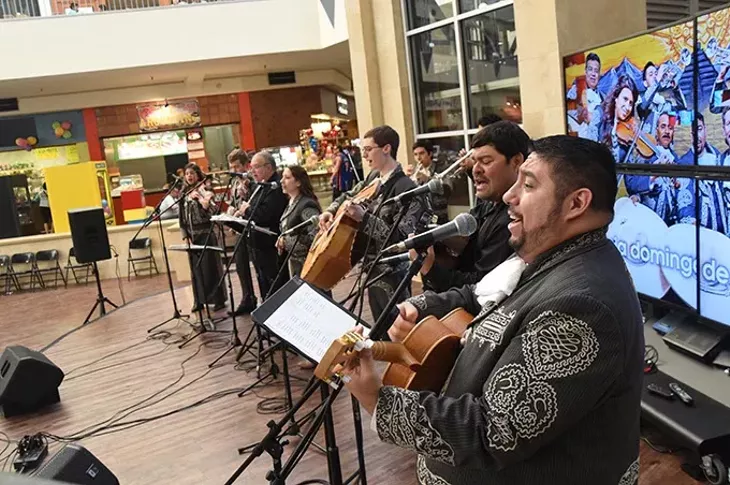 Namely, Mariachi Orgullo de América is a full mariachi. It's true; some mariachis are smaller. Ruiz's ensemble is not one of them. While being one of a handful of mariachi groups in America to have a flutist, the group boasts 11 musicians playing stringed instruments such as the violin, classical guitar, guitarrón and vihuela in addition to trumpet and flute. Even though the size might set it apart, the group is distinct in its composition as well, a strategy Ruiz and the other founders intentionally implemented.
"It was a difficult beginning," Ruiz said. "But we transformed our focus, recruiting talented musicians that wanted to play together as opposed to concentrating on finding existing mariachi or Hispanic musicians."
As with any new endeavor or business, the going was tough and slow. Many gigs were played for discounted prices or for free to gain exposure, Ruiz said. The ensemble had a limited repertoire. But as the group began to focus on non-mariachi talent, it grew, turning into one of the busiest live groups in Oklahoma. Playing at least one gig a week, the group continues to develop and refine a deep repertoire of traditional, popular and original compositions.
Aside from collecting an eclectic mix of accomplished and entertaining players, Mariachi Orgullo de América provides the Oklahoma Hispanic community an important resource to reconnect with and a way to pass on their heritage.
"Mariachi is a huge part of their culture," Ruiz said. "What we've found is that the Hispanic community has embraced us and there's a sense of pride that they have these [musicians] that are from different heritages playing their music."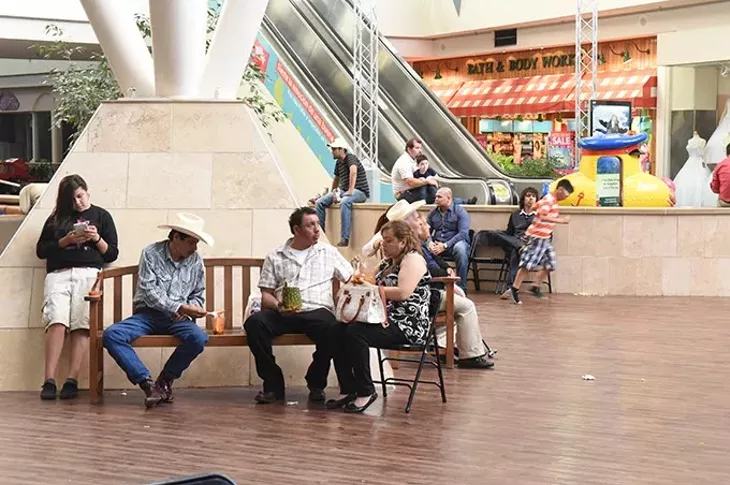 Unlike most genres of American fare, mariachi music accompanies a wide range of social and cultural occasion. It's played at baptisms, weddings, quinceañeras, birthdays, anniversaries and even funerals.
"We've had cases where we played someone's quinceañera then their wedding, different events within these families," Ruiz said. "One of the things playing Plaza Mayor has allowed us to do, though, is allow other families that opportunity. Some of the families who aren't able to hire a mariachi bring their kids on a Sunday and the children that were born here that didn't grow up in Mexico can experience their [parents'] culture and life."
It's this cultural connection that cements the ensemble's place in the Oklahoma music scene, allowing their mariachi to thrive. But a broader sense of belonging and closeness should be credited for much of their success.
"We're like a family," Ruiz said. "We spend so much time together we have to be. What's great about these performances, too, is that we're not treated like hired work. Most of the families we play for treat us like guests of honor. It's an inviting feeling for all our musicians."
Mariachi Orgullo de América plays 4 to 6 p.m. every Sunday at Plaza Mayor at the Crossroads, 7000 Crossroads Blvd., but confirms each event through its Facebook page at facebook.com/mariachiorgullo. The group's second album is due out this fall.
---
Print headline:Culture club, Playing traditional music, Mariachi Orgullo de América thrives on diversity and is the midwest's premiere band.