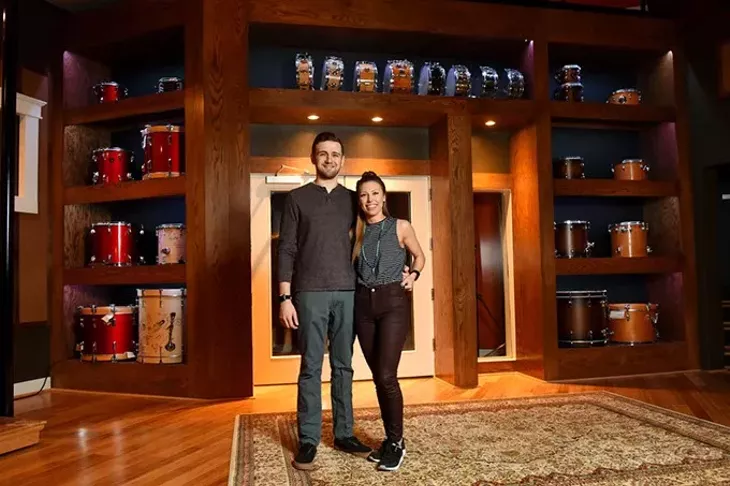 Garrett and Ashton Starks spent the last two years putting together a first-rate recording space they hope can elevate Oklahoma's reputation as a musical state. Now they hope to share their creation with a worthy hometown artist.
The couple opened Castle Row Studios, 2908 Epperly Drive, in Del City seven months ago after months scavenging for high-dollar soundboards and equipment. The three-studio site is state-of-the-art, and the interior is as chic and spacious as a fancy Nashville recording spot. The Starkses, tired of artists thinking it's necessary to leave the state to make and record quality music, modeled the place to compete with the best.
To show they're serious about local talent, the couple launched a search for a rising artist or band to lend their services free of charge. The Castle Row Discovers contest, open for submissions through April 1, allows artists to record a "personable" video featuring their music and story for the opportunity to have a song recorded in the new digs.
Ashton said there are many artists who have the financial support to land them in a studio like this, but they want to grant access to a worthy talent without that kind of backing.
"I just would like somebody genuine," she said, "someone that really is passionate about their music."
Artists can enter by uploading submissions on YouTube with the title format: "artist name – song title – Castle Row Discovers" and then include the URL in the submission form found at castlerowstudios.com.
One winner will be selected to have a song recorded, mixed and mastered. They also will be featured in a commercial video documenting the process, filmed by award-winning, in-house videographer Keaton Nye.
Distinctive digs
An opportunity to record at Castle Row gives the winner the chance to work with equipment once used by some of music's biggest names. The main studio's soundboard has been used to mix music by Carrie Underwood and Dave Matthews Band. Another was used to record R.E.M.'s first two albums. An organ was previously used by Bruno Mars.
Castle Row takes over a building that housed Del City's movie theater after its construction in the 1940s. It later became home to Del City Music and Woodside Studios, where artists like Reba McIntire and Vince Gill once recorded.
The Starkses enlisted Steven Durr to help them redesign the space. He has designed studios for Mars, Mark Ronson and Zac Brown Band.
Ashton said artists who have come through the venue so far left impressed. The couple said finding a way to benefit those using the space is the most rewarding part of owning Castle Row.
"The whole reason we got into any of it (building a studio) was because you would go into a studio and see something like that and it blows your mind to where you like, 'Oh, I've got to do that thing,'" Garrett said. "So to be able to do it — you can't match it."
To learn more about Castle Row or the Castle Row Discovers contest, visit castlerowstudios.com.
Print headline: Castle crooners, Sleek, new Castle Row Studios searches for worthy rising talent.