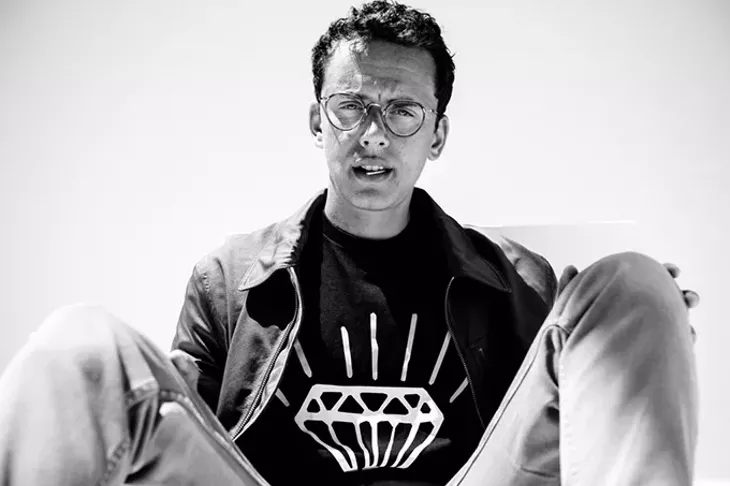 In some respects, Maryland rapper Logic's song "1-800-273-8255" is an unlikely candidate to be a top three Billboard hit single.
For one, its phone number song title includes too many digits and too many verbal syllables to be effortlessly memorable. And though Logic (born Sir Robert Bryson Hall II, with "Sir" being an actual part of his first name and not a given title) shows off some of his best and most beautiful singing to this point in his career on the song, some of the tune's lyrics are downright morbid at close inspection.
"I don't wanna be alive," the 28-year-old howls in the opening chorus, which is told from the perspective of a caller to the National Suicide Prevention Lifeline, which is who one will find on the line's other end after dialing the titular phone number.
"I just wanna die today," Logic continues. "I just wanna die."
Yet the anti-suicide anthem (featuring guest vocals from Alessia Cara and Khalid) has found a huge audience on the radio and the internet. Actors Don Cheadle and Matthew Modine star as fathers of gay sons in the music video, which has more than 279 million YouTube views.
Fans will likely hear Logic perform a live and triumphant version of the tune when his Bobby Tarantino Vs Everybody Tour stops 6:30 p.m. Aug. 1 at The Zoo Amphitheatre, 2101 NE 50th St. Tickets are $36-$70.50.
"1-800" has also helped propel Logic to hip-hop music's highest level of prominence. His 2017 album Everybody, from which the single originates, was his first album to debut at No. 1 on the Billboard 200 album-sales list. Logic followed that success up in March with another No. 1 Billboard ranking, this time for the project Bobby Tarantino II, which technically isn't even an album, but a mixtape.
In a video interview with Genius, a site dedicated to annotating the lyrics of rappers and other musical artists, Logic said the song was inspired by a cross-country tour he did visiting and spending time with various fans. So many of the fans he met with credited the rapper's music for saving their lives at some point. Many of them had his lyrics tattooed across their arms and on their chests. Logic said he was almost in disbelief over the power within his own words.
"In my mind, I was like, 'Man, I wasn't even trying to save nobody's life,'" he tells Genius. "And then it hit me: the power I have as an artist with a voice. I wasn't even trying to save anybody's life; now what could happen if I actually did?"
As grim as "1-800" begins, there is — of course — a brighter message to follow. Logic's first verse is from the perspective of an emotionally defeated individual calling into the suicide hotline for support. In his second verse, he raps from the perspective of the caller's answerer — himself. He acknowledges the caller's pain but offers hope.
"You don't gotta die today," the shifted chorus goes. "You don't gotta die; now let me tell you why."
We're Everybody
Logic's inclusion of Cheadle and Modine in the "1-800" video is not the only time the rapper has sought A-list talent for creative roles. On the album Everybody, the plot is partially driven by a character's conversation with "God," voiced by famous astrophysicist Neil deGrasse Tyson.
Through the album's narrative subplot, God reveals to a recently deceased character that he is the only person to have ever lived and that his life is really a series of reincarnations that has forced him to walk in the shoes of every human who has ever or will ever exist.
"It is not until you have lived every human life inside of your universe that I may take you from this place," God says to the character in a purgatory-like waiting room. "Once you have walked in the shoes of every race, religion, gender, sexual orientation, loving and hateful person, it is only then that you will understand how precious life truly is."
On the album's final track, "AfricAryaN," God gives the life advice of staying positive and living in the moment.
"Remember that right here in this moment is all you are guaranteed and the fact that you are living is what life is all about," the deity says. "So live your life to the fullest, according to your happiness and the betterment of all."
Tyson's involvement in Everybody evolved out of an email from Logic to the physicist. The host of StarTalk and Cosmos: A Spacetime Odyssey was not aware of Logic or his music before the email but has said he was flattered by the offer and has spoken highly of the rapper in subsequent interviews.
Complex filmed a conversation between Logic and Tyson following Everybody's release. Discussion topics widely vary in the video, but eventually, the subject of race is brought into the forefront. Logic, born to a white mother and a black father, makes his biracial upbringing and its effect on his life a major theme on the album.
In the video, Tyson states that his own racial ancestry is of little importance to him. There are trillions of humans alive today, but thousands of years ago, there were not so many. Tracing one's lineage back to a particular place and time, he argues, is an arbitrary practice because all people can eventually trace their roots back to common African ancestors who migrated to other parts of the world from there.
Tyson's message of an all-encompassing connection between the entirety of humankind is the crux of Everybody's thesis.
"I am genetically connected to everyone on Earth," Tyson explains in the Complex video. "If I want to figure out what I can be in life, I'm looking to everyone who ever lived: the genius of Isaac Newton, the courage of Joan of Arc, the social morality of Martin Luther King. I'm happy to absorb all the creativity of humanity and then cherry-pick that for what excites me and let that be what I become in life."