Mike Odd is not necessarily scared of all clowns, just one in particular. As manager and media representative for the fast food-themed Black Sabbath cover band Mac Sabbath, Odd said he only ever sees frontman Ronald Osbourne in full costume and makeup.
"I'm afraid of that clown," said Odd, who many speculate is actually Osbourne. "Keeping me tortured is sort of part of his whole thing."
Mac Sabbath serves up its self-described "drive-thru metal" 8 p.m. July 30 at Tower Theatre, 425 NW 23rd St. Odd said Osbourne seems to take pleasure in feeding his manager an unbelievable back story that casts the clown as an "Iron Man"-esque time traveler.
"He's insisting that he exists on this plane where he travels back and forth from the 1970s in this wormhole to save the world from the current state of music and sustenance and bring us back to that time where rock and food were still organic," Odd said. "He has this whole thing where he doesn't seem to 'understand' — when I say 'understand,' I'm making little quote things with my fingers; I don't know if you can see that. He doesn't seem to 'understand' any technology after 1979. As the band manager trying to move things forward instead of backward, it presents a lot of problems for me trying to get things done and trying to go in the proper direction."
Odd claimed that the first time he saw Mac Sabbath — which also features guitarist Slayer MacCheeze, bassist Grimalice and drummer Catburglar — the band was literally underground.
"When I met them, they were only doing secret shows in basements of a burger franchise," said Odd, who is careful to never mention specific brand names. "It was like this secret Fight Club, love/hate thing going on with disgruntled employees, and it was super secret. There was no phones allowed and no technology allowed whatsoever. And then they asked me to bring it above ground, but they were really weird about it, and how it was going to be above ground. I had all these limitations. They were all scared for it to not be secret and didn't know if some catastrophic thing was going to happen."
For Osbourne, Odd said, the feared catastrophe is not receiving a cease-and-desist letter from a billions-served burger franchise but inadvertently creating a temporal paradox.
"He's always real paranoid — pun intended — about something going wrong with the time-space continuum with two things colliding or something," Odd said. "So there's this very delicate balance. And that's why you're talking to me about this, in his words. In my words, it's because I don't want him to go crazy on you and you get a pie in your face or seltzer water on your microphone or something."
"There's a smoking grill, and Ronald's flipping these burgers and doing these crazy birthday party magic tricks in the middle of these Black Sabbath songs." — Mike Odd

tweet this
Changing "Paranoid" to "Pair-a-Buns," "War Pigs" to "More Ribs" and "Iron Man" to "Frying Pan" might at first sound like a celebration of fast food, but the songs' lyrics are actually highly critical of its low nutritional content and the industry's unethical practices. While cannabis ode "Sweet Leaf" famously opens with a smoker's cough, "Sweet Beef" begins with the sound of vomit splashing in a toilet bowl. "Electric Funeral" parody "Organic Funeral" changes Black Sabbath's original lyrics about atomic warfare into an ominous recitation of the ingredients list in a burger combo meal and a condemnation of the Food & Drug Administration (FDA): "Ammonium sulfate, monosodium glutamate," Osbourne sings, "Monsanto-run FDA, only legal in the USA."
Odd said that the band is obviously supposed to be silly and fun, but some of the information the lyrics in songs such as "Organic Funeral" convey is important, even if it comes from an unexpected source.
"You go and you look at that chemical, and what it is is this crap that they put in a hamburger buns in all fast food in America," Odd said of the commercial fertilizer component/dough enhancer ammonium sulfate. "You find out about stuff like that and it's just like, 'Why aren't people talking about this? Why do we have to go to a crazed, comedy band with a Black Sabbath-obsessed clown to hear about this stuff?'"
Being associated with Mac Sabbath has inspired Odd to think more carefully about the food he eats.
"It's interesting to see how anyone who's involved with this band, their diet changes, because you're just constantly inundated with these concepts that you didn't really hear about before," Odd said. "I'm totally anti-meat industry now, and I used to be the biggest meat guy on the planet — I mean the most meat, the rawest meat, the bloodiest meat."
The implications of the lyrics might be disturbing, but Odd stressed that Mac Sabbath strives to be fun for the whole family. The Tower concert is an all-ages show, and Odd said the band prefers it that way.
"Ronald is very focused on having it be kid-friendly," Odd said. "He doesn't work blue. There's no cursing. There's no adult content. … It would be great to have an actual ball pit, and I've been trying to figure out how to do that, but it presents so many challenges. Maybe one day."
Mac Sabbath's elaborate stage show does not currently have a children's play area, but Odd said concertgoers will still have fun.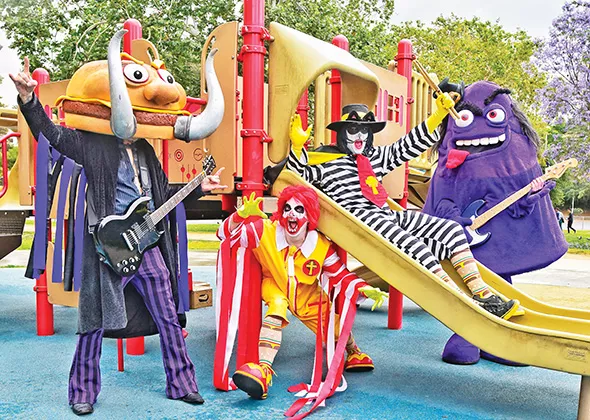 "There are these towering spooky clowns with laser eyes, and sometimes they're breathing, like, fiery smoke," Odd said. "And there's these giant burgers bopping around in the crowd. There's a smoking grill, and Ronald's flipping these burgers and doing these crazy birthday party magic tricks in the middle of these Black Sabbath songs. It's a whole theatrical, multimedia experience. … It's not something you can just see watching a video on YouTube or something because it has a beginning, a middle and an end. It has arcs. It's a whole thing. It's not really just a band. It's a lifestyle. You have to come down and be involved."
One positive review ("It's fun") came from Black Sabbath frontman Ozzy Osbourne, who looked delighted watching Mac Sabbath perform "Frying Pan" on a video released online last year. Odd, who like Superman's Clark Kent seems destined to always miss out on the action, claimed he did not know the meeting happened until after the fact.
"That was another thing that I'm in the dark about," Odd said. "These pictures start surfacing of Ozzy hanging out with the band, and I'm, like, frantically trying to get ahold of them. Everybody from the press is asking me questions about it. I'm trying to get answers, and he's avoiding me and just giggling. And then finally, the video services. I'm like, 'OK, how connected is he with Ozzy Osbourne and Black Sabbath, and who is he really? And what is going on?' The things that I'm left out of are sort of important."
Asked if he has any theories about what is really going on, Odd can only offer a vague guess.
"I don't know," he said, "God is punishing me?"
Playboy Manbaby and Okilly Dokilly, a metalcore band based on The Simpsons' Ned Flanders, are scheduled to open. Tickets are $17. Visit towertheatreokc.com.