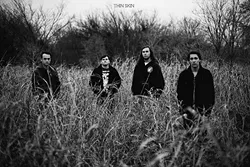 The classic image of the cartoonishly cool '70s rocker — perfectly messy hair, slick leather jacket, devil-may-care smirk — belies the truth about most artists, which is that they do care, deeply, personally and professionally.
Most art is born out of pain, anguish and torment, and history's greatest painters, writers and musicians have not only acknowledged that but embraced it.
The guys behind Oklahoma City rock act Thin Skin understand this well, and with a name like that, they sure don't make any qualms about it either.
"Our music is emotional and sensitive and all that good stuff," said Dalton Farr, singer and guitarist. "We don't necessarily try to write to the name, but it suits us so well we kind of do anyway."
Farr formed the band with best friend and roommate Alex Skaggs (bass/vocals) in 2013, quickly followed by guitarist Payton Collins and drummer Andrew Dolman.
The four recently split from their respective roles in now-defunct punk groups And So It Goes and Everybody Talks.
Those bands shared many of the same influences brought into Thin Skin: emo rock mainstays Brand New, Jawbreaker, Taking Back Sunday and Manchester Orchestra. But maybe age brings a greater weight and maturity (both in life and music) that lends more gravity to the songs swollen with all the feels.
Thin Skin is doing this just in the knick of time, too, with 2014 the peak of the latest emo revival. Title Fight, Balance and Composure, Joyce Manor and Into It. Over It. once again bring a lost form back into the national public eye and into critics' good graces.
Farr sees that movement brewing locally too.
"It's getting there," he said. "In our crowd, pop-punk was the main thing, and before that, it was metalcore. That age was fun, sure, but I think we're all onto something better now."
An eponymous debut EP in 2013 helped set a foundation for Thin Skin, but with Morning Colors, the band's latest record, the band thinks it filled in the cracks.
"We put out our first EP, and we had barely even been a band that long," Skaggs said. "We hadn't even played any shows when we wrote it. This one, we took our time with it, and it shows."
It's being celebrated with a release show Saturday at The Conservatory, 8911 N. Western Ave., and the first 25 guests receive a free album. Morning Colors is filled with the most raw truths and vulnerabilities from the band yet, but it's also something cheerful and heartwarming, like the imagery its title suggests: the dawning of a new day.
"I wrote the lyrics from a bad place, but the past year was cool to me, and to all of us," Farr said. "It's written from pain, but it was made out of happiness. There are breakup songs and struggle, but as a whole, it's more of a good time and forgetting about the bad times, or at least talking your way through them. It's about getting better."
Print headline: They're in better Skin, The emo revival inspires new music and an album release show for Thin Skin.