When a controversy arose over whether or not the new National September 11 Memorial & Museum in New York City should include a gift shop, one of the first calls officials made was to Oklahoma City.
"I told them to stay focused on what they were doing," said Kari Watkins, executive director of the Oklahoma City National Memorial & Museum. "There were times they would pick up the phone just to ask how we did something or navigated an issue."
As the sites of the two largest acts of terrorism in the United States, Oklahoma City and New York share a special bond that was strengthened between officials with the memorials built to honor the memories of those who lost their life.
The 9/11 museum opened its doors last week to the public, and Watkins was recently in New York to preview the facility located at the site of the World Trade Center towers that fell on Sept. 11, 2001.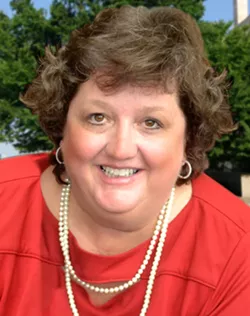 "There's a lot of similarities between the two [museums]," Watkins said. "We both have one bond, and that's to tell the story of what happened."
Watkins said she was proud to see the work of the 9/11 memorial staff, mainly because she understands the hard work it takes to pull off a project that can be tied to political and social controversy.
"It was really overwhelming, and I was proud of the group of staff members [in New York] who stayed with it from the beginning," Watkins said. "They went against the odds. They had a lot of political issues that could have ended it."
The connection between the two memorials was expressed last year by Joseph Daniels, president of the 9/11 memorial, who wrote a public letter the day after last year's tornado in Moore and Oklahoma City.
"The relationship between Oklahoma and New York City is one forged in compassion," Daniels wrote. "New Yorkers were there for Oklahoma in April of 1995 in the wake of the bombing of the Alfred P. Murrah Federal Building in Oklahoma City, and they were here for us after 9/11."
Ronaldo Vega, an architect with the 9/11 memorial, referred to museum organizers in Oklahoma City as his family.
"We have had the privilege of knowing a group who survived the Oklahoma City bombing on April 19, 1995, and they have been a source of strength and healing in our own struggles to make peace with our 9/11 tragedy in New York City," Vega said. "As we attended one other's remembrance ceremonies over the years, we have formed a bond much like a family in closeness. We have cried together. We have companioned our sorrow."
Several years earlier, following the 9/11 tragedy in New York City, the Oklahoma City memorial took out a full-page advertisement in The New York Times that read, "You stood with us in our darkest hour. Now we stand with you."
The Oklahoma City memorial had previously displayed an exhibit on 9/11, and it sent some of those artifacts to New York, but they are not displayed in the new 9/11 memorial.
"I was proud of them, and it made me even more proud of what we did in Oklahoma City," Watkins said about her visit to New York last week. "We've both done a good job of personalizing the story."
The Oklahoma City National Memorial opened in 2000 and was dedicated on the five-year anniversary of the bombing that killed 168, making it the largest act of terrorism on American soil until the Sept. 11, 2001 attacks in New York City, Pennsylvania and Washington, D.C.