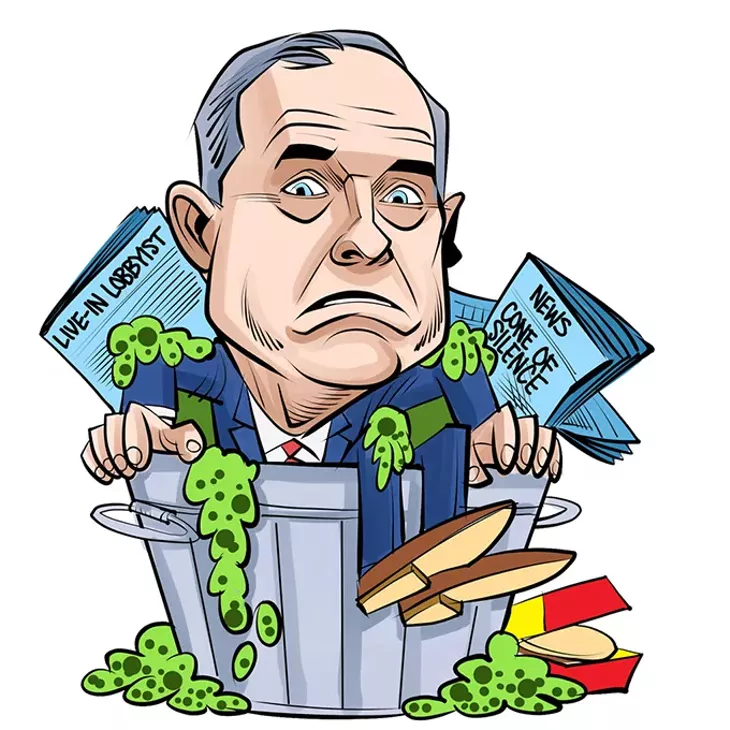 On the afternoon of July 5, the Scott Pruitt voodoo doll that took up residence in Chicken-Fried News World Headquarters on February 17, 2017, started smoking. No, not cigarettes or blunts, but the kind of radiant heat-related smoking that suggests an impending explosion. The CFN team all turned to their smartphones and laptops, furiously checking social media to see what Lil' Scotty was so peeved about.
Then it came up on everyone's screens: Pruitt, the former Oklahoma attorney general and Environmental "Protection" Agency administrator, had resigned effective the next day. Pruitt's hot-water swim through 15 separate federal inquiries while in office was at an end, and CFN's staff just sat there, bewildered like Robert Redford at the end of 1972's The Candidate, screaming "What do we do now?!"
To cap off the end of an era, this is what CFN will do now. We will unpack Pruitt's letter of resignation, which, according to The Washington Post (WaPo), was solicited by the White House without any verbal conversation between Pruitt and his apparent demigod, President Donald Trump. Fair warning: This will be disrespectful.
"Mr. President, it has been an honor to serve you in the Cabinet as Administrator of the EPA."
Technically, Pruitt was supposed to be serving the American people, not Trump, but Pruitt, who spent the past 17 months deregulating pollution controls for the energy sector and trying to get his wife Marlyn comfy gigs with Chick-fil-A and the Judicial Crisis Network, was serving himself like he was at Golden Corral.
"Truly, your confidence in me has blessed me personally and enabled me to advance your agenda beyond what anyone anticipated at the beginning of your Administration."
We'll give him this one — Pruitt was an outstanding Trump toady, and that is why he survived so long in an 18-month-old administration with a 61 percent attrition rate.
"Your courage, steadfastness and resolute commitment to get results for the American people, both with regard to improved environmental outcomes as well as historical regulatory reform, is in fact occurring at an unprecedented pace and I thank you for the opportunity to serve you and the American people in helping achieve those ends."
CFN darkly laughs at "improved environmental outcomes" because this is only true if you consider replicating the setting for Cormac McCarthy's The Road one of your #squadgoals.
"That is why it is hard for me to advise you I am stepping down as Administrator of the EPA effective as of July 6."
Again, according to WaPo, Trump ordered his staff to solicit Pruitt's resignation. It's only hard because he will not have access to fave rave restaurant Le Diplomate until he eventually secures a cushy K Street job lobbying for increased ground water contamination by factory pork producers.
"It is extremely difficult for me to cease serving you in this role first because I count it a blessing to be serving you in any capacity, but also, because of the transformative work that is occurring."
Any capacity? Well, at CFN press time, there are 18 positions available at Trump International Hotel in Washington, D.C., ranging from housekeeping to director of revenue management, something Pruitt might enjoy. Unfortunately, the hotel might see an uptick in the number of lotion bottles and mattresses mysteriously disappearing off the loading dock.
"However, the unrelenting attacks on me personally, my family, are unprecedented and have taken a sizable toll on all of us."
Those were not attacks. That is called reporting. Matt Damon never gets mentioned in tabloids because he and his wife stay home at night and research global water depletion. In other words, they stay out of trouble and maintain relatively boring lives. Pruitt neither stays out of trouble nor does he research global water depletion, which is a great way to get Tulsa World alum and current Associated Press environmental reporter Ellen Knickmeyer knocking on the door of your $43,000 soundproof booth.
"My desire in service to you has always been to bless you as you make important decisions for the American people. I believe you are serving as President today because of God's providence. I believe that same providence brought me into your service. I pray as I have served you that I have blessed you and enabled you to effectively lead the American people."
This is what people talk about when they describe Trumpism as a cult. If Trump is the Rev. Jim Jones of modern American politics, Pruitt just did a Kool-Aid keg stand.
"Thank you again Mr. President for the honor of serving you and I wish you Godspeed in all that you put your hand to."
Three words: Access Hollywood tape.
Finally, CFN is sad to report the demise of the Scott Pruitt voodoo doll. When his likeness became the No. 1 trending topic on Twitter, Lil' Scotty screamed, burst into flames and crashed through the editor's plate glass window. We've now been told that the CFN World Headquarters parking lot might be listed as a Superfund site after Lil' Scotty's detonation, but after Pruitt's tenure at E"P"A, we're not sure who to call anymore.