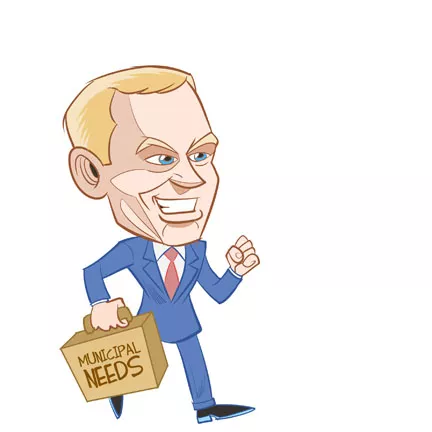 Oklahoma City Mayor Mick Cornett joined the parade of political players riding the Trump Tower elevator and privately meeting with the president-elect.
Unlike Oklahoma Attorney General Scott Pruitt, Gov. Mary Fallin and former state House leader T.W. Shannon, Cornett likely didn't rehearse his elevator speech, nor was his resume in his hands during the ride to Donald Trump's office.
The longtime OKC mayor wasn't interested in earning a spot on Team Trump. Instead, Cornett wanted to talk infrastructure investment, public safety, unfunded federal mandates and immigration, according to a City of Oklahoma City news statement.
Cornett, who serves as the president of The U.S. Conference of Mayors, was one of four mayors to sit down with The Donald and talk cities earlier this month.
When Cornett returned to the lobby of the Midtown skyscraper, he told the media it was a "fairly interesting meeting" that lasted 15 to 20 minutes. Trump "pledged to be a partner" in infrastructure and public safety, Cornett said.
Since the meeting didn't earn a Tweet from @realDonaldTrump, we, the media (er, we, the Chicken-Fried News investigative team), had to go on Cornett's word alone in the reporting.
Some, like the president-elect, might say this is just more of the same disgusting and corrupt coverage from the dishonest media.
We hope Trump took Cornett's message seriously, because to truly make America great, no one should stand in the way of our country's greatest municipalities.
Print headline: Strictly business