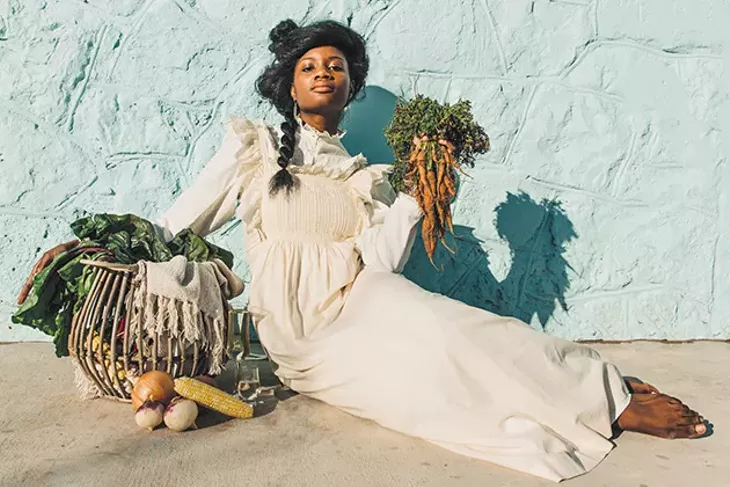 After the closure of Urban Roots, which Quintin Hughes considered a centerpiece of black culture, a void was left to be filled.
"It was a place where art and food intersected. It was just a place where you would see a lot of creatives and movers and shakers from within the community," he said. "There was a lot of programming around art and culture, and there were always installations of black artists, there was always live music every week, programming like that."
Now, Hughes and his partners want to help fill that void with their new venture, Kindred Spirits. The restaurant and bar is set to open sometime in the next few months in the EastPoint development.
"Urban Roots was a larger space … so there was a lot more to manage, whereas our concept is a lot smaller, a lot more intimate, and it also incorporates a patio experience," Hughes said. "We'll be able to do some additional layers of programming that wasn't possible before — more outdoor programming and things of that nature."
The concept is named after Kindred by Octavia Butler, a novel in which a young black woman living in the '70s is transported between her time and the 1800s. The novel explores themes of power, race, ancestry and afrofuturism. The branding of Kindred Spirits also draws inspiration from the novel's themes.
"We wanted our branding to provide an initial vision of exactly what we're trying to do when folks see it," Hughes said. "Folks who are entrenched in the culture, who speak the type of culture that we want to create, we want them to be able to pick up on what we're trying to do or at least get an idea just by seeing a flash of our logo or any of the images we project."
Kindred Spirits is currently under construction. Hughes said they spent a good amount of time with interior designers and architects to create a welcoming atmosphere and a smart way to utilize their patio area.
"We expect for it to be vibrant, creative, a space that would be attractive to creatives. Obviously, we want to thoughtfully connect our patio space to our space inside," he said. "We do know we want to have an area on the inside that can act as more like a den that can be more intimate. ... We definitely want to have spaces where we can have our bands come in and plug in, but with us only being 1,000 square feet inside, it's going to be intimate."
The food will also be reflective of the concept, with a menu serving rotational items inspired by Southern and African cuisine.
'Unapologetically black'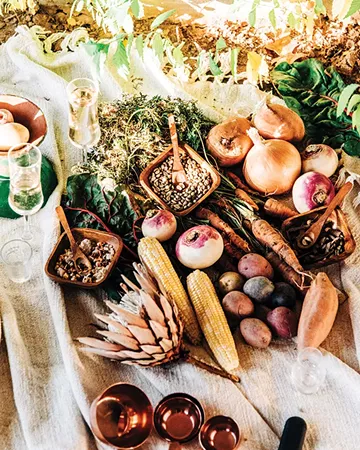 With the goal of creating a new hub for black culture, Hughes and his team also made sure to seek out local black professionals to help with branding and communications.
"We assembled a team of folks that get it and that are on the same page," he said. "It's one of these things when you explain the concept to people who are culture makers or culture seekers or who are creative, they start to have their own visions and ideas of where we can take certain aspects."
Kindred Spirits will be located in Pivot Project's EastPoint development, which has leased out space to minority-owned businesses. Hughes said the importance of minority- and black-owned businesses can't be overstated, particularly when it comes to northeast Oklahoma City.
"It's well-known that in northeast Oklahoma City, over the last maybe two decades, there's been a decline in the local economy," he said. "It's generally important to have a strong local economy, and with our side of town being predominantly black, obviously you would expect for the business ownerships to also be reflective of that. So it's paramount for our economy to thrive in order for our community to thrive, and having black business ownership is just critical."
When the EastPoint development began ramping up efforts to find businesses to be a part of it, Hughes said he was interested but didn't quite have a concept or vision until he started talking with friends who previously were involved with Urban Roots.
"I knew that I wanted to be a part of the project because I thought and I still believe it will be a catalyst for more black business. It's going to be the proof of concept in that regard to show banks and potential business owners and financiers that businesses can thrive here in the heart of northeast Oklahoma City," Hughes said. "I expect for the whole EastPoint development to become a hub, and I expect for our space to be a hub within the hub. I fully expect once we have all of our businesses open and operating for it to crack in the way that the rise has been for Uptown 23rd or the [16th Street] Plaza [District]."
In terms of building Kindred Spirits up as a cultural hub, Hughes expects to have programming that showcases local artists and provides entertainment. Hughes works at Oklahoma City Public Schools and said he would also be interested in programming that benefits local students, like helping high schoolers fill out college paperwork.
Its location in EastPoint also provides opportunities for partnerships between the development's various businesses. Hughes is already talking with other businesses for collaborative programming.
"I've had conversations with the owner of Intentional Fitness about possibly doing some things like the beer runs they do at Red Coyote or some type of happy hour deals," he said. "We'll have local artists every week that are performing. … Black History Month would be huge if we were able to open by February, so we would have a lot of programming. Our patio will be clutch when it comes to April and May, so maybe having a patio series of seasonal entertainment events where we can have artists come out on the patio."
The restaurant aims to combine elements of the past with the concept of afrofuturism and provide a space for people to explore "the black experience through food, programming and community."
"I also want it to be understood that, as some of our language says, we are unapologetically black in terms of the culture we want to respect and represent, but we're also welcoming to all," he said. "We anticipate not just having black folks that are our patrons. We expect to have patrons from throughout the metropolitan area, but with the understanding that this is the experience that we intend to provide."
Visit facebook.com/kindredspiritsokc or follow on Twitter @Kindred_OKC.