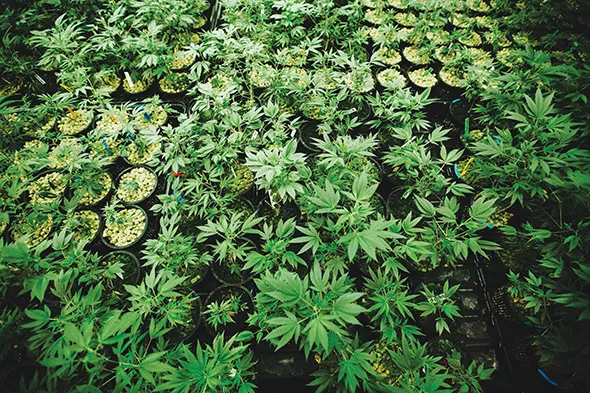 One of the major issues facing dispensaries in the new Oklahoma medical cannabis market is having consistent inventory. CBD Plus USA thinks it has found the solution.
It is rolling out the Lotus Gold cannabis line this week with plans to have at least 20 strains on an ongoing and constant basis as well as other specialty products like its High, Honey! brand of THC-infused honey.
CBD Plus USA teamed up with an Oklahoma City growing operation that has an 85,000 square-foot facility.
"When we were deciding if we were going to do our own grow or find a strategic partner, we had some people come out of the woodwork that really wanted to partner with us, but we selected the partnership that was willing to meet our expectations," CBD Plus USA CEO Ryan Vicedomini said. "We were expecting a minimum of one pound per location at 50 locations per day, so you're still looking at a capability of 1,500 pounds a month consistently. So when we had the opportunity present itself, we basically told them, 'Hey, look. You're going to need a bigger building; you're going to need this, you're gonna need that.' And they basically did a capital raise, our grow company did, and basically partnered exclusively to sell to us. So that way we didn't have to do it but we used a company that was willing to put the investment in and put the time in and the energy in. They brought in specialists from Colorado that were native to Oklahoma but have a 20,000 square-foot grow out there and, I think, four locations that they're already servicing. So they brought that technology here to Oklahoma or, I guess, that craftsmanship here to Oklahoma."
"We've just tried to time this grow to being able to produce before we really created a retail platform to tell customers that we're in the ballgame," president Matt Baker said. "Anybody that was producing anything in any quantity more than likely wasn't getting it organically from Oklahoma. And so we just decided that before we go out and tell our customers, 'Hey, we're here. We're here to play ball on the dispensary side,' before we created a brand so our customers would have something they could depend on, we tried to time it when this grow was going to be able to have 20 strains that were the same all the time and create some customer dependency. So that's kind of why we held off. We've just kind of been low and slow, but now that we're here, there's no looking back."
The Lotus Gold brand will be sold in the same buildings as CBD Plus USA locations in Oklahoma. The green lotus of its logo has turned gold for the brand line.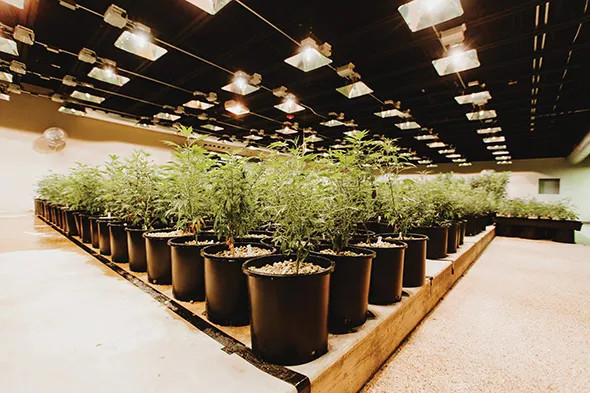 Each CBD Plus USA location in Oklahoma will have at least 10 strains when the brand launches April 20. Each should have a full menu of 20 consistent strains and five floating strains by the end of May, Vicedomini said.
"We're making history," he said. "Fifty dispensaries in basically one shot. We'll be probably the only brand in America that can say they have opened 50 locations under the same name, same strains, same quality coming from the same grow. There's companies like MedMen that have, I think, 63 locations but only have 11 open or 12.
"CBD Plus is always meant to be a cannabinoid dispensary, so teaching that to the public is not always easy, so we're having to separate the brands to make people aware of we're not just CBD. We're here to educate and facilitate all of their needs. If you look at that pain wheel, you know CBD is ... not going to work or not going to help you with everything. You need THC for some things if you're trying to accomplish it through using cannabis, so that's where Lotus Gold is basically coming from. It's just the higher than .3 side of our business model."
There are currently seven cycles in various stages of growth with 9,000 clones ready. The cannabis is grown hydroponically in rockwool.
"They have four 6,000 square-foot rooms already built out and will be in use by probably the end of April. And then the rest of it's coming in stages. They're going to have, I think, a total of 67,000 square foot of canopy," Vicedomini said. "If all 76,000 people started to buy just from us, it may put a little strain on our organization, but I think we're going to be able to, by June, they should be hitting that max capacity for us."
On April 20, patients will be able to get four pre-rolls for $20. All the strains will be packaged in sealed containers that are injected with a blast of nitrogen to keep the flower fresh.
For patients with lower tolerances and sensitivities to THC, Lotus Gold will also have $5 pre-rolls that will contain cannabis flower that has 3 to 6 percent THC and 20 percent total cannabinoids.
"We were expecting a minimum of one pound per location at 50 locations per day, so you're still looking at a capability of 1,500 pounds a month consistently."
—Ryan Vicedomini

tweet this
In addition to the strains of flower, there will be THC tinctures, topicals and edibles that will mirror the CBD Plus USA product lines. The company is offering three levels of dosage: beginner, intermediate and advanced.
"Beginner, that way you can get 2 milligrams per milliliter exactly every single time," Vicedomini said. "Intermediate's got 6 milligrams per milliliter and the advanced is 15 milligrams per milliliter, so that way, when that person knows that I take 6 milligrams a day at 6 o'clock and then again at 3 o'clock, you know it's medical use at that point. It's not just smoking a joint."
Edibles include brownies, caramels, chocolates, crispy treats and gummies. More consumable products will be added as the line moves forward, and its infused honey will be hitting shelves this month. A package of 10 gummies, each containing 25 milligrams of THC, will be priced at $20.
Lotus Gold cannabis will only be produced and distributed in Oklahoma, though CBD Plus USA does business in several other states.
"Our goal would be to be able to offer Lotus Gold inside of all of our CBD Plus locations moving forward as the state laws permit it," Vicedomini said.
Visit lotusgold.com.